Apple
Thoughts on "One More Thing" — The Ultimate Mac Transition
The Mac is once again in a pivotal moment, starting its ultimate transition. During its "One More Thing" special event, Apple once again showed to the tech world what it looks like when they fully take control of their destiny. Apple kickstarted the transition with the MacBook, one of the primary be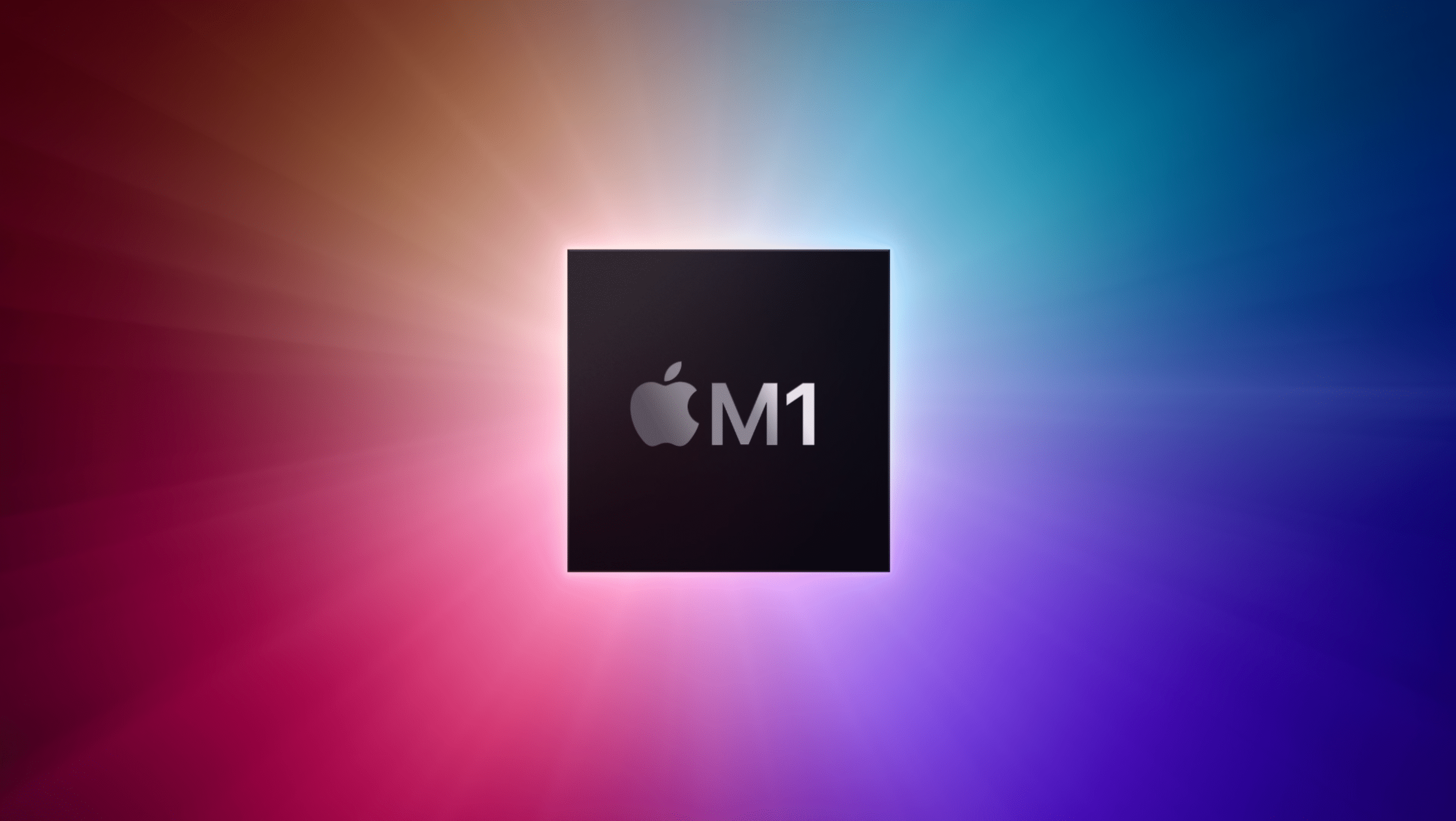 The Mac is once again in a pivotal moment, starting its ultimate transition. During its "One More Thing" special event, Apple once again showed to the tech world what it looks like when they fully take control of their destiny. Apple kickstarted the transition with the MacBook, one of the primary beneficiaries of the many Apple Silicon feats. By ditching the Intel processors, Apple is starting a new round of innovations for the Mac product line. The Mac is gaining even more traction, in a time where working from home is in full swing, where the very definition of working is having its own pivotal moment. Is the timing perfect for Apple? You bet. Let's see why.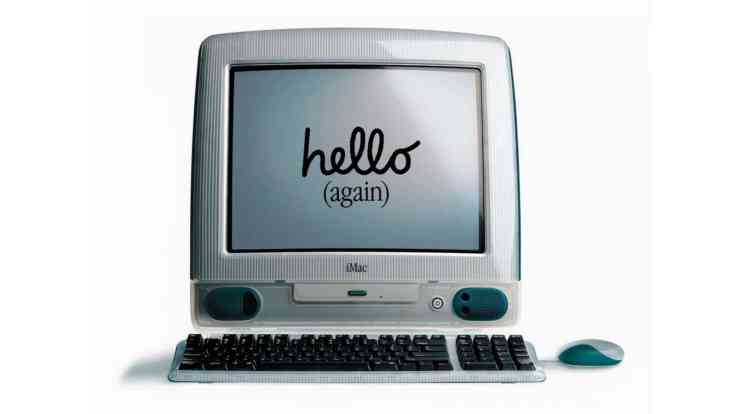 What were my expectations?
I'd like to restate what were my expectations before this week's event. As I wrote in a recent microblog post, "On The Mac pivotal moment", Apple had two roads they could choose from to move the Mac forward with regard to the introduction of the first Apple Silicon Macs. The bolder Apple would be, the better. I was expecting Apple to start from the outside, not from the inside. People, ordinary people, immediately notice a design statement, a turning point from the past. The current MacBook design is based on the unibody first introduced in 2012. Since then, the general allure of a MacBook pretty much stayed the same. Is the Apple Silicon introduction the right time for a design shift? I thought so. Apple is running on an iterative approach with everything they do, but sometimes, there is a stronger beat that marks a more pronounced change, when such a change is mandatory for the next phase of evolution. They did it with the iPhone, they could have done it again for the Mac. It was time for such stronger beat to act as a bold mark on Mac's evolution timeline.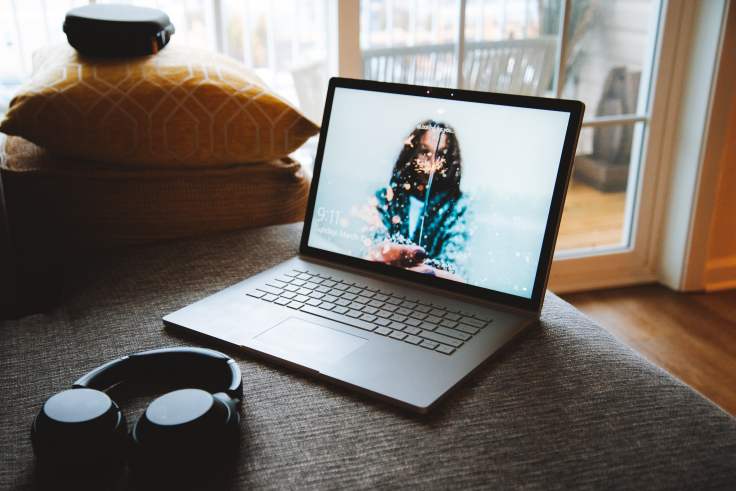 "And, you know, we don't usually want to just go and change the design just for the sake of changing a design — we have a great platform here, we have a great new processor, we can marry them into something really spectacular. And that was the thinking behind it." — hardware engineering John Ternus in an interview for the Independent
New materials, new textures, updated tones, thinner bezels, softer edges yet similar design cues could have been the ingredients of a possible refreshed MacBook. Microsoft is trying hard with their Surface, why not Apple? But are these attributes enough? There is one more thing Apple could have done: with the just-released macOS 11 Big Sur, adding touch support to the Mac could have been the biggest surprise, the one more thing. As you already know by now, Apple took the other road, yet, they are scoring big. The M1 processor is the one more thing.
About this third special event
After the conclusion of its 45 minutes presentation, I was thinking that Apple should keep these events around in a post-covid world. I like their general pace and the "studio" where they get produced1. This third edition brought a different twist: no special introduction and a clever recall of the "PC guy" at the very end. It was a joy to watch; it brought back great memories of a past era. I also want to thank Apple for not having included a game demo segment. Instead, Apple chose to let the developers, any kind of developers, speak and express their feelings about how fast these new machines are, how long-lasting are the batteries in a high pace tone. Kudos to them for this decision.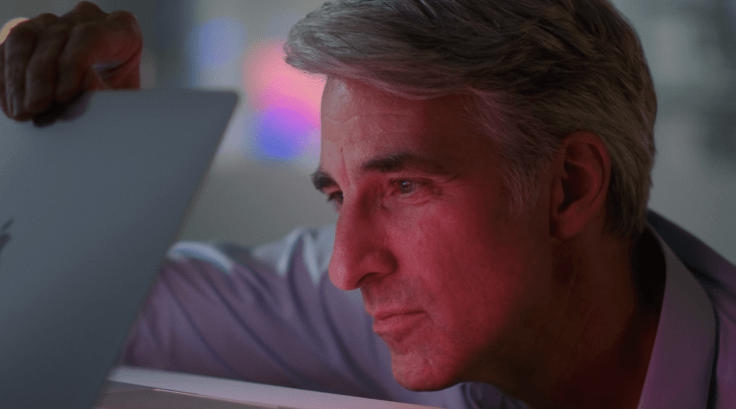 The event was boldly tinted with "speeds and feeds", very tech-enthusiast oriented, more than usual I would say. It was all about the Mac, nothing like the AirTags or the AirPod Studio to distract from the essential message. For a clear message, it had to.
Starting the ultimate transition with M1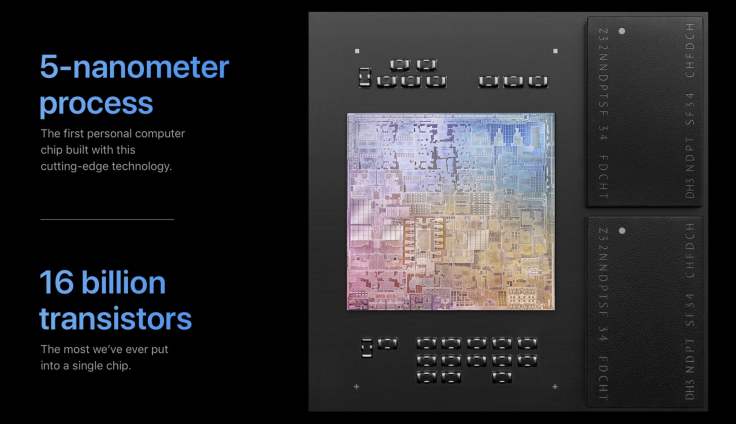 "The M1 puts the Mac in a class of its own in CPU, GPU, battery, and every other aspect of computing" — Jim Dalrymple for The Loop
Apple finally gave a name to its Apple Silicon chip for the Mac: the M1. It marks the start of a new era. You can imagine Apple to come up with an M1X, M2 in the future. This technological marvel is based on the A14 architecture with 16 billion transistors, four high-performance cores, four power-efficient cores, 16 GPU cores and a lot of caching memory. Memory is embarked on the chip package itself.
Three Macs are making the transition: the Mac mini2, the 13" MacBook Pro3 and the MacBook Air. The latter is now fan-less4 which is undoubtedly a feat if performance is as good as Apple wants us to believe. The transition starts on an aggressive note. Apple started on the low-end, and it makes a lot of sense. The 16" MacBook Pro, the iMac and Mac Pro will be the next, probably in that order, in the upcoming 18 months. Some people will be surprised by the Mac mini being in the first group of machines to make the switch. I think we may underestimate the importance of the Mac mini for the Mac and Apple's bottom line. I'm happy to see Apple keep it around. It's the Mac for tech enthusiasts, the developers, the geeky people. Sadly, this iteration is no longer user-upgradable in any way.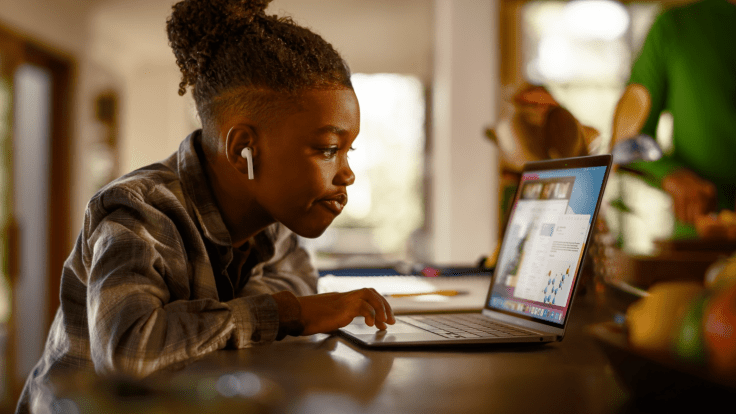 Some well-known figures in Apple history, like Tony Fadell, are quite impressed, and one question lingered in my mind: how is the Wintel world supposed to compete with this? Apple seems unstoppable, and they are only getting started. I can't remember feeling so upbeat about the Mac and Apple's ability to compete and challenge their competitors. I know someone who would smile right now if he was still around5.
Going back to reality
Now, let's go back to reality and be a bit more critical. First, as impressive as these new machines may seem, there is a long list of no shows in them: no touch screen support, no pencil support, no 4G or 5G wireless options, no decent quality FaceTime camera, no Face ID, no glowing Apple logo, no redesign, no slimmer screen bezels, no more eGPU support, no thunderbolt 4.0 support, fewer ports, no 12" MacBook. That's basically the other side of Apple's portable story in 2020. Are you still excited? Many aren't. Apple chose continuity over anything else. What does the M1 chip enables besides big performance increases?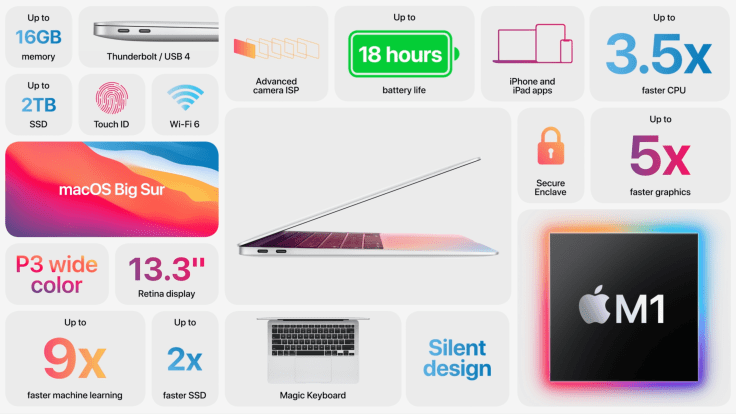 Also, these performance measure increase claims are based on previous generation products, or something else that only Apple knows. It is part of the story yet to unfold. Upcoming reviews in the next few weeks will be interesting to read, much more interesting than Apple's marketing message.
About this 720P FaceTime camera: why is it so hard for Apple to upgrade this essential feature in the age of massive work-from-home? Instead, Apple will use ML tricks to "upgrade" the quality of the image, thanks to the power of the M1 processor. Providing an updated FaceTime camera with a decent optic would alleviate the need for this ML wizardry altogether, duh.
Here is the thing: the new M1-based Macs use the new "unified memory architecture" that is at the center of our iPhones and iPads. If you plan to buy one of these shiny new Mac, my recommendation would be to go with 16 GB of RAM, not 8 GB. Why? Consider this: Rosetta 2 is a new emulation software layer that will consume memory, something that is not present on Intel-based machines. Moreover, the memory will be consumed for video processing too. My guess is: the biggest monitor, the higher the resolution, the more memory will be consumed. What's left for the applications? Even if SSDs are fast on reads and writes, application launches are fast, nothing equals the speed of RAM. I'm afraid 8 GB of RAM is the new 16 GB iPhone base memory tier. We'll see with the upcoming reviews and benchmarks.
Why so little difference between a MacBook Air configurations, CPU-wise, RAM-rise compared to a MacBook Pro? As noted by John Gruber, Apple came out with a new Mac in three different physical incarnations.
Unanswered questions
There were many things to watch for before the special event, as stressed out by The Verge. In a typical Apple fashion, Apple left out many details during their keynote. Let's try to identify a few important of them.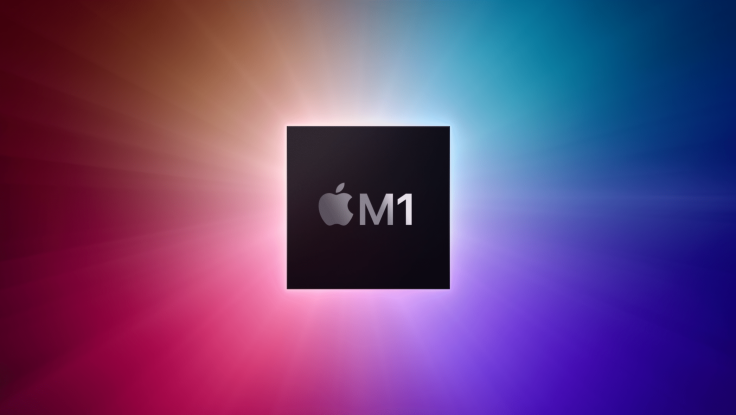 There is no mention of the M1 clock speed, only the number of cores. The same is true of the CPU found on your iPhone. I think this is a strategic move by Apple as they don't want people to compare M1 GHz to Intel's. Lower clock speed doesn't translate to lower speeds. It is a complex matter as you can probably conclude by reading the very detailed article from Anandtech. In summary, the M1 chip is probably something like an A14X, and is a screamer using very low power.
The other thing that is unclear is about any possible updates to Intel-based Macs like the iMac Pro and the Mac Pro during the rest of the transition. No words on this, but we certainly can infer some conclusions by the fact that Apple introduced three new Macs. Apple wants to go fast with this transition, probably faster than they announced6. My guess is that we won't get any new Intel-based Mac updates starting from now, and we'll see how long Apple keeps Intel-based Mac around.
"Thanks to Metal and M1, some of the most graphically demanding apps actually perform better under Rosetta than they did running natively on previous Macs with integrated graphics" — Apple exec.
On the graphics performance side of the story: what kind of performance levels should we expect for non-Metal-based graphic applications and games? Does the M1 chip bring the Mac platform into serious gaming? Apple hasn't been known to build gaming machines, will M1-based Macs change the perception with hard numbers? Will software technologies like Apple's Metal and Machine Learning really help the Mac to go into uncharted territories?
Software compatibility is probably one of the most critical aspects of these M1-based Macs. For now, the level of compatibility is unknown. Developers using the DTK7 were mum on specific issues, per Apple's request. Again, reviews will probably put some light on this potential issue.
In shifting from Intel x86 chips to its own Apple Silicon SoCs, Macs will lose some of the hardware compatibility they gained back in 2006. However, two things have changed since then. First, the need to run Windows has fallen dramatically for many people for whom it was once very important. Secondly, Microsoft itself has developed the native ability to run Windows on ARM. — Daniel Eran Dilger
I'm eagerly awaiting real benchmarks stressing the Rosetta 2 compatibility layer. Back in the days of PowerPC emulation on Intel machines, we could "feel" when Rosetta was launching and starting its magic. It is already known that Rosetta 2 will need at least 20 seconds to start the very first time8. Ouch. After this initial startup, with much faster processors, the end-user experience might be better. It's probably a non-issue. This brings me to my next point: What will VMware be able to do with VMware Fusion? What are their options? I'm afraid that, until Microsoft perfects an ARM-based Windows platform, Fusion on Apple Silicon Macs will not support any Windows operating systems. Linux compiled for ARM will probably work just fine. It's not good news for many corporate customers. Meanwhile, Parallels, the makers of Parallels Desktop, posted this blog post on Parallels Desktop's future.
Starting with the low-end was the obvious move for Apple; these machines are not as demanding as the higher end ones. But, how well will M1 architecture scale up to iMac, iMac Pro and the Mac Pro?
At the WWDC conference in June, Apple announced support for virtualization technologies built-in the Apple silicon. We didn't get any new details on how this translates for the end-user. Is this something that only Parallels and VMware can take advantage of? Probably.
Will there be an invasion of popular iPhone and iPad apps on the Mac App Store? Very early indications are positive. For developers, Apple want's us to believe it's only a matter of turning on a checkbox in Xcode. Reality is often quite different. For developers, the prospect of adding a few more millions of avid computer enthusiasts is certainly enticing and make this checkbox tempting.
Looking forward

Let's face it, Apple is only getting started with this transition. Remember when Apple released their iMac with USB ports? They were tagged as using proprietary ports, yet they started a revolution on the PC side of the world. Is Apple about to spark a similar movement with ARM-based Macs? If Apple can keep the pace and distance itself even more from the crowd, while Intel CPU is still holding back PC makers to achieve better battery life, people will start to notice and could switch to the Mac in drove. Some people are already asking Apple to sell their designs to other companies. It's not going to happen, for obvious reasons.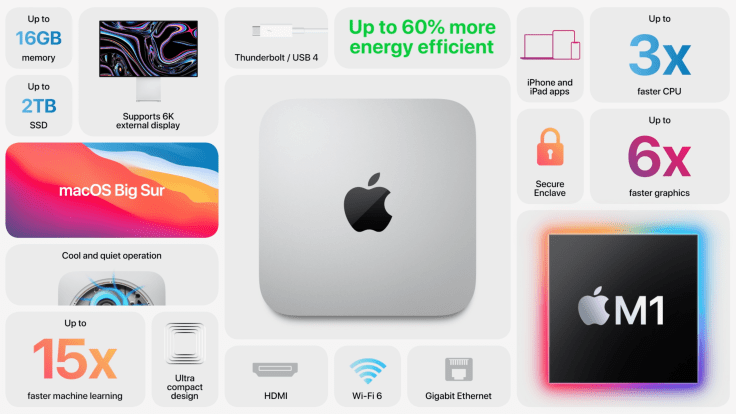 On a more personal note, how affected are my buying plans for a Mac Pro? They are probably postponed a bit. As benchmarks started to show up a few days after the event, I decided to get a Mac mini. Benchmarks look very promising. I chose the 16 GB of RAM configuration with a 1 TB SSD. I'll be using this machine to experiment with macOS Big Sur compatibility in general with native-only apps that I use frequently, mostly photo processing apps like Pixelmator Pro9. I don't expect to keep this Mac forever, though. My current personal project still points me to a Mac Pro, not this Mac mini.
That being said, it will be utterly exciting to follow Apple's next moves for the Mac. They started with the MacBook and Mac mini, I can't wait to see what they will do with the iMac, which is in dire need of an updated design, not only a more efficient processor.
The "One More Thing" special event was the last of a long series. It was a great Mac-centric experience that only Apple could create. The Mac is creating excitement again. It was long overdue.  Change is welcome. A quote from Daniel Eran Dilger writing for Apple Insider:
"By moving future generations of its Macs to its own uniquely enhanced silicon, Apple is again able to benefit from both common economies of scale and proprietary advancements that add unique value. It's noteworthy that other competitors in the PC and mobile space have tried but failed to similarly do this."
We'll see where this all goes from here.