Apple
Things to Look for Before Buying a New Application
When you buy a new app for your iPhone or your iPad, what do you look for before making your decision? Here is a real use case with Raindrop.io. For this blog post, I want to do things a bit differently. I'm always looking for new ways to improve my blogger workflow (please, read "Introducing… Conti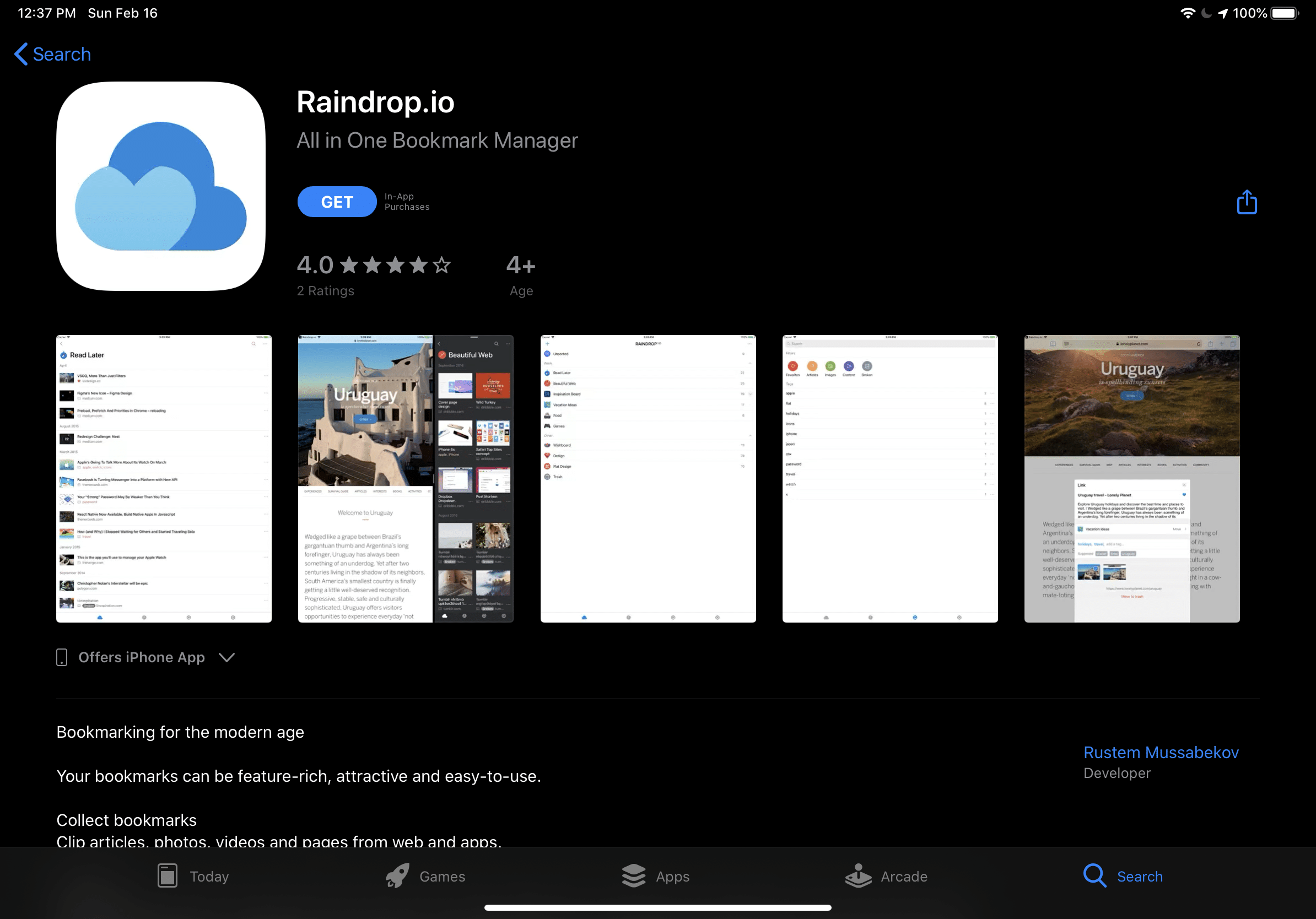 When you buy a new app for your iPhone or your iPad, what do you look for before making your decision? Here is a real use case with Raindrop.io.
For this blog post, I want to do things a bit differently. I'm always looking for new ways to improve my blogger workflow (please, read "Introducing my Blogger Workflow" for more information). Recently, I discovered Raindrop.io. Instead of doing a classic review, I want to step back. I want to tell you about what I'm looking for before buying an application. For that purpose, I'll use Raindrop.io as an example.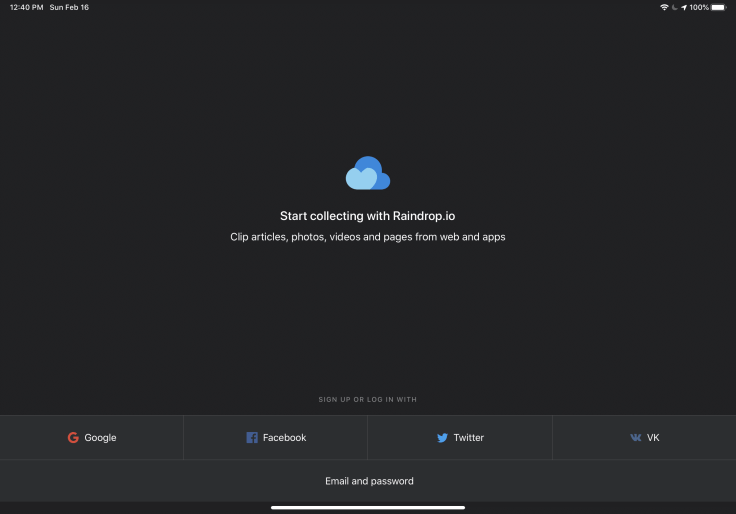 App developers, please take note: if you want to know what your future customers are looking for before buying your application, look no further. Read on.
What is Raindrop.io? It is a bookmarking application. With Raindrop.io, you can bookmark web pages, photos, many different kinds of numeric objects. Do I need a bookmarking app? Well, as previously documented in my blogger workflow (fully exposed here: "Introducing my Blogger Workflow"), I do use Apple's Reminders to bookmark things like web articles on which I want to write about or that is inspiring me a new blog post. But I must say that it is not really the best solution for this. For that reason, a specialized bookmarking app could make a lot of sense. Let's see if Raindrop.io is doing a good job of supporting this task.
First contact
The first contact with the application's promotional materials is utterly important. You rarely get a second chance to make a first good impression. The application's website or the App Store app's main page is often the main entry point. Presentation, completeness and honesty are mandatory.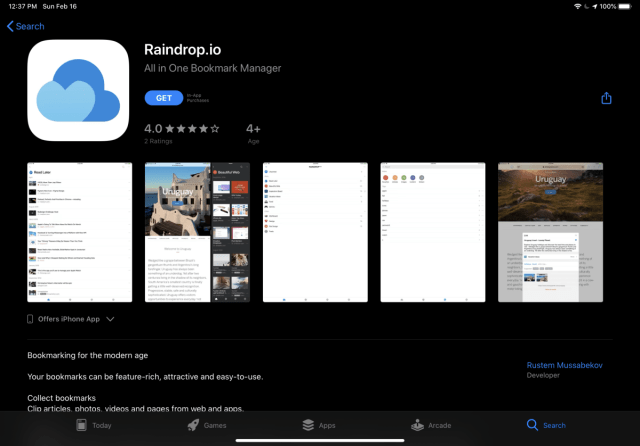 The things I look for: are the screenshots representative? Are the update notes detailed? What about the user ratings, starting from the most recent ones?1 Is this a one-time purchase or is it a subscription-based app? How long is the trial period? Is the app only available outside the App Store? Personally, I prefer to buy from the App Store because of its convenience for updates.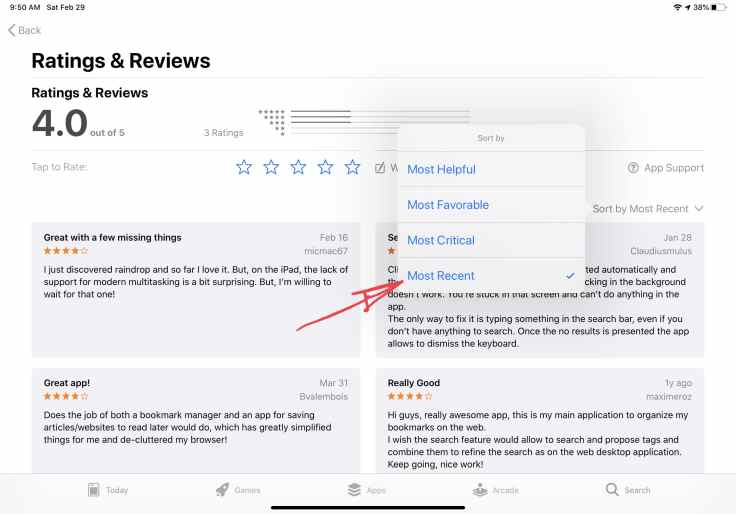 In this regard, I give a score of B+.
Design
Obviously, general design, icon quality, welcome screen are essential attributes in deciding if the app is worth it. Even the application's web site is another important indicator. Usually, you can find longer video sequences demonstrating the application in use.
Part of an application's design and general execution efficiency are dependent on the tools used to build it. Electron-based apps are very common these days, especially those also available on Windows. What it means is multi-platforms apps can use more resources of your machine than a native version would. Raindrop is not a real native macOS app as it relies on the Electron framework. Not good.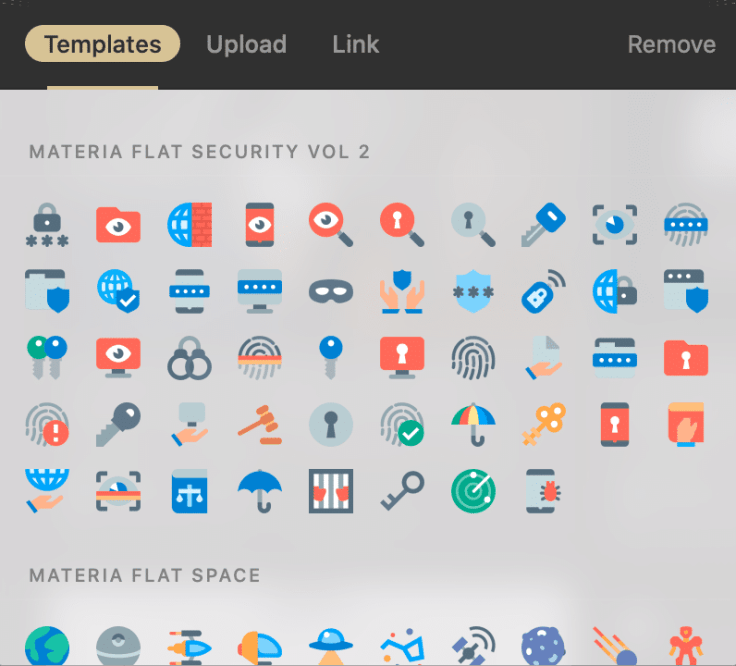 Finally, how is the application distinguishes itself from the rest of the crowd? Raindrop.io in that respect is using a unique set of icons to use with bookmarks. They are cute and unique in their appearance. Lovely. But is that enough?
In this regard, I give a score of B.
Features richness
Usually, we buy applications because of its feature set. For a bookmarking application like Raindrop.io, mandatory features for me includes:
Does it really takes advantage of the iPad bigger screen?
Does it support iPadOS latest features? Can we drag and drop an URL from Safari to Raindrop's main view?
Is this application multi-platform (macOS, iPhone, iPad)?
What synchronization mechanism does the application use to sync data across devices? (I do prefer iCloud based mechanism but in any case, it should be reliable and fast);
Are the bookmarks accessible from the web?

Raindrop.io does take advantage of the iPad big screen but not its multitasking capabilities which is a major downside for me. Raindrop.io uses its own sync service that proves to be fast and flawless, at least during my testing period.
By being available on iPhone, iPad, macOS and over the web, Raindrop.io is a good citizen in the Apple's ecosystem. I didn't experience features discrepancy among devices which is also important for me.
In this regard, I give a score of A+.
Sustainability
Next, look for things like update history. How often and why the app is being updated? Updates are obviously released to fix stability issues, introduce new features or support new Apple technologies.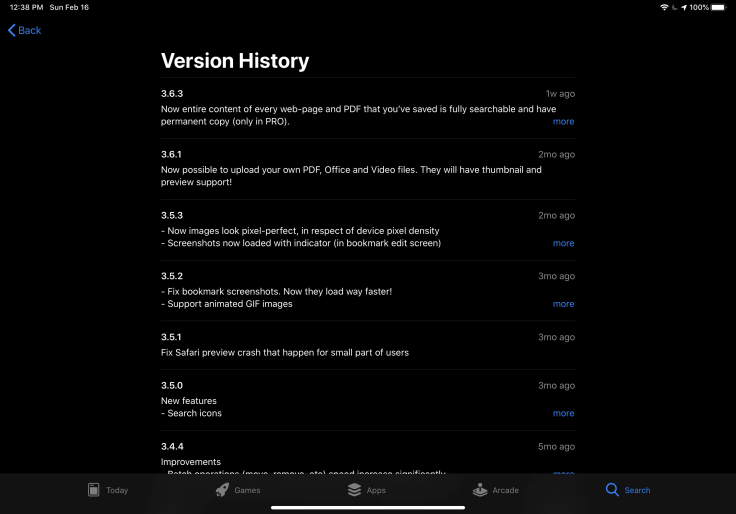 Also, don't forget to look for how long is the app in the App Store. The longer, the better. Pay attention to the company's web site and look for a blog section. You get useful hints there if the blog is regularly updated about the vitality of the developer.
In this regard, I give a score of B+.
A few missing features
Raindrop.io is really solid but there are a few missing features that are deal-breaker for me. First, there is no support for iPad multitasking. I cannot overcome that one as I'm using apps side-by-side all the time. Second, there is  no support for Shortcuts. It could have been nice to be able to work with bookmarks to automate some portion of my workflow. Third, the developer of Raindrop.io recently published APIs, so external support from third-party apps is lacking as of this writing.
In this regard, I give a score of C.
Privacy and security protection
Privacy protection and security are utterly important these days. What authentication methods are supported other than the usual Facebook or Twitter login. Is Sign-in with Apple supported? In the case of Raindrop.io, there is no support for Sign in with Apple. Again, not good. There is no support for two factors authentication either.
In this regard, I give a score of B.
How does Raindrop.io fit my current blogger workflow? Well, it could have replaced Apple's Reminders. I said "it could" because as of this writing, I decided not to go ahead with this app. The lack of support for iPad multitasking is a deal-breaker as shown here with my short exchange of email with the developer.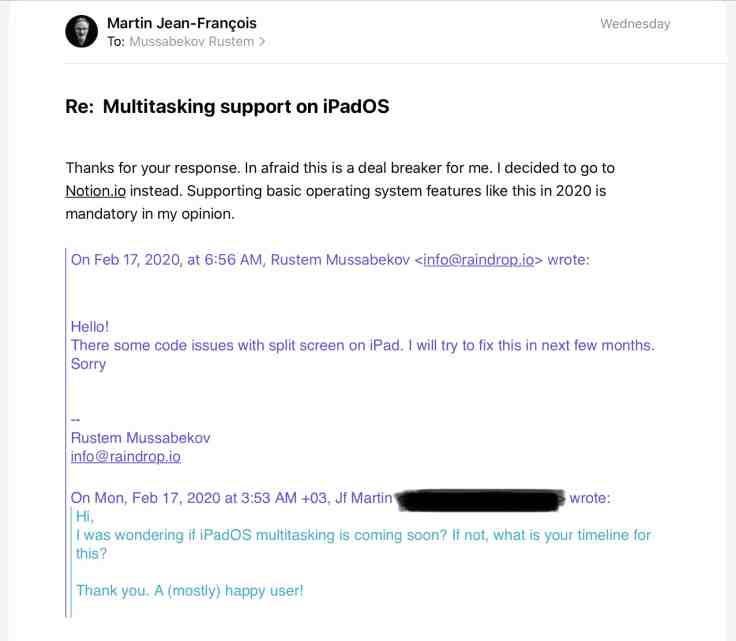 As you can see, not only Raindrop.io is a no-go for me but while doing my research on bookmarking apps, I remembered about this collaborative platform name Notion. It is quite another world that will need to be covered in a future blog post. Stay tuned for that one.
Overall, I give a score of B+ for Raindrop.
I don't like Apple's choice of defaulting to "Most Useful".  ↩