Blog
Switching to Ulysses for my Writing Needs
From WordPress block editor to Ulysses.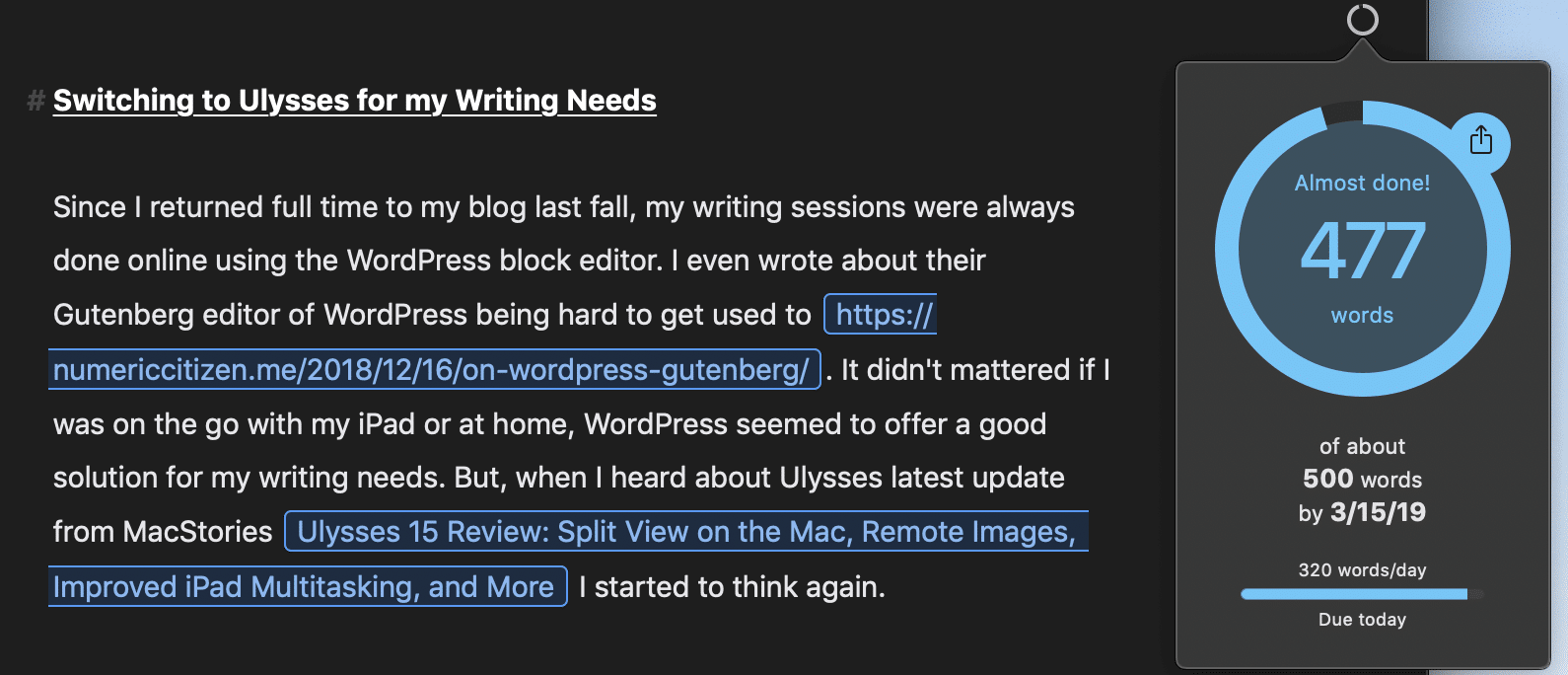 Since my comeback to my blog last fall, my writing sessions were always done online using the WordPress block editor. I even wrote about their Gutenberg editor of WordPress being hard to get used. It didn't mattered to me if I was on the go with my iPad or at home, WordPress seemed to offer a good solution for my writing needs. But, when I heard about Ulysses latest update, version 15, from MacStories Ulysses 15 Review: Split View on the Mac, Remote Images, Improved iPad Multitasking, and More I started to think again. I saw lot's of potential for a better writing workflow.
I started by searching for reviews and found blog posts on writing workflows involving Ulysses. First, this article from My Blogging Workflow: iPad, Ulysses, and WordPress – BirchTreeshowing Ulysses on the iPad. I was seduced by the idea of still being able to keep working on the iPad on the go just like with WordPress app. Ulysses support for WordPress publishing is also must as otherwise I would feel like stepping back. I can publish directly from the application to WordPress in draft or published state with all the meta data that WordPress allows (category, tags). That is cool. But this blog post by Shawn Blanc "My iPad Writing Setup" really convinced me as I found the macOS version of Ulysses even more interesting. I love my iPad but what I love even more is the ability to chose my working tools as I see fit. And sometimes my iMac is better or I just want to sit in front on this giant screen and just write.
One very cool feature is the Goal setting. For each article that I write, I can set a goal in how many words I expect to write and a deadline date. I find this motivating and a source of a pause. When I'm not done yet, I pause and think of any angles missing or if I could be more clear about something thus probably increasing the word count.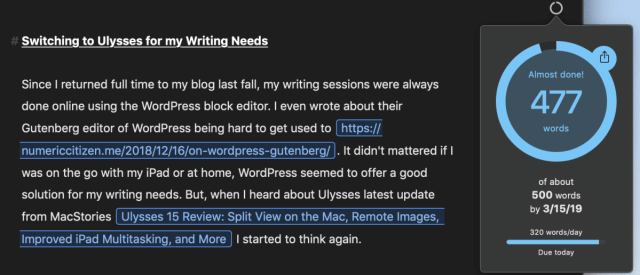 Having a fully featured iPad app with automation via Apple's Shortcuts is very useful. I can now replace Things with Ulysses by using a shortcut from Birchtree blog post which is even better than the one I was already using. You can download it here. By switching to Ulysses, I simplify my workflow and I'm more productive.
iCloud sync make using the Mac version a breeze while at home. One thing to know is the iOS version of Ulysses has some features not (yet?) available compared to the desktop version. One example is the keyword management window.
One missing features that I would love to see in future releases is the ability to be able to refer and insert links of currently published blog posts on WordPress. Other than that, pretty everything I need is there.
I'm currently on the free 14-days trial period. I'm testing (obviously) both, the iPad version and the macOS version. I'm pretty sure that I'll pull the trigger on this as I already moved all my draft posts from WordPress to Ulysses. That says a lot.
All in all, I'm very happy so far. I'm still using the WordPress web site for small blog posts but for the bigger ones, I'm switching to Ulysses. This year is a year of changes and switching and Ulysses is part of this trend. Looking forward for even more writing on it.