RSS Readers War: From Reeder to News Explorer
I'm a long time user of Reeder, a well known and well designed RSS reader for the Apple ecosystem (see my review of Reeder 4 here). But, recently during a discussion on Telegram (which by the way you can find me there @ https://t.me/numericcitizennews [https://t.me/numericcitizennews]), someone ment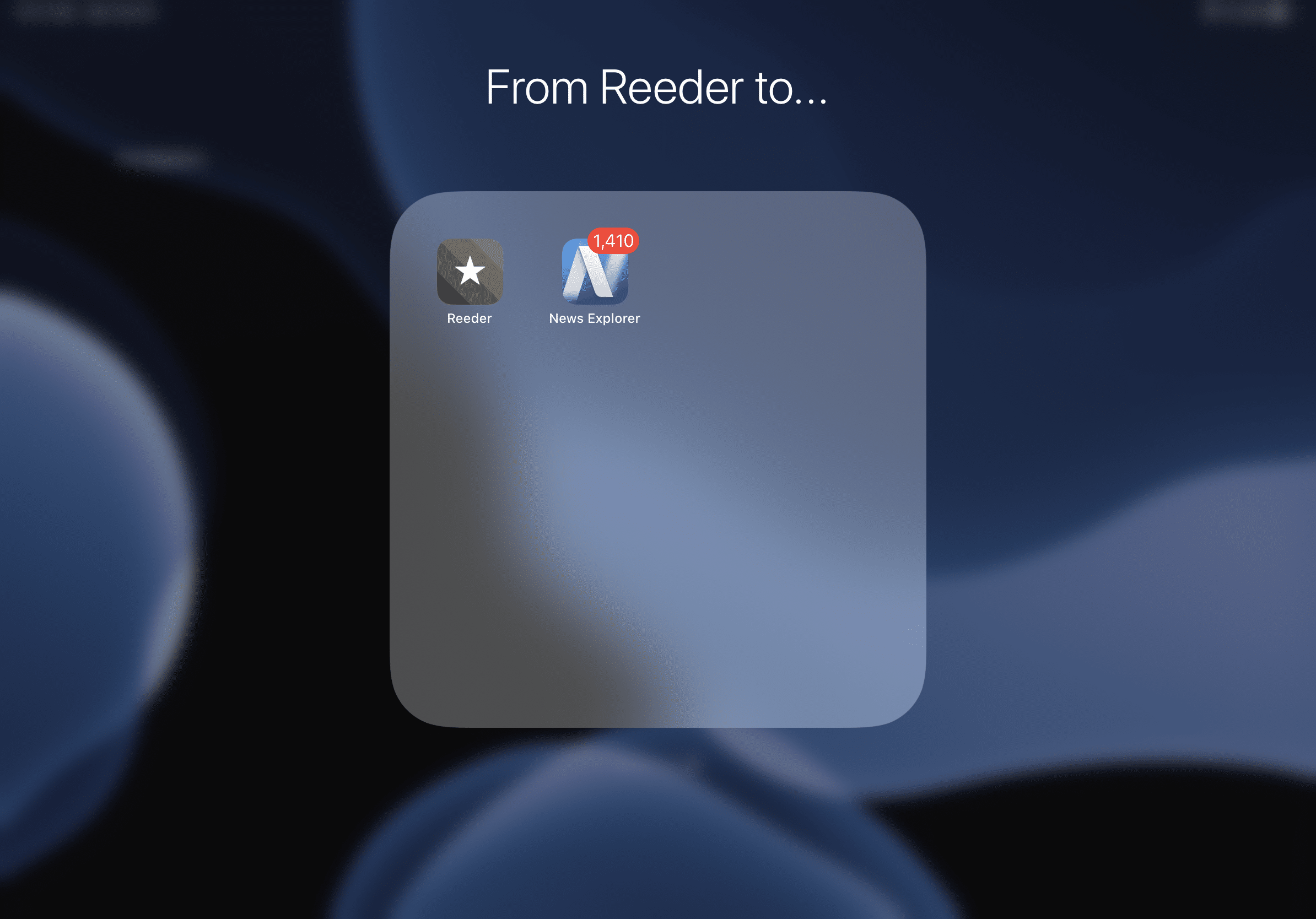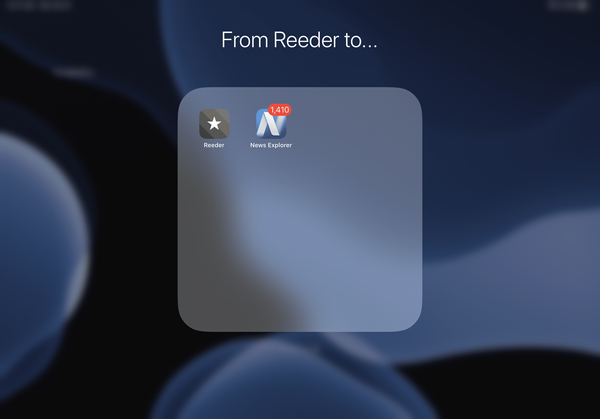 I'm a long time user of Reeder, a well known and well designed RSS reader for the Apple ecosystem (see my review of Reeder 4 here). But, recently during a discussion on Telegram (which by the way you can find me there @ https://t.me/numericcitizennews), someone mentioned News Explorer as being a great RSS reader with many useful features. Really? It was the first time I've come across this name I was curious. Let's dig in.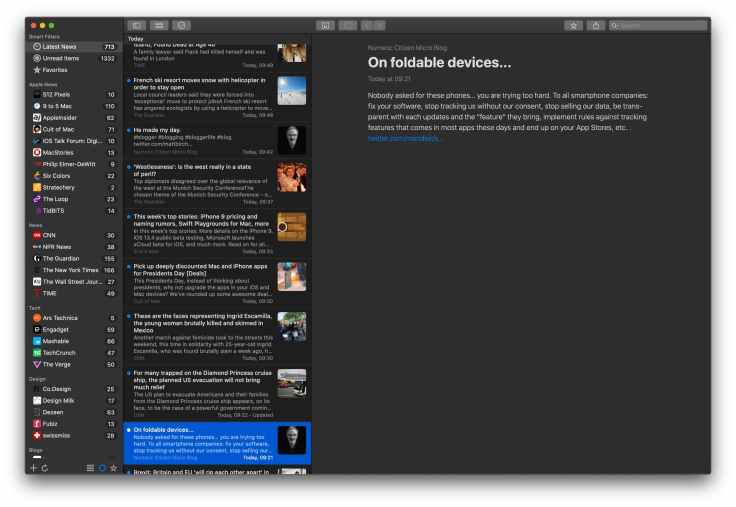 Why the switch
RSS is an old Internet standard (see definition here). In short, according to Wikipedia, RSS is:
a web feed which allows users and applications to access updates to websites in a standardized, computer-readable format.
After more than a week of testing and using News Explorer as my only RSS reader, I'm completely sold. There are many reasons why I'm moving from Reeder. To sum it up, there are features in News Explorer that are not available in Reeder but add a lot to the value to my RSS reading experience and content consumption in general. News Explorer is not only supporting RSS feeds but also other types of sources: Twitter and YouTube for example. Being able to gather information from my Twitter VIPs is a time-saving feature for me.
News Reader does not rely on a third-party synchronization service like Feedly for its magic. Instead, News Explorer does its own RSS feeds updates and relies on Apple's iCloud syncing engine instead. During my testing, new items, read statuses synced between devices without an issue.
As the application name implies, you can also read the RSS feeds in a newspaper-like layout as shown below. Cool.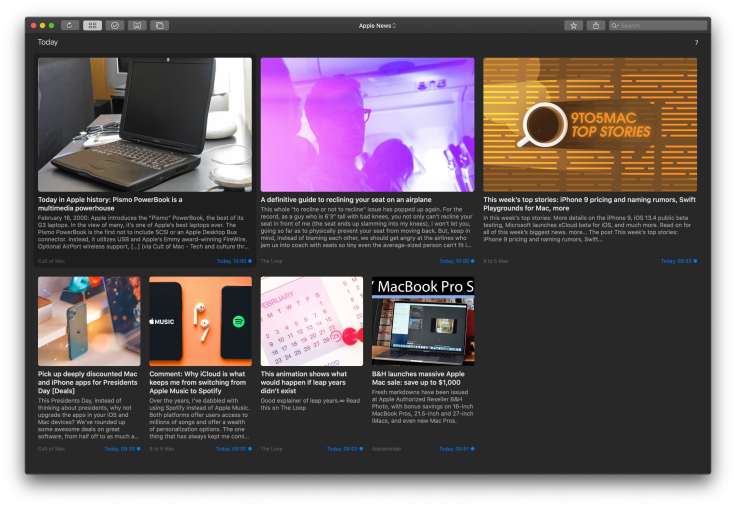 The migration process
To migrate from Reeder to News Explorer, I had to follow this process. Since Reeder is not capable of exporting the feeds as an OPML file, I did the export from Feedly, on their website. The export feature is located in your Profile section. The process may be different depending of your RSS syncing service.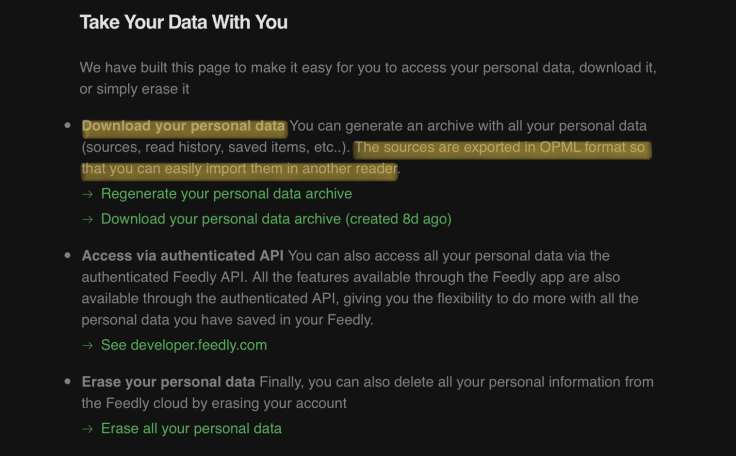 With the OPML file on hand, it was a breeze to import in News Explorer. Oh and, if you don't like News Explorer, you are not locked in with the builtin Export to OMPL file feature.

By the way, did you know that you can open the OPML file directly into the excellent mind mapping app "MindNote"?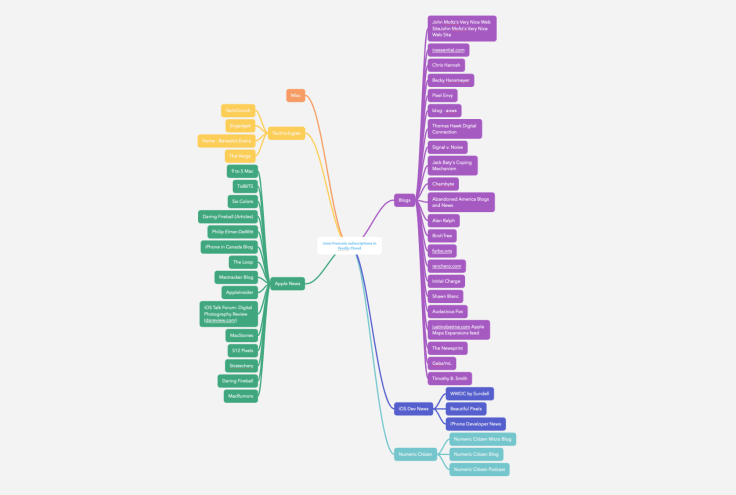 Other goodies: an Apple TV and Apple Watch app
There is an Apple TV app version of News Explorer too. I never thought reading my news from the couch would be cool. It works great. This is probably one of the best designed and accomplished Apple TV apps that I've seen.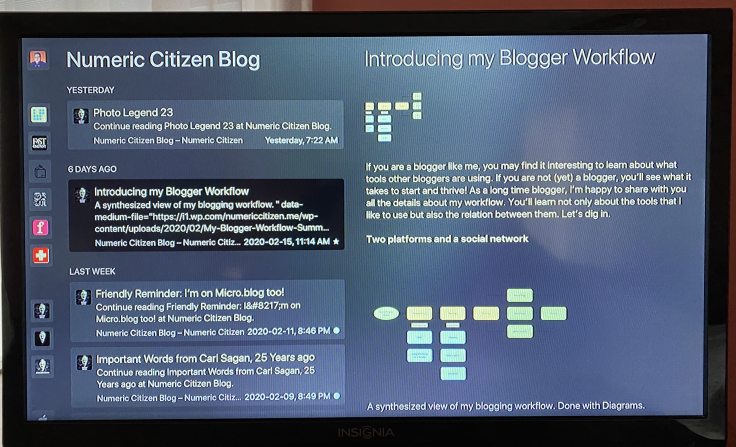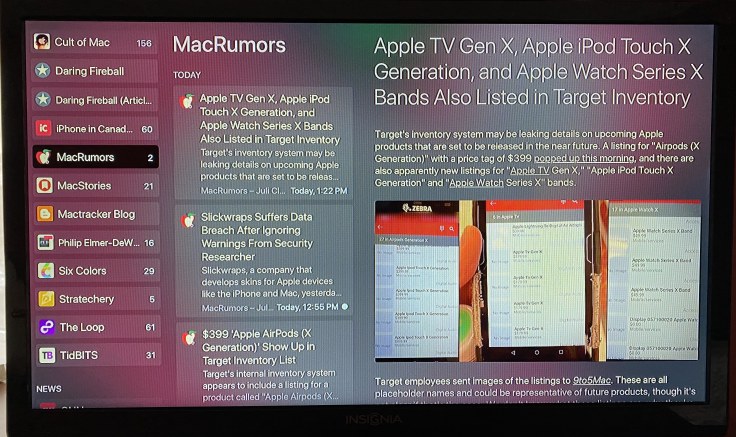 The Watch version of News Explorer is actually useful, fast and fits perfectly the watch form factor. Articles are presented in decreasing chronological order. Tapping an item brings the article in a simplified format. Images are shown if included in the feed. Very useful to glance at recent news feed.
Also, some other things to note:
Rich notifications with aggregated content when syncing is completed. They give a nice summary of updated sources.
When you first install the application, it comes with a set of RSS feeds to follow. I discovered a few new sources of content because of this.
News Explorer makes it easy to discover new feeds with the search feature as shown here.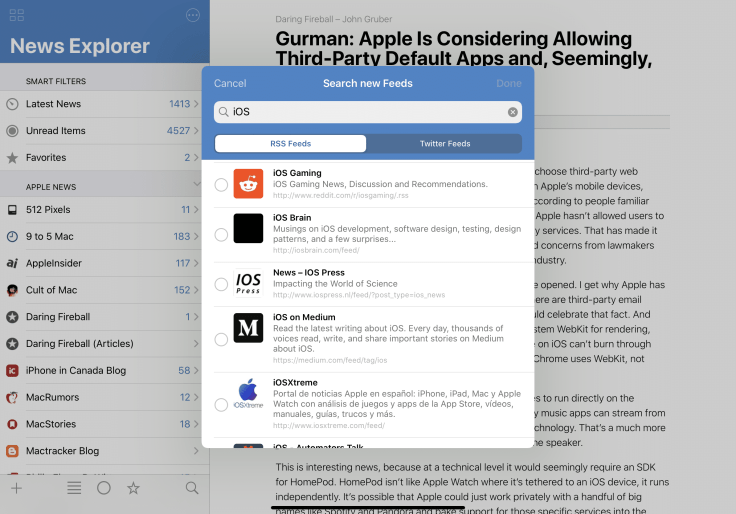 Viewing YouTube videos from within the News Explorer windows is nice too and makes the news consumption experience more fluid and uninterrupted.
News Explorer is better than Reeder at parsing images from my blog's RSS feed which is great for quality tracking of my blog posts.
A few things I'd like to see
News Explorer is far from perfect. There are a few things I'd like to see in the future.
The ability to create smart filters. News Explorer comes with three smart filters builtin: Latest News, Unread Items and Favorites. I'd like to be able to filter based on keywords, dates, etc.
The ability to set the expiration of items on a per-feed basis instead of globally. For example, I would set a shorter expiration on general news sites but a much longer one on blog feeds.
The ability to group notifications based on sources.
Looking at the update frequency on the App Store, I don't expect any of these features to come anytime soon though.
Reeder: a few things that I'll miss
Leaving Reeder.app behind is accepting to turn my back on many small things that I usually value a lot. For example:
Much better-looking application icon.
Interaction gestures are more refined and natural.
More refined look in general.
That's part of the price to pay for switching I guess.
All in all, I'm very satisfied with News Explorer, an app that you can purchase, it is not a subscription! This is refreshing! One thing that I learned, News Explorer can be data-hungry on your smartphone, be sure to make the appropriate configuration change in order to limit data consumption.
Overall, I give a score of A- for News Explorer.
What is your favourite RSS reader? Feel free to leave a comment and start the discussion! It is always welcomed!