Replacing an Aging AirPort Extreme with the Unifi Dream Machine
I've been looking at a replacement for my aging AirPort Extreme for over a year. Here is my experience of replacing it with an Ubiquiti's Unifi Dream Machine.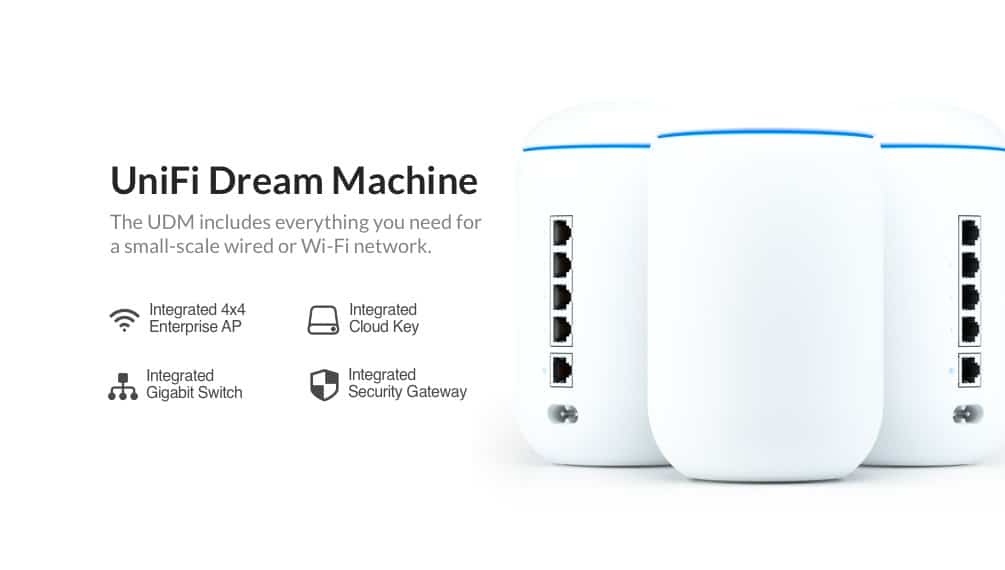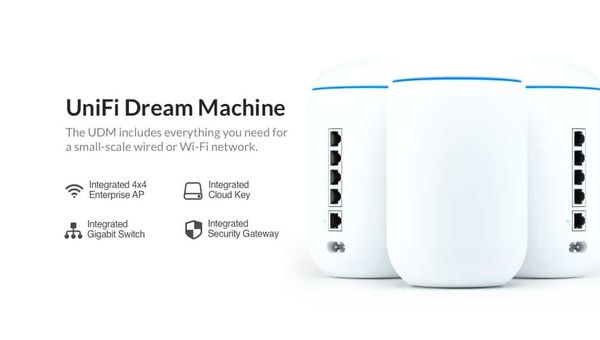 Apple left the home networking market a few years ago. I've been looking at a replacement for my aging AirPort Extreme router ever since. After much research, contemplation, I finally made my choice. Here is my experience replacing an AirPort Extreme with the Ubiquiti's Unifi Dream Machine.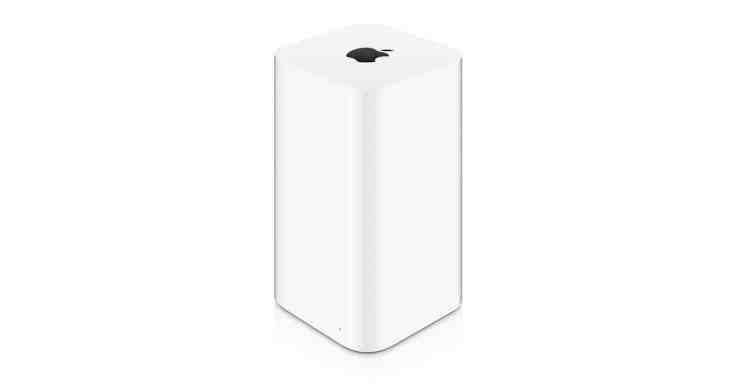 Apple exited the home network market in 2018. I was in shock as a long time user of their AirPort products. Instead of making the greatest routers on the market, Apple-designed and released the HomePod. I don't expect Apple to come back anytime soon. While the HomePod name implies something more than just a smart speaker, the reality is the HomePod is a smart-dump speaker with great sound. The HomePod could have been the start of a new line that integrates a speaker, a router and a HomeKit hub, all in the same package. I wrote about Apple's absence of the home networking market many times (Apple's Biggest Mistake: No Home Networking Product, Amazon, Goole, Apple and Home Networks). Another more recent take on the subject can be found here: Why is Apple missing the Boat with Home Wifi?.
With all the concerns about privacy and the exploitation of user data, this is an area where Apple could have taken a stance. They could have built their AirPort devices into a mesh wi-fi system, perhaps adding that capability to the HomePod as well, which could give more value to that device. Perhaps Apple has some plans for this in the future, but for now, Amazon has a huge advantage in the smart home market.  Kirk McElhearn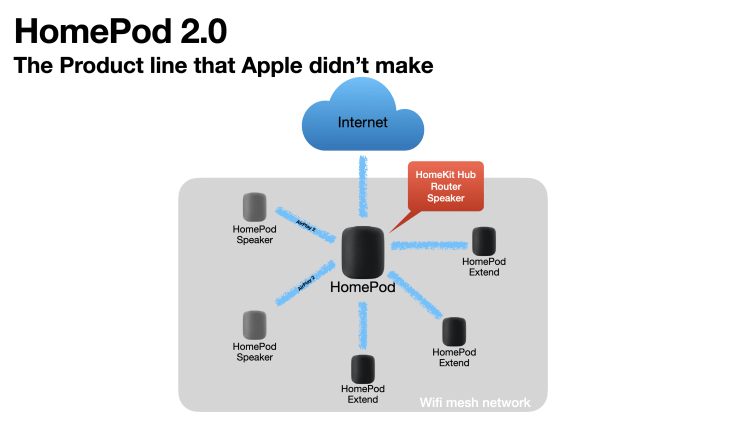 I've been searching for a potential replacement for more than a year. As an avid Apple consumer, the design of my next router had to be paramount. On the other side, as an IT professional for more than twenty-five years, I was looking for something with a rich management interface. If a product could provide both, it would be my dream machine. I'm happy to report that I found one. Here is my story of replacing my Apple AirPort Extreme with a Ubiquiti's Unifi Dream Machine. I think there are a lot of people in the same situation as me, my hope is they find this article so it can help them make a better decision.
Selecting a replacement for AirPort Extreme
One of the goal for looking for an AirPort Extreme replacement was to fix a few dead zones in my house where I could hardly get a wifi signal. The other goal is that I wanted to get more information from my internet usage1. On the list of potential replacement products were Google Wifi, Amazon Eero, Orbi and Ubiquiti Amplifi2.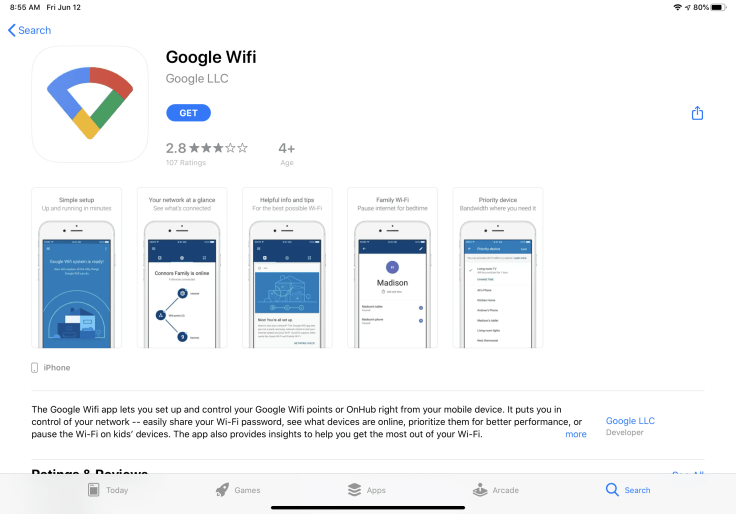 Google's product was quickly eliminated. First, I didn't want to put a mass surveillance device in my home. Secondly, Google's applications are drab in general, uninspired and don't adhere to Apple's UI visual language prescription. Just by looking at Google Wifi application on the App Store, we can see a lot of unhappy users.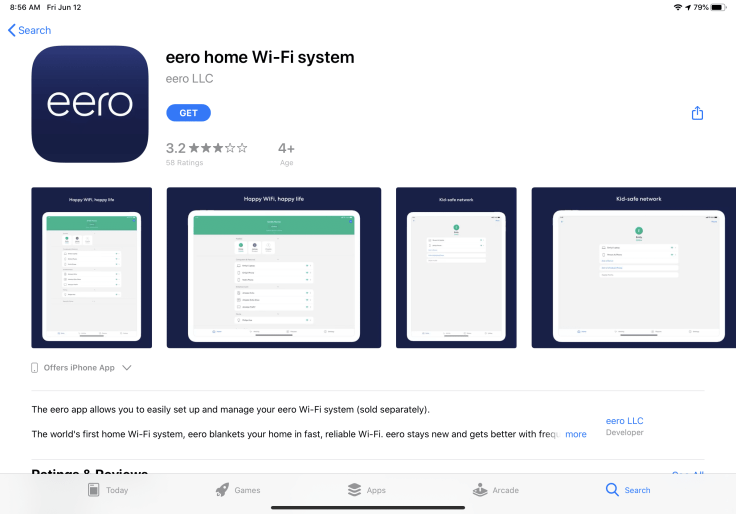 Amazon's Eero was also quickly eliminated. Amazon bought the Eero last year. Amazon's goals are well known: data gathering. There is nowhere I would put a beacon in my house to feed the Amazon machine. Again, looking at the App Store, people don't really like the Eero management application.
Next on the list was NetGear's  Orbi product line. According to Orbi's App Store page, users do like the application which is a good indication. Orbi's product includes a speaker and a microphone for Alexa support. I'm not into Amazon's ecosystem so it wasn't attractive to me.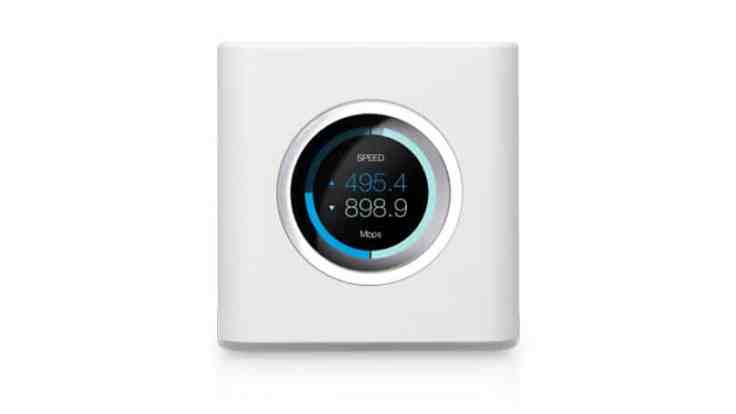 Finally, Ubiquiti was the next contender. At first, I was looking at Ubiquiti's Amplifi product line because of it's simplicity, the general design, the size and the integrated display showing current bandwidth consumption, something other manufacturers didn't have. I thought it was cool. But, while exploring Ubiquiti's website, I stumbled upon the Unifi products line and became intrigued with the Dream Machine. The Dream Machine is a semi-professional router that fits perfectly my home networking needs, but could also be used in business-like environments. It is also a bit more pricey but I was willing to pay more if I get more in return.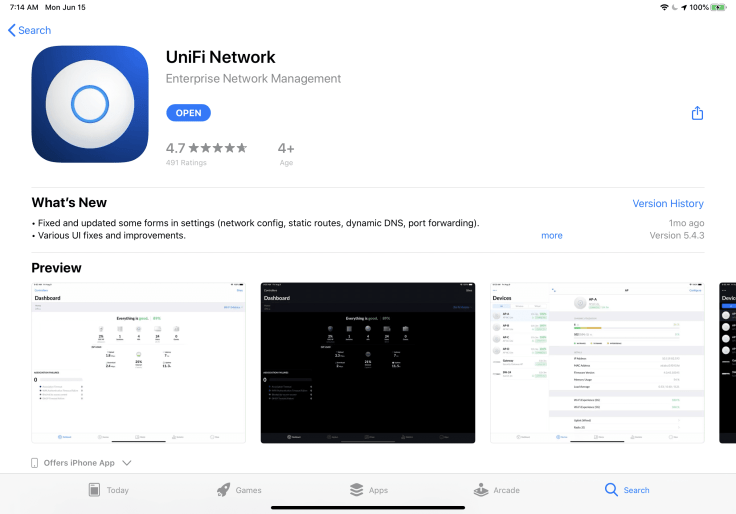 Unified Dream Machine was released in November of 2019 and includes a router, a basic management interface and a more sophisticated management application called the Network Controller that is tied to Ubiquiti's web backend where you can log in and manage the devices from anywhere in the world. Ubiquiti gives a name to the operating system which is UnifiOS. All their products under the Unifi umbrella use the same operating system and management interface and can be managed by a single sign-on account which is a good thing for larger environments.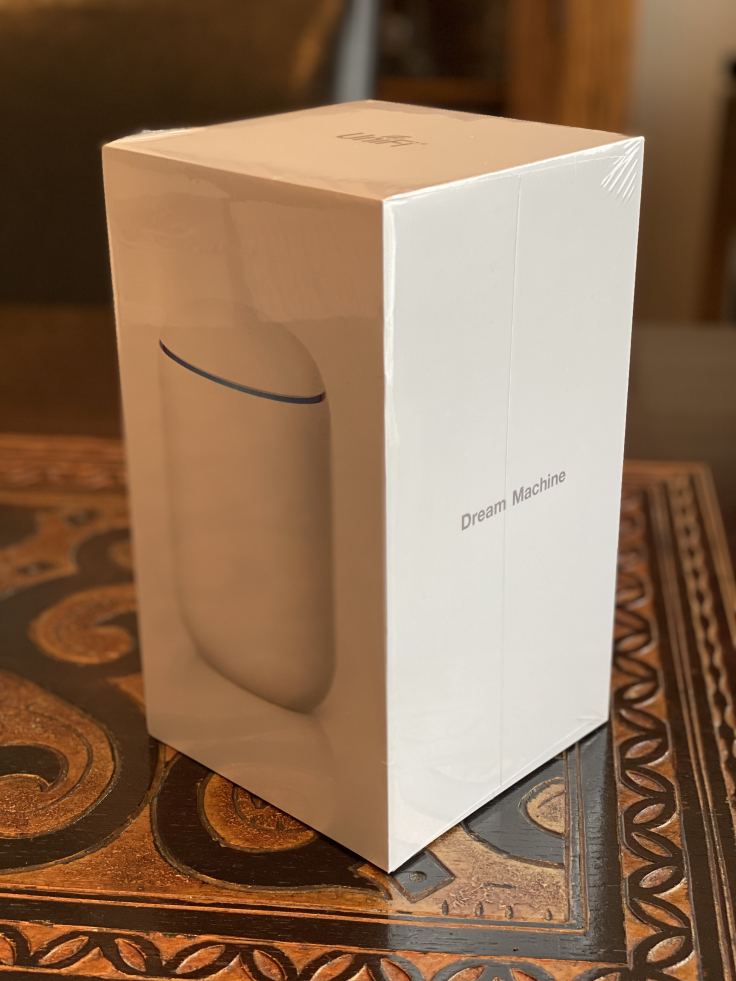 Setting up Unifi Dream Machine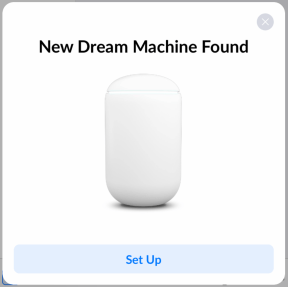 The setup process took me less than fifteen minutes and went nearly flawlessly. Here is how I physically made the switch from Apple's AirPort Extreme to the Unifi Dream Machine.
Move all cables from the AirPort Extreme to UDM3.
Reset the cable modem so it recognizes the new router.
Plug the power cable of the UDM, wait for it to start.
On the iPad, open the Unifi Network management application and follow the instructions. See the following image gallery for each step .4
Once the UDM is configured, add the two Unifi AP BeaconHD to create the mesh network. I had to "adopt" the AP BeaconHD one by one, a process that takes a few minutes each.
Upgrade firmware of each BeaconHD.
---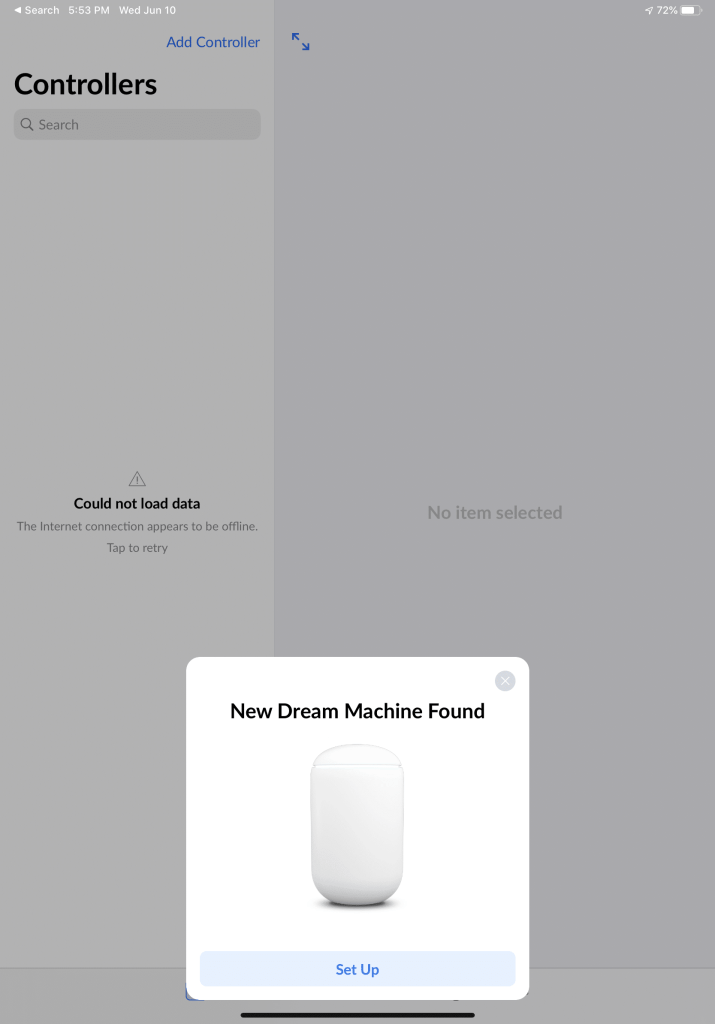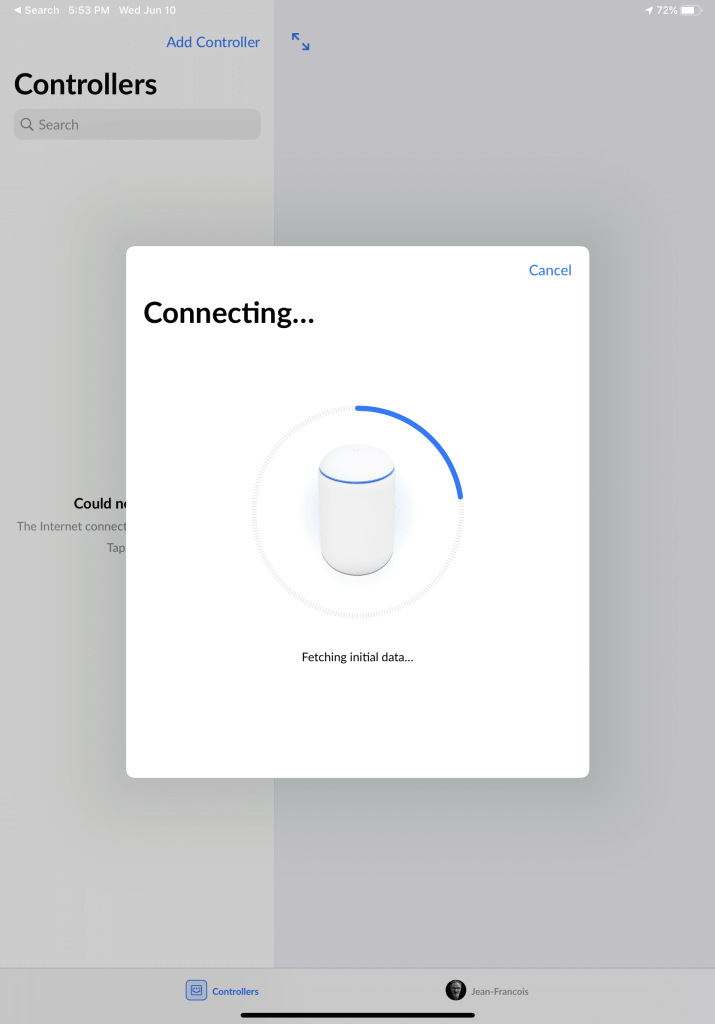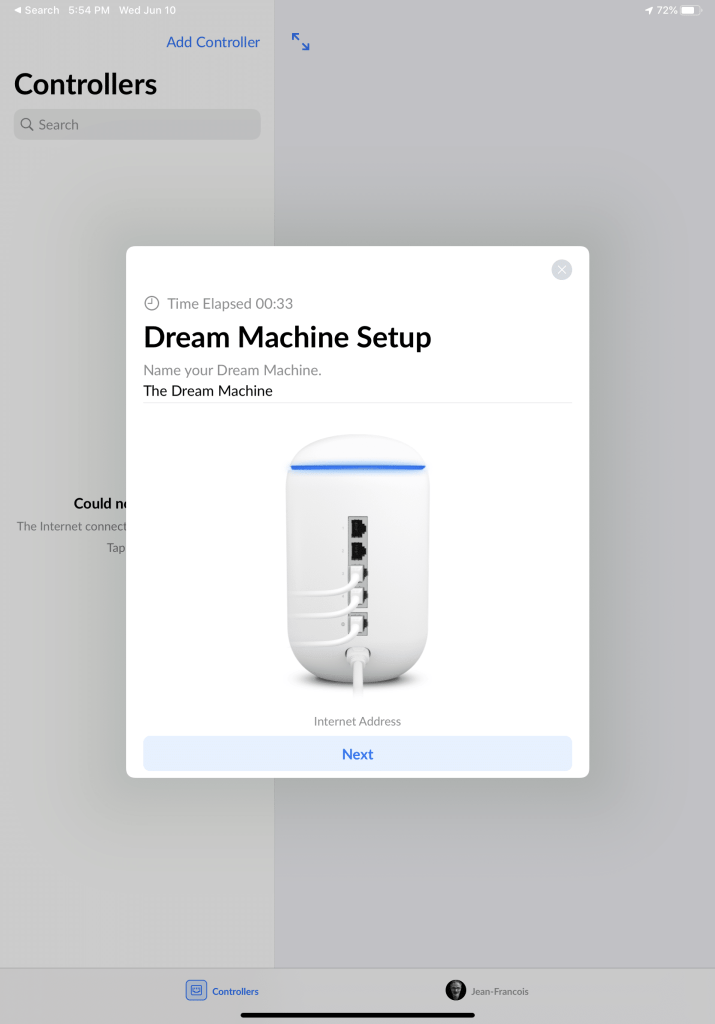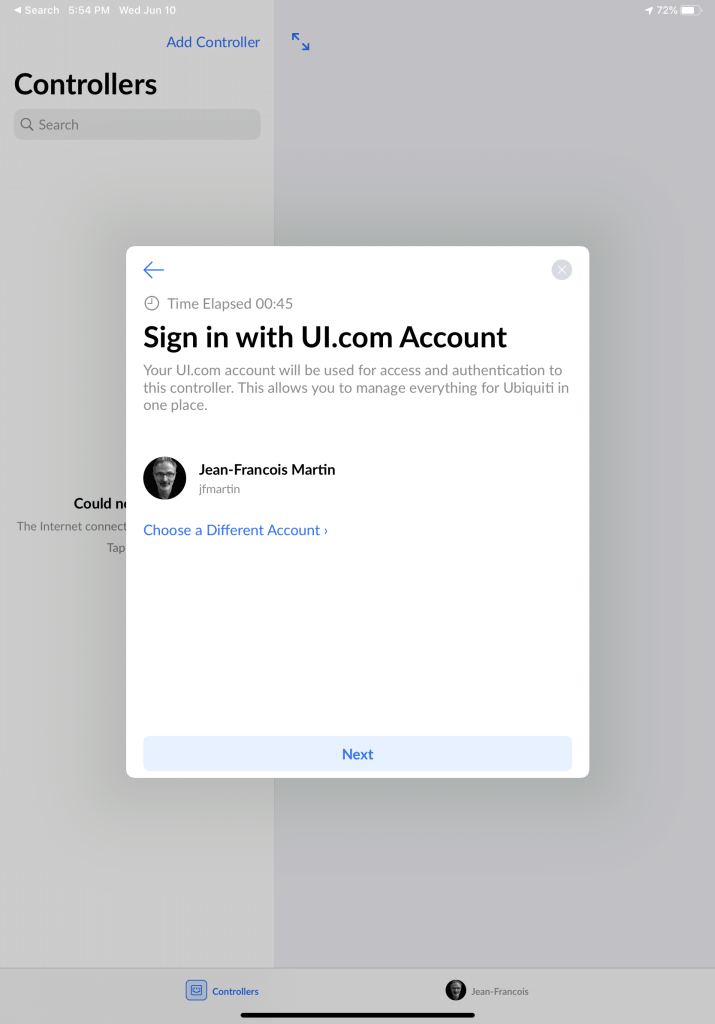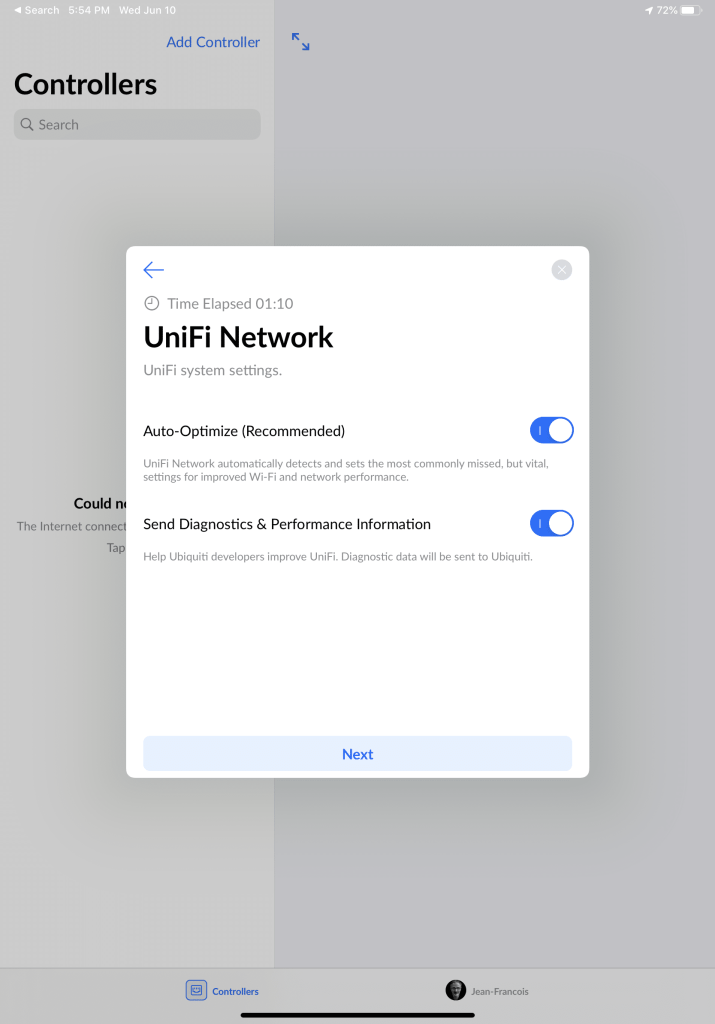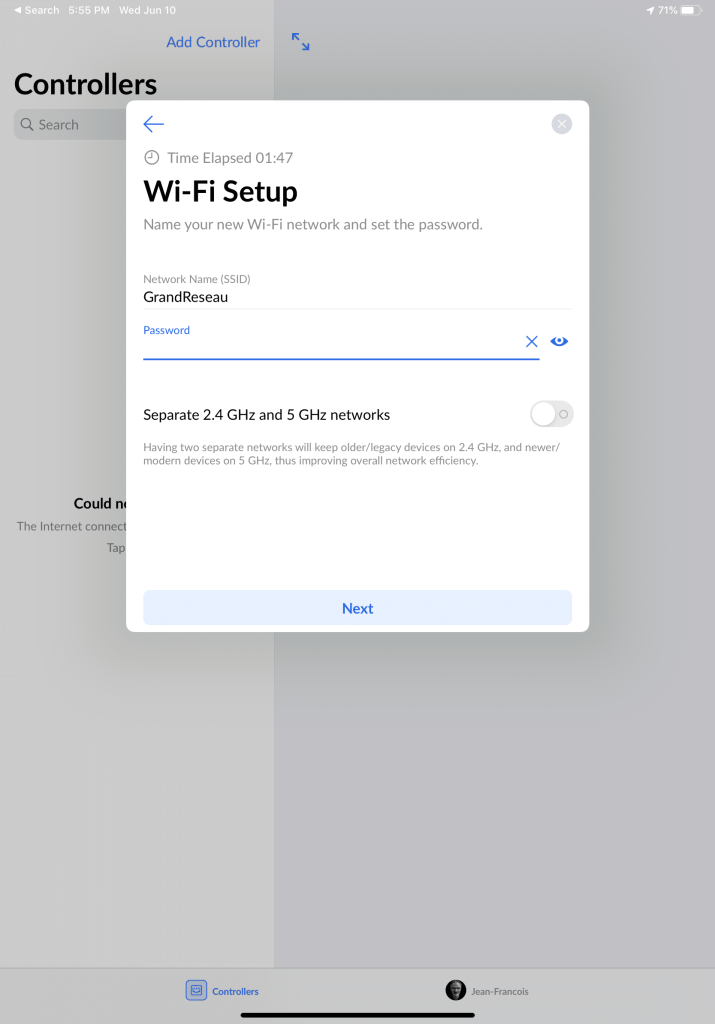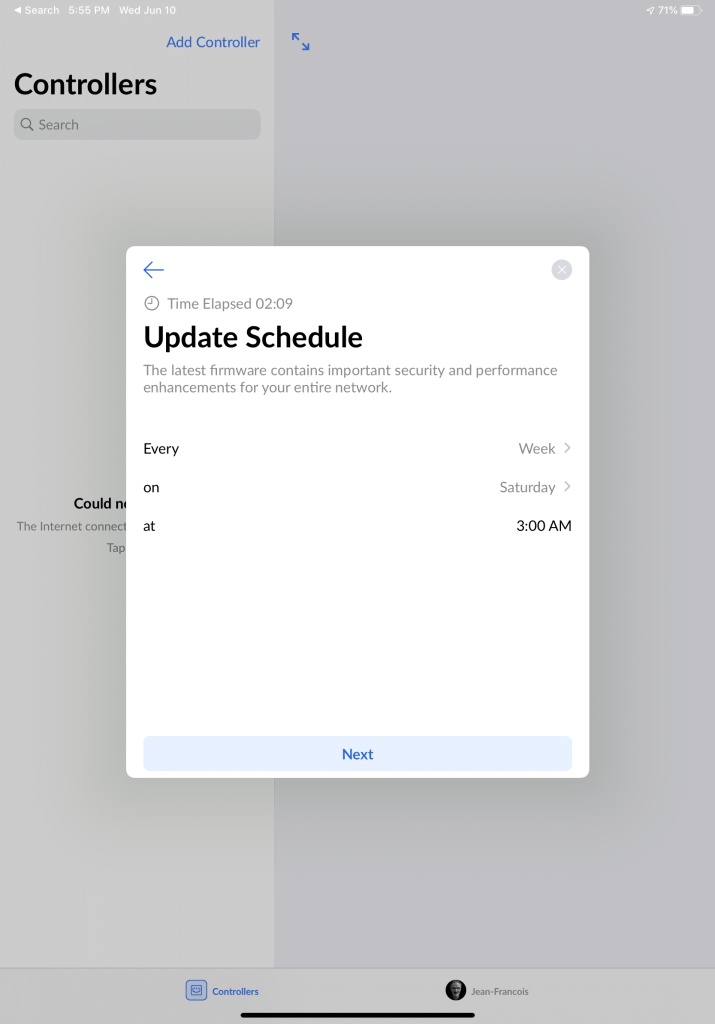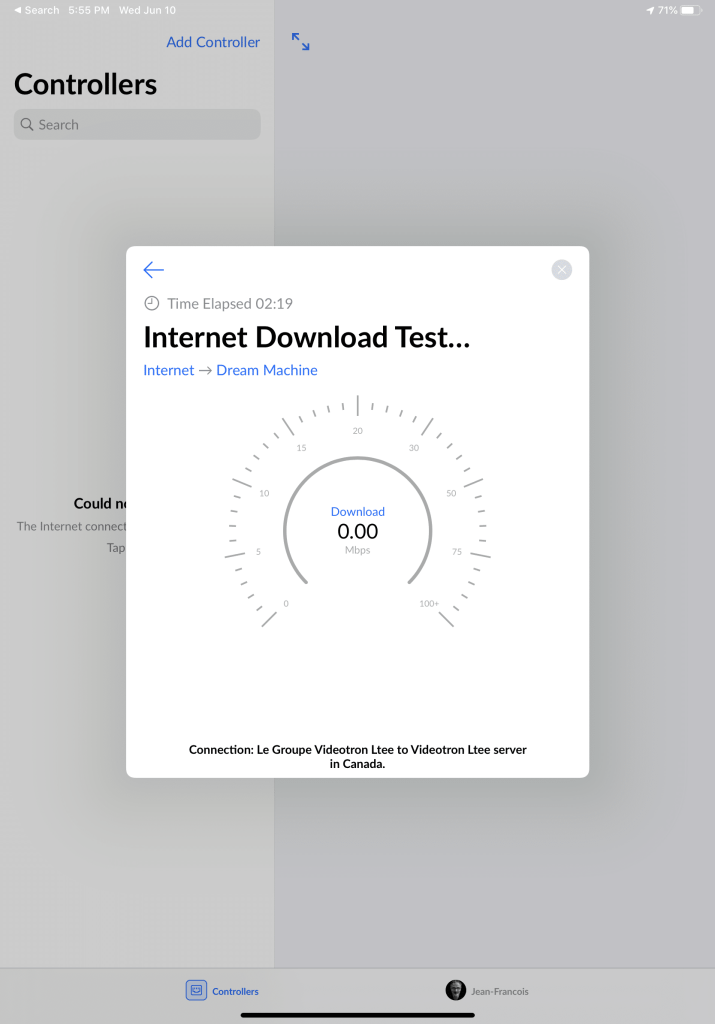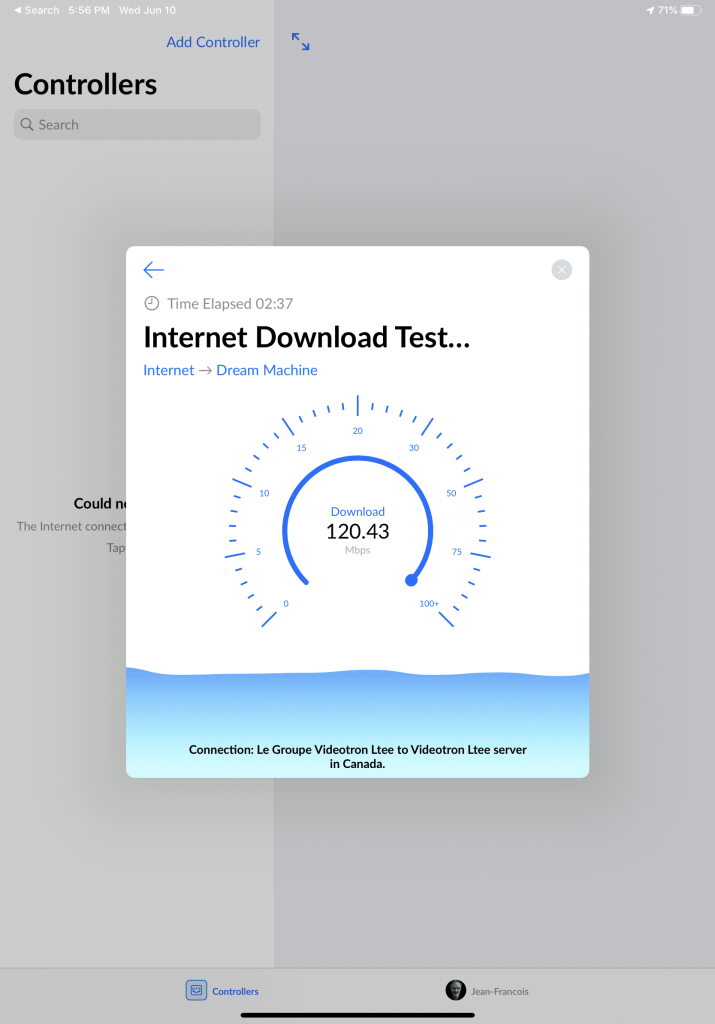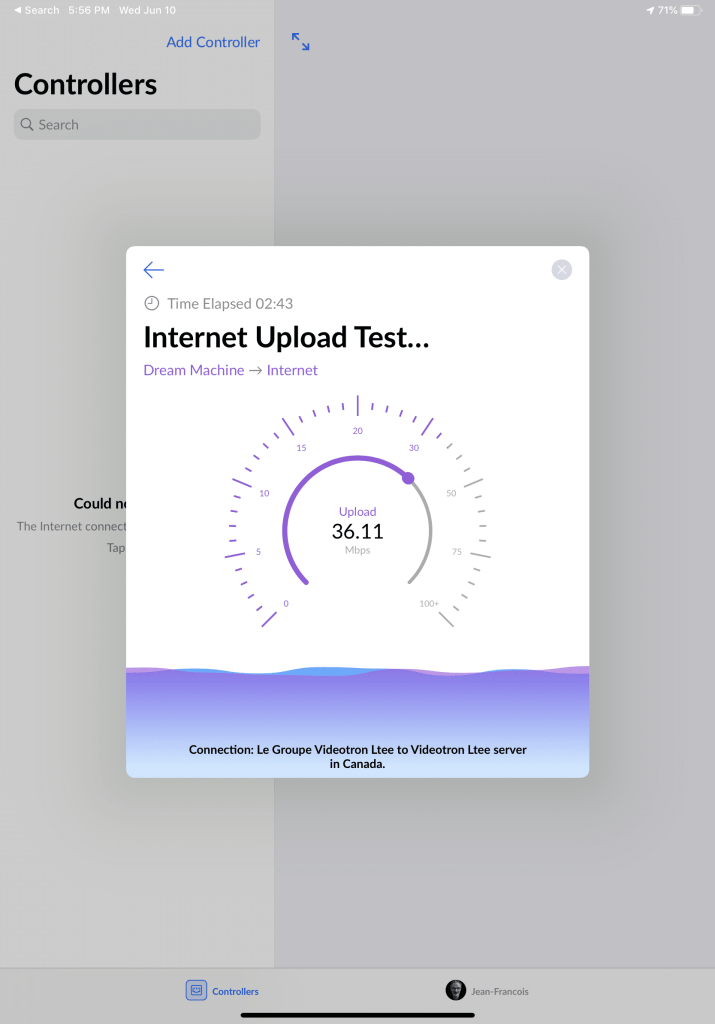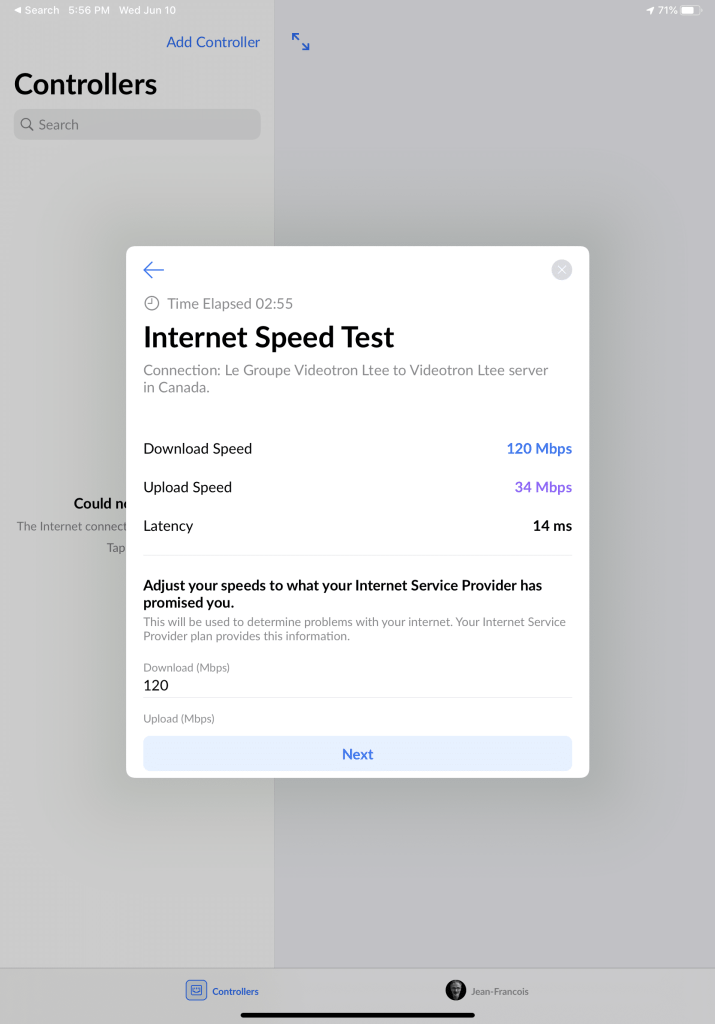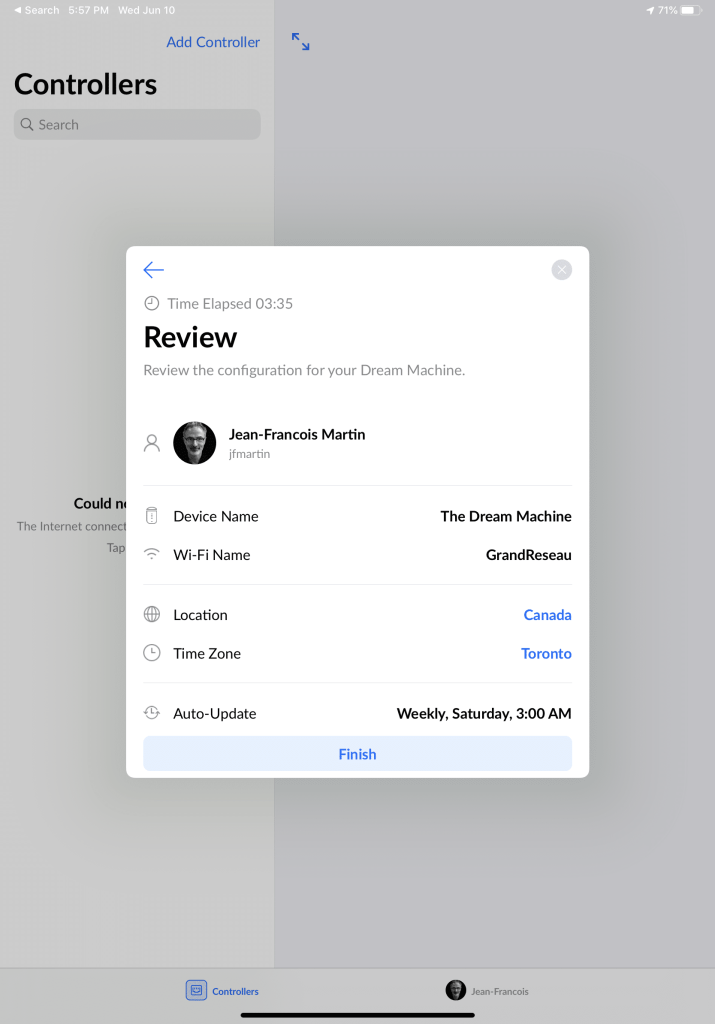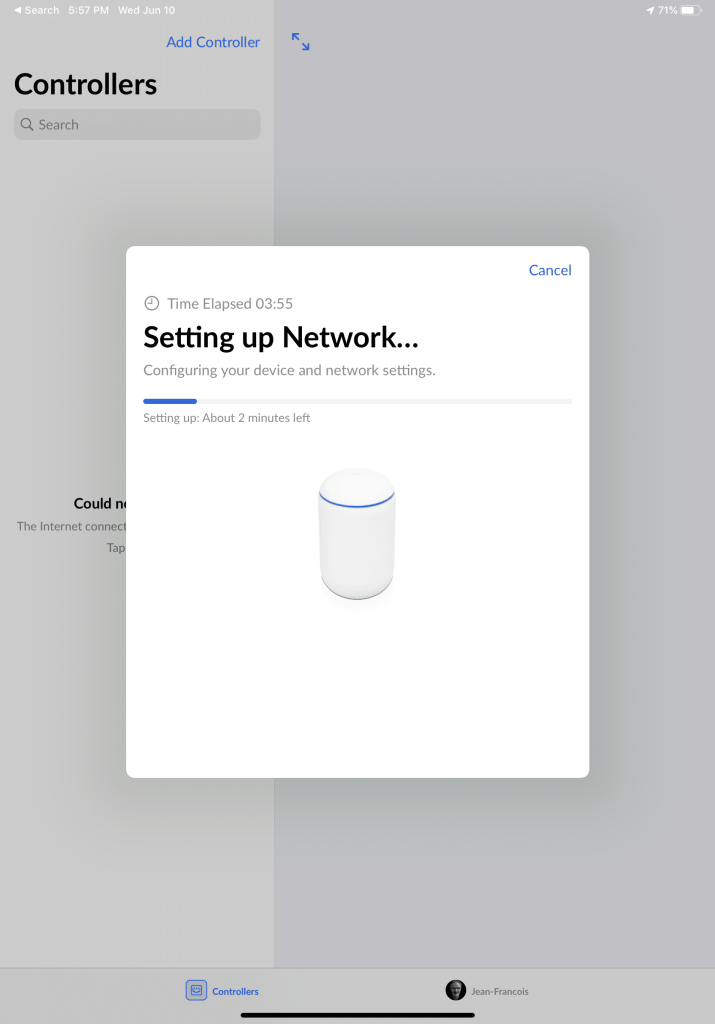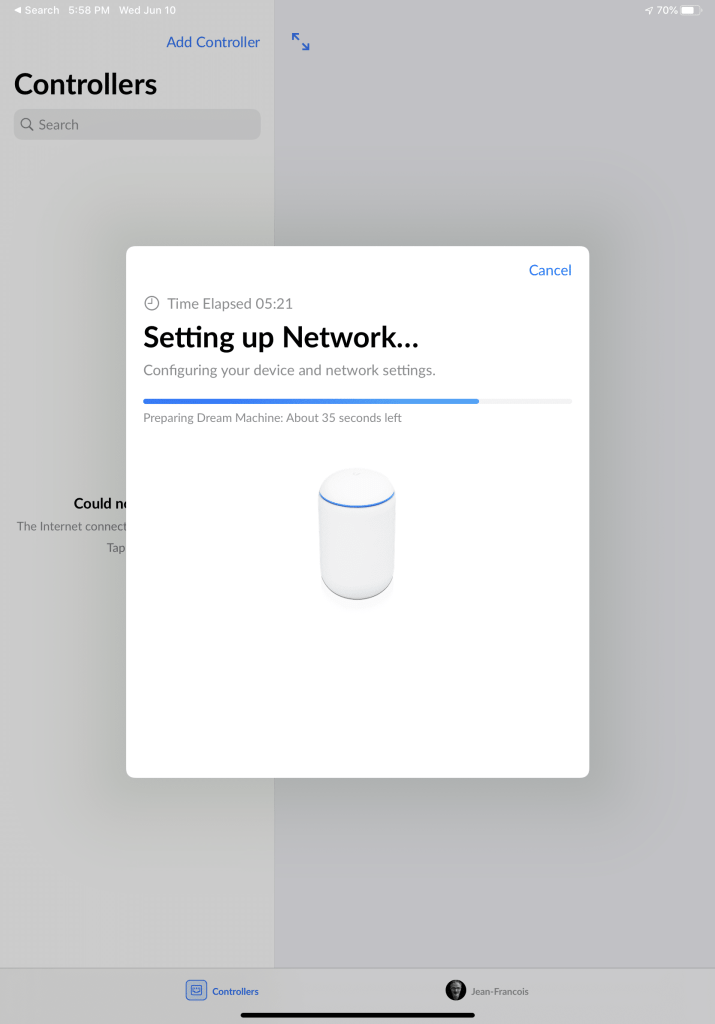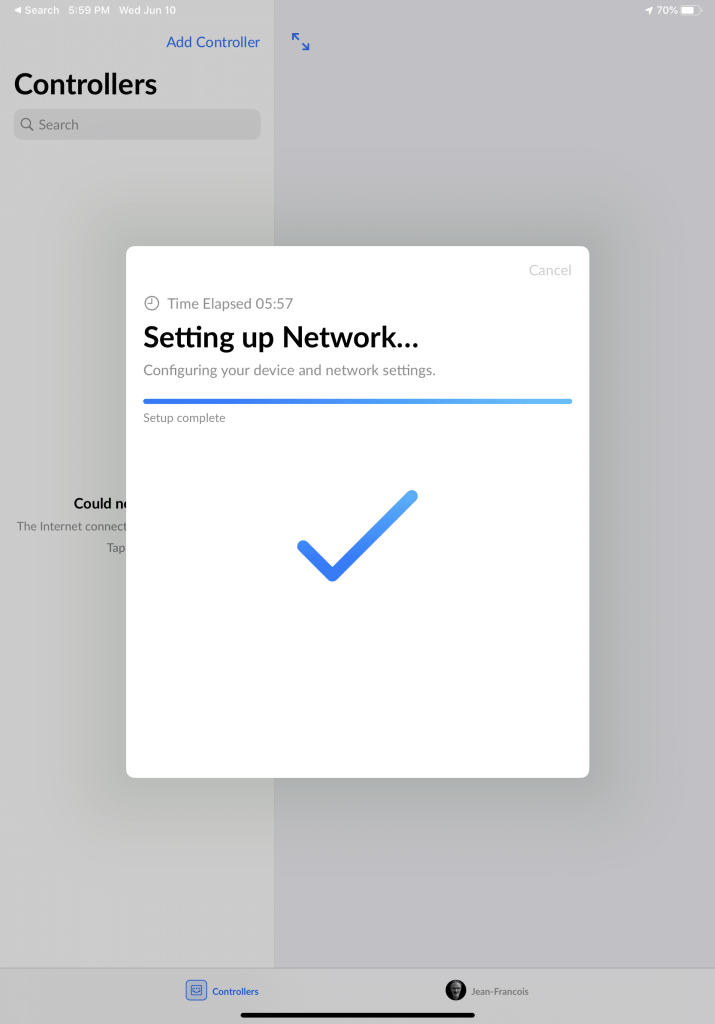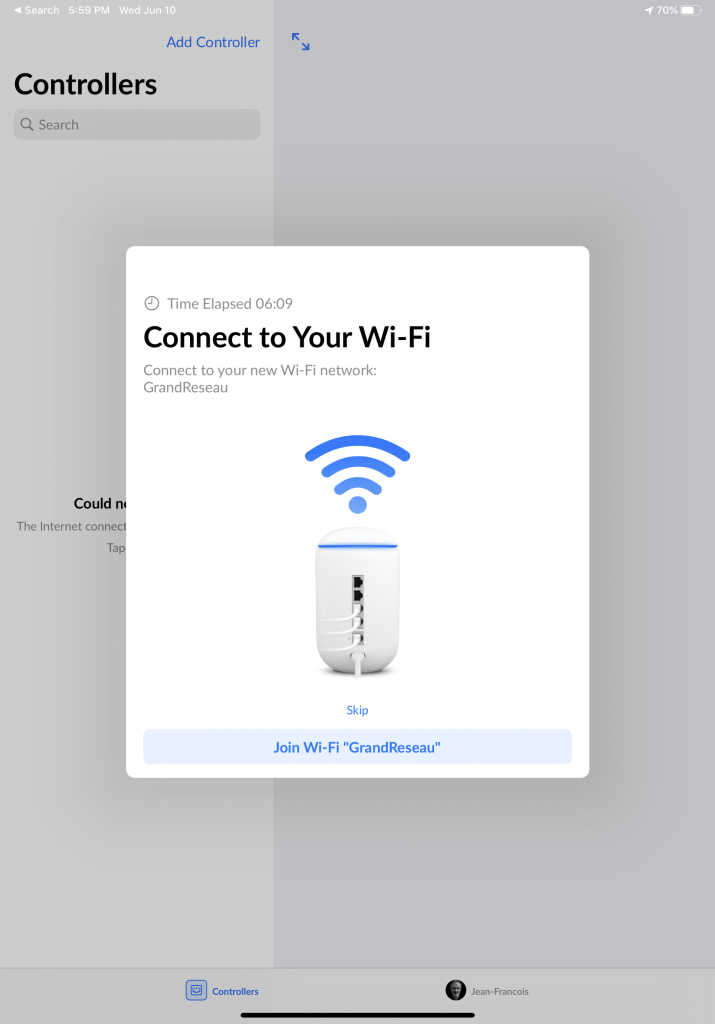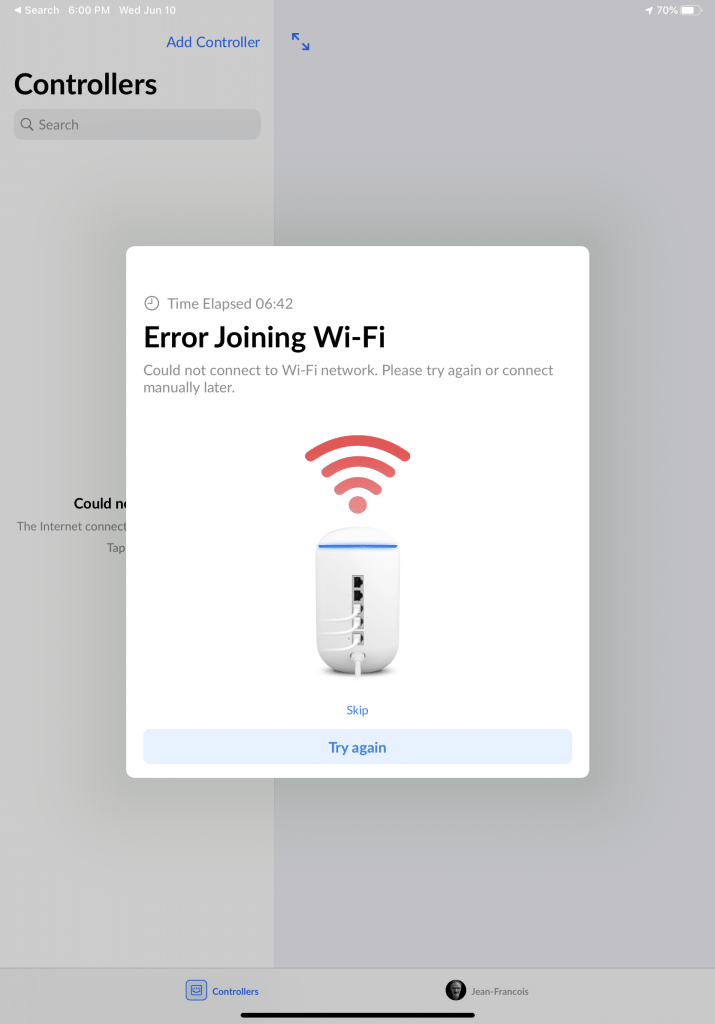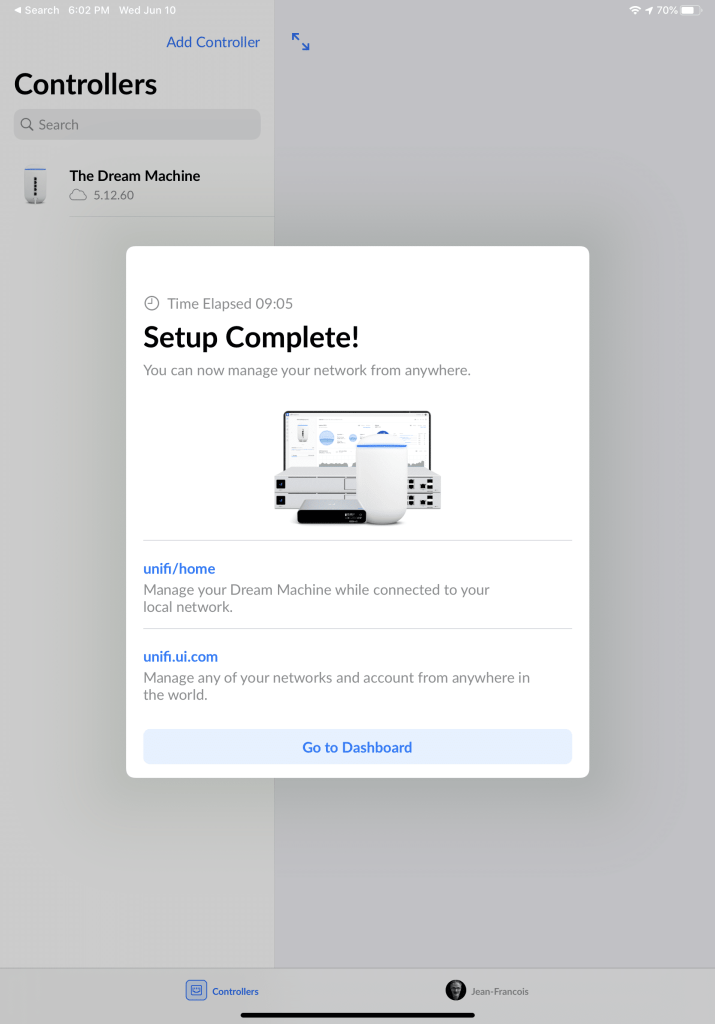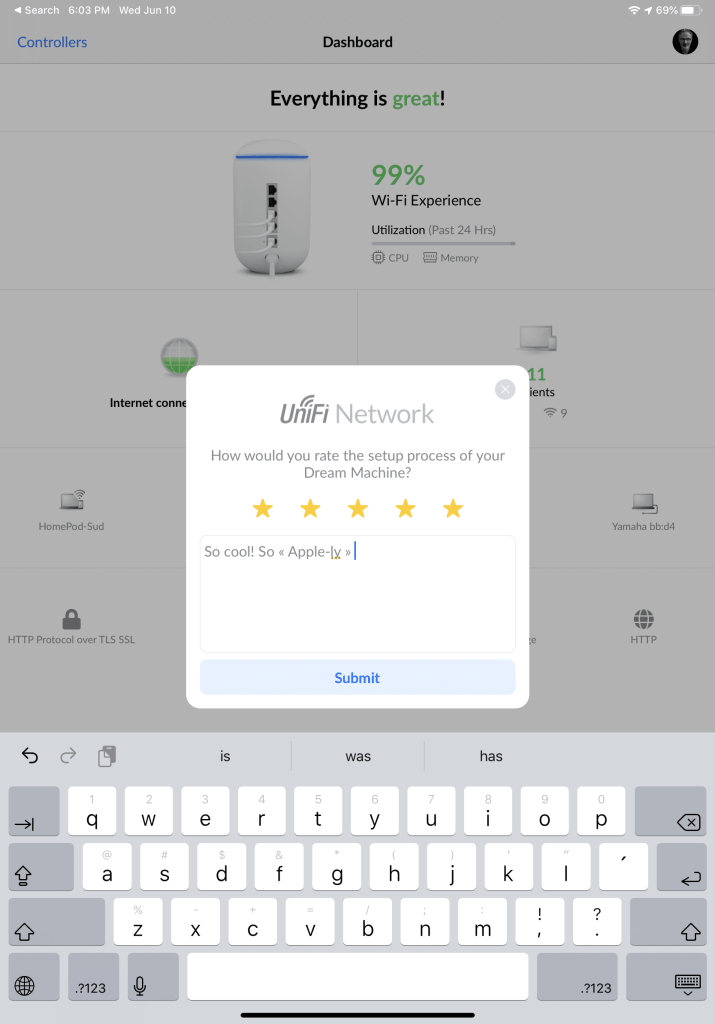 The initial setup process from the iPad
---
At this point, my network was up and working with the same SSID as previously made available by the old AirPort Extreme. This was a requirement in order for all known devices to automatically connect to the network without re-entering the network password. Next, I started testing clients access and my HomeKit devices including the HomePod. Everything worked flawlessly. I was relieved.
A few other steps were required like setting up an alias on a few devices with MAC address as their name to better identify them in the management interface. I also made sure to disable automatic firmware update because I prefer to read about them before installing them.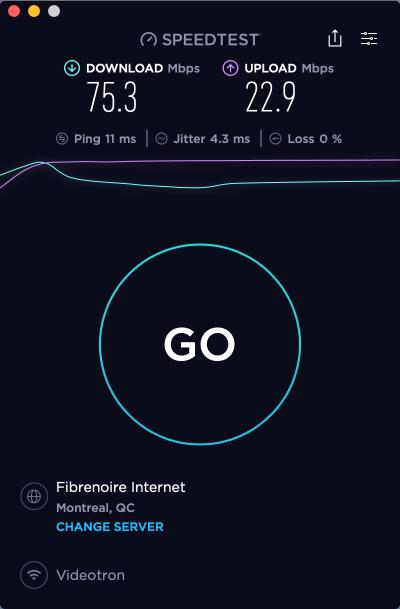 The first network speed test that I ran gave a lower speed than I was expecting. The internet speed of my ISP is 120 Mbps for download and 30 Mbps for upload. On my iMac, using iStats Menu, this speed used to translate to about 13 MB/s. After my Unifi Dream Machine was up and running, I was getting only 10 MB/s. Upon investigating for a possible cause, I found the solution: disabling the "Smart Queue" feature on the WAN settings fixed the throughput issue. Again, I was relieved. Now, I'm getting a 5% to 10% speed increase compared to what I was getting with my AirPort Extreme.
Another urgent issue to fix was the remote access to my iMac with the popular Screens from Edovia: port forwarding was no longer working. Enabling the UPNP on the UDM quickly fixed the problem by itself on the iMac.
In order to get an idea of the coverage, I took advantage of a mapping feature of the UDM and designed my house main flour plan and placed the devices on the map. The end result is interesting and very close to what I'm experiencing.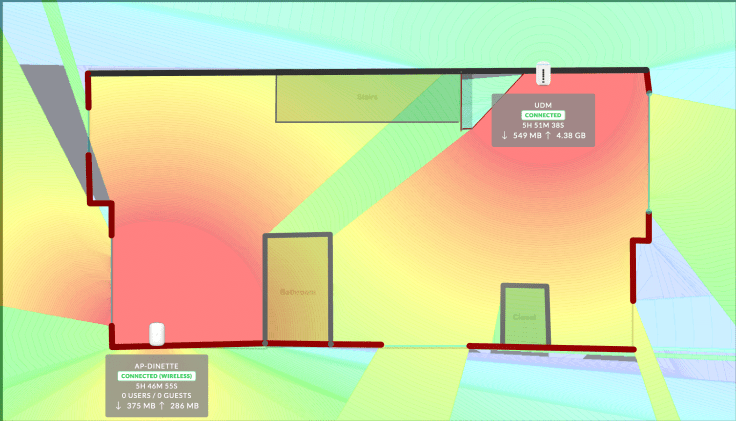 I also set up a guest network with a landing page with mandatory authentication and bandwidth limitations which is something I couldn't do with the AirPort Extreme. The login page for the guest network can be customized as shown below. You can change the webpage background with pictures coming from Unsplash, one of my favourite places to find quality pictures! How cool is that!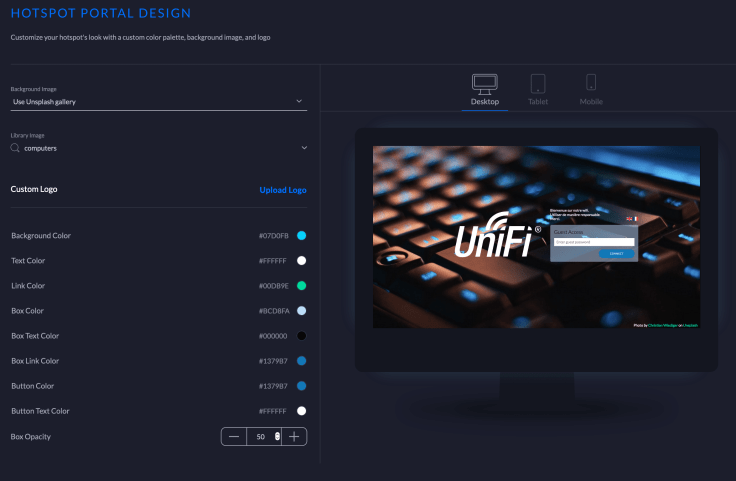 Once the UDM was humming and running, I started to dig the rich management interface. For many people, this could be overwhelming; there is a lot of features, options and statistics at your fingertips.
Managing Unifi Dream Machine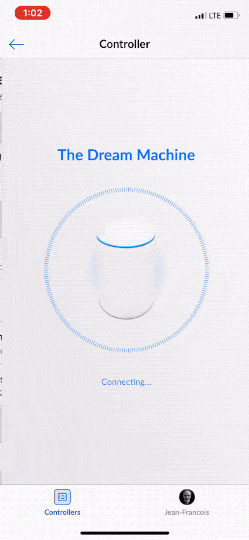 The fun part is managing the Dream Machine from the iPad or from the web. Some people would say the best products are the ones who don't require management at all. Well, maybe in theory, but in practice, networking is a complex subject in IT.
Unifi products are designed by a serious networking products company and it shows. The Unifi Network management software is feature-packed and designed for serious network administrators, even in their home product line like the UDM. Network features, performance analysis and alerting are fully accessible and easily manageable. It is something that I was willing to pay more for.
The Unified Dream Machine comes with a basic webserver to allow for simple management tasks like upgrading the firmware, giving a name to the device and setting its time zone. In order to manage more advanced features, UDM also comes bundled with the Unifi Network Controller that is the management foundation of an Unifi-based Network. On business-oriented equipment, the controller has to be installed on a separate computer on the network. With the UDM, the Network Controller is embedded which provides a fully autonomous solution as shown in the following diagram.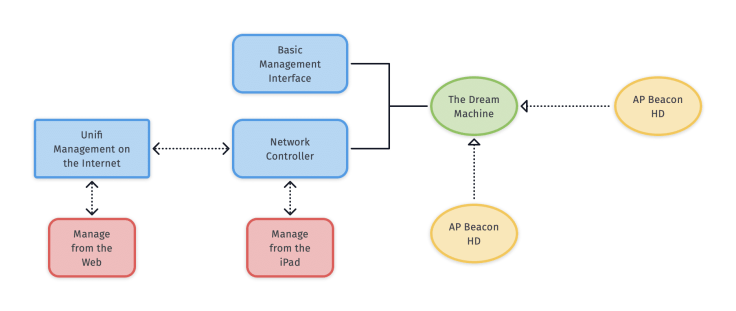 You can manage the UDM from the excellent native iOS / iPadOS application, from a browser (preferably Firefox or Chrome). There is no need to be at home to manage your Unifi network. You can use the iOS application on the go. Why? Because when installing your UDM it is associated with your Ubiquiti account that should be created before starting the setup process, which I did. From there, the UDM communicates with the web service. The end result is that, now, directly from my iPad, I'm able to manage my home network very easily, from home or from anywhere else. It's something the AirPort Extreme didn't provide me.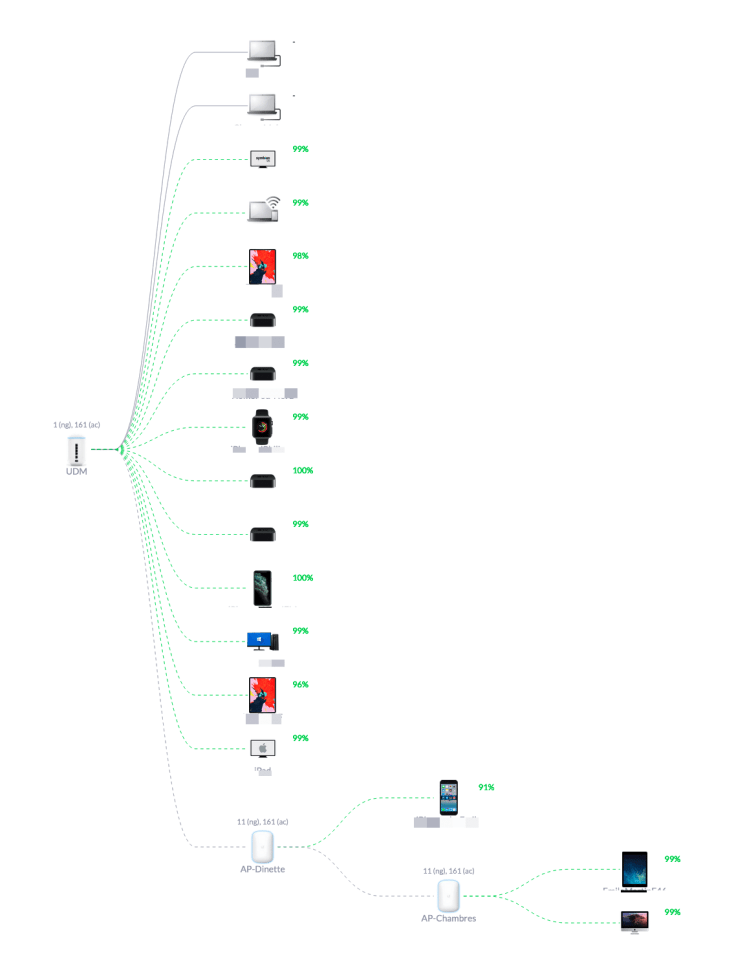 Question & Answers
While reading this article, you may have some questions that pop in your head. Here are a few questions with their answers.
How long did it take to deploy the UDM and be fully operational? Less than fifteen minutes.
Can an AP BeaconHD be used with an existing AirPort Extreme to extend the network? Nope. It requires an Unifi Dream Machine5.
Is there an internal fan in the UDM? Yes. Is it silent while operating? Absolutely.
Does the UDM come with an AC adaptor brick? Nope, only a power cord is provided, just like the AirPort Extreme, which is nice.
How long does it take for the UDM to reboot after a power failure? Less than a minute, which is about the same as Apple's AirPort Extreme and my IPS modem. Maybe a bit longer. When the reboot is completed, the device emits a nice completion sound (it can be disabled in case you wonder).
Is the internet speed faster compared to Apple's AirPort Extreme? Yes, about 5%-10% faster. I get 14 MB/s in download and 4.3 MB/s in upload speed using my 2017 iMac.
Is the wifi speed consistent around your house? Not really. It varies quite a lot, a bit too much to my liking. I think it all depends on which AP is feeding each client at any given time. I guess that is normal while operating a wifi mesh network.
Things to love
There is a lot to like about the Unifi Dream Machine and its management software. Let's see first, from a physical design standpoint, then from the software side.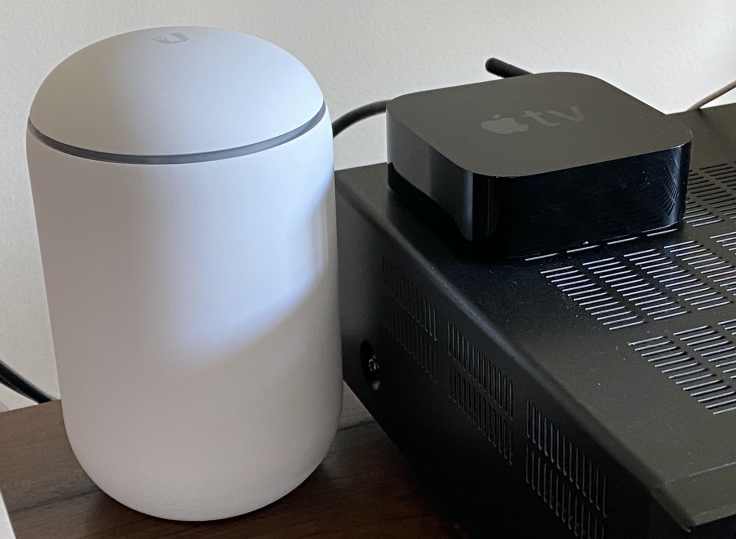 The physical design of the Unifi Dream Machine is top-notch; it's a nice physical device, it feels approachable, honest, all attributes that generally fit the Apple design language. The Dream Machine looks a bit like a smart speaker with it's blue LED ring at the top. The same can be said for the AP BeaconHD wifi extenders. They come with a LED too, a distinctive attribute of Unifi product line. These LEDs can be turned off.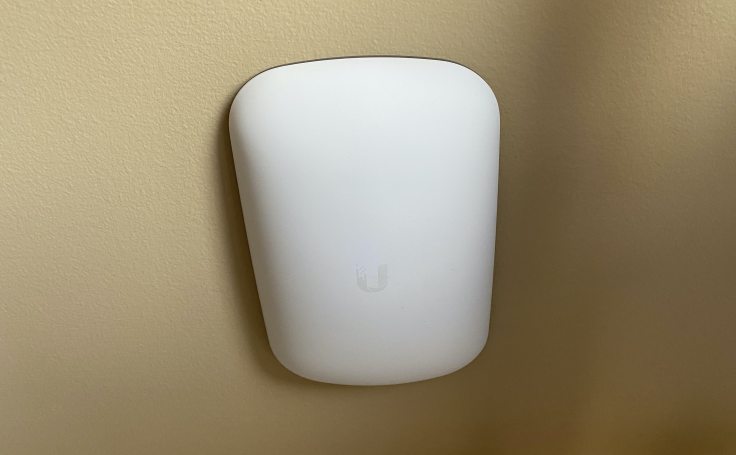 On the software side, I couldn't be happier. The network controller web-based management is well designed, responsive and complete. You can also manage the Unifi Dream Machine from an iPhone or an iPad6. The most important management features and visualization features are available from the iPadOS application. The iPadOS application takes full advantage of Apple's Human Interface Guidelines. The iconography is really nice. As an IT professional who used to manage data center technologies, I wish companies like VMware, NetApp, IBM would take a note from Ubiquiti. Just look at the main page of the Unifi products line and wait for the full animation. Mind-blowing and very cool.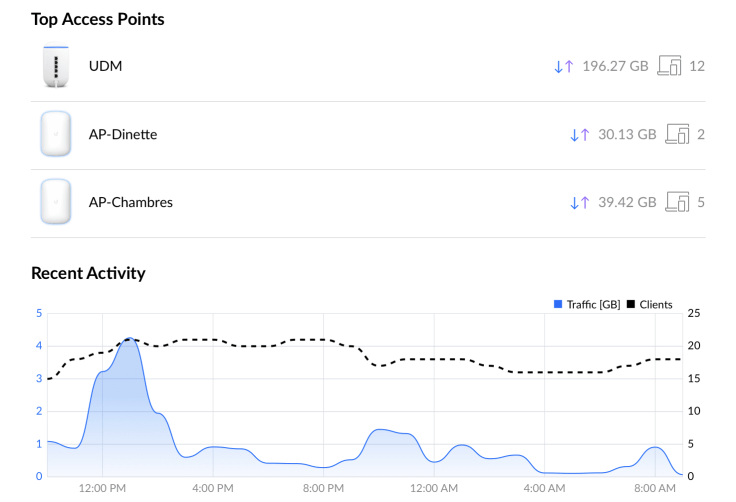 The amount of statistics that you can get from the devices is impressive, may be overwhelming for many, but for me, it is just fun to peek at. Each Unifi device has its own set of counters like how many clients are connected, the speed of download and upload, how many data has transited through the device, etc. The same level of detail is available for each wifi clients. All these statistics can be queried with very flexible time range (last hour, last 24 hours, last week, etc.) using a resolution the goes from 5 minutes intervals to daily interval.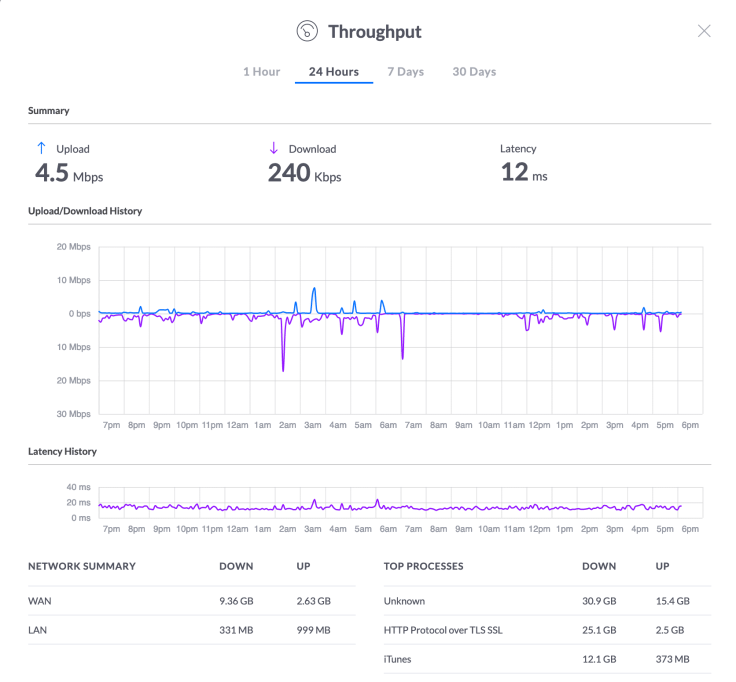 As I experimented with the management tools, I visited the Unifi community on the company's website. It is a very active community which is helpful to find tips, other users' experience, and stories, like this one. I plan to publish my own story soon after this article gets pushed to the web.
Things to improve
As much as I like the UDM and the Unifi software in general, there are a few things that need improvements or that need fixes soon.
As I wrote earlier, the management software is called the Unifi Network Controller and it comes bundled with the Dream Machine7. There is a stand-alone version that can be installed on Windows or macOS that is a few releases ahead and that offers fixes and new features. At the time of this writing, the latest UDM firmware version is 1.7.2 which includes release 5.13.27 of the network controller, but my current bundled release is 5.12.60. I wish I could upgrade the controller software on a different schedule than the firmware.
The current release of the controller management interface includes a new navigation menu that is in beta. I don't know how long before it goes final but I feel it is a step in the right direction that makes the user experience even better as you can search for options. Oh, and the Network Controller's website doesn't work with Firefox on iPadOS. The situation is a bit better on Chrome albeit with many layout issues. Since a few features are only available on the website, it would be nice to be able to access them from the iPad native application as well.
Some tasks require visiting different pages. Providing a setup wizard beyond the one that is used to initially set up the Dream Machine would be helpful. For example, I'm thinking about a wizard to set up a guest network, for example. That being said, the help page explaining how to proceed to create a guest network is really informative and helpful, though.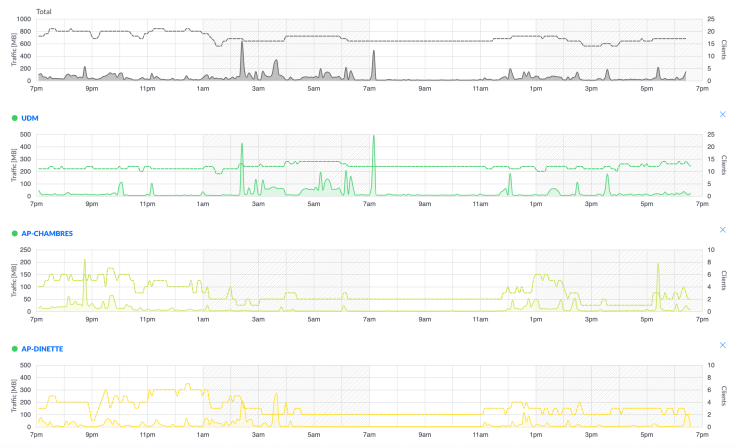 There are a lot of statistics that you can look at for a certain duration period and with a specific resolution (5 min, hourly, daily, etc.), but it is mostly only available from the website. I wish I could peek at those statistics from the iPad too.
Speaking of the iPad application, there is a widget to connect to the Network Controller which provides an overall score of the wifi network health status which is nice, but offers minimal information. If there is an unread alert, it will also indicate it. I'd like to be able to see more statistic summary there too.
Lingering issues
At the time of writing this article, there are a few lingering issues that are in search of a solution.
For unknown reasons, looking at the controller events log, there are many occurrences where my AP Beacon HD are becoming isolated before returning back online after a minute. It happens all day, every day. It does affect my work as my iMac needs to reconnect to the UDM or another AP. I do experience interruptions while using video conferencing software. It's probably the most frustrating problem I'm currently experiencing with the UDM. I went through this troubleshooting guide and made a few changes. We'll see how it goes8.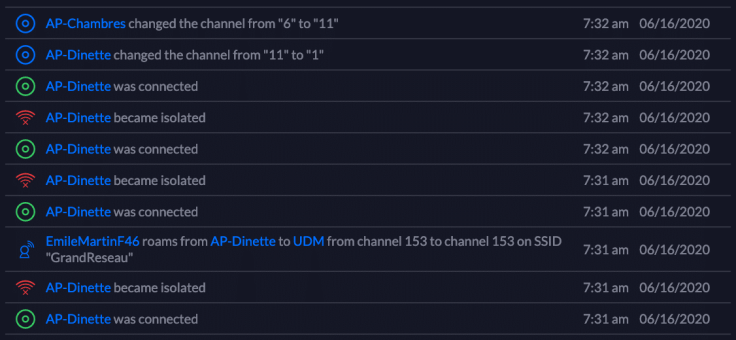 Issues with bandwidth speed regularity. Depending on my location, the network speed can vary quite a bit. Upon investigation, I found out that a specific client is not necessarily connecting to the router or the closest access point. I'm not sure how bad this affects the resulting speed.
I suspect there is a display bug in many graphics where the selected time zone is not reflected on the time scale. It is probably fixed in the latest release of the Network Controller, though.
I noted that changing many settings requires partial or full router reboot which is disruptive. There should be a warning to the effect before applying the change.
I have spent some time on the community forums to look for tips and answers to my few issues. One of the support guys suggested to upgrade my UDM to a beta release and see if it fix the issues. There is no way I'm going to put beta releases on my UDM, it is too critical for me as I'm working all the time from home. I'll be patient here.
Things to study further
I'm still learning new things every day about my Unifi Dream Machine. There are a few things I'd like to dig a bit further in the coming days or weeks. For example, I didn't test the threats detection module. Enabling this feature would reduce the actual bandwidth to 850 Mbits/sec according to the documentation instead of the 1300 Mbits/sec. It is a big difference.
Concluding words
When Apple announced they were stopping to make and sell the AirPort product line, I thought they were making a big mistake. The following eighteen months proved they actually did make a mistake with the birth of intelligent speakers and mesh networks. Two products that could become one.
As time went by, I knew that I would eventually need to replace my aging AirPort Extreme. I'm happy to report that, after more than a year of passive-aggressive research and a bit of wait-and-see attitude, I found a replacement solution. I replaced my AirPort Extreme with a Ubiquiti Unifi Dream Machine.
This device, coupled with two AP BeaconHD Wifi extenders fixed many coverage issues, is providing faster wifi (most of the time) than my old AirPort Extreme. On top of that, it provides a top-notch management solution. I'm a happy camper.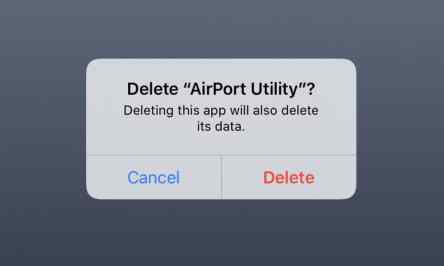 Final score
| | |
| --- | --- |
| Overall satisfaction | 4.5 / 5 |
| Design | 5 / 5 |
| Setup experience | 5 / 5 |
| iOS/iPadOS Application | 4.5 / 5 |
| Management Features | 4.5 / 5 |
| Performance | 4 / 5 |
| Support | 4.5 / 5 |
My kids are older now, but when they were young, I certainly had a few occasions where I wanted to know where they spend their time when they are surfing on the internet.  ↩
Many people suggested TP-Link as a possible candidate, but I didn't really like the look of their products. ↩
Two client devices are physically connected to the router: my LG Smart TV and my home movie theatre device.   ↩
When the UDM is rebooting, the internal fan produces a noticeable sound for less than a few seconds. ↩
I received my two AP BeaconHD a few days before the Dream Machine router. I tried to set them up with the application to work with my AirPort Extreme, but it didn't work: an Unifi controller has to be present in order to kick start the configuration and the discovery process. ↩
Being able to manage my devices from anywhere is cool and could prove to be a real time-saver in the future. ↩
Other products from Unifi don't include the network controller which, in this case, must be installed separately on the network. ↩
It did help a lot. In fact, I no longer see isolation errors.  ↩