photography
My Photo Processing Workflow As Of 2022-11
Here's my latest update to my photo processing workflow. A lot of changes since my latest update, two years ago.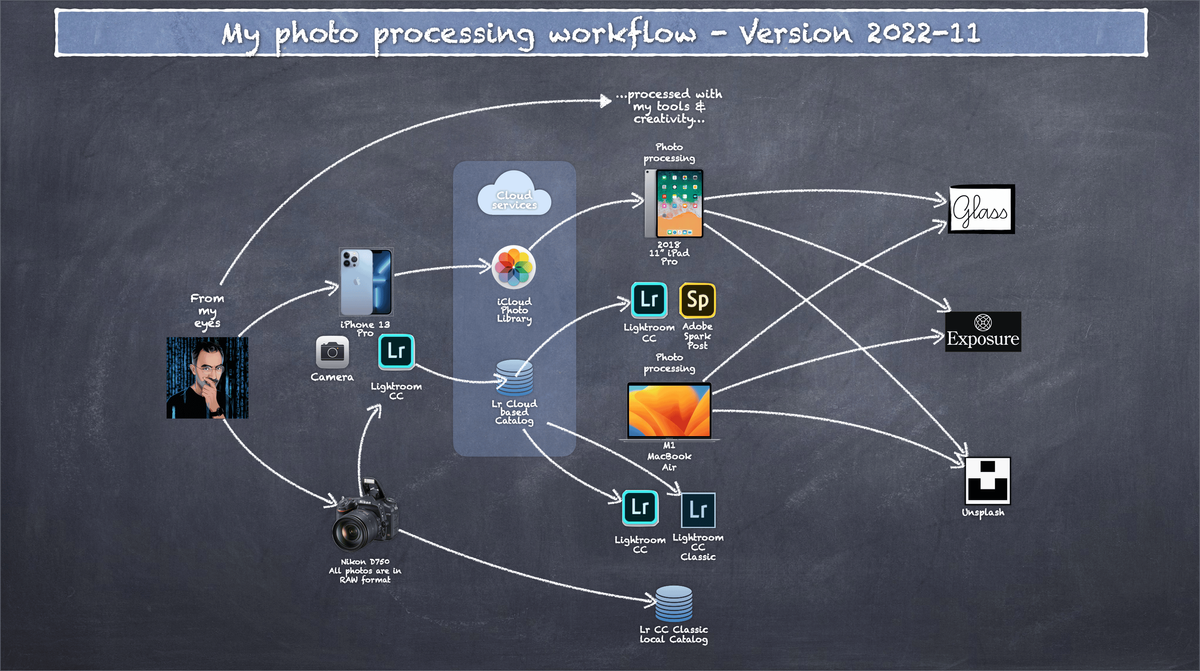 My last photo processing update is more than two years old. Quite a few things have happened since 2020: many things are in, but many things are out too. I learned to use new services while dropping those that don't fit my content creation journey. Let's see what's in and what's out.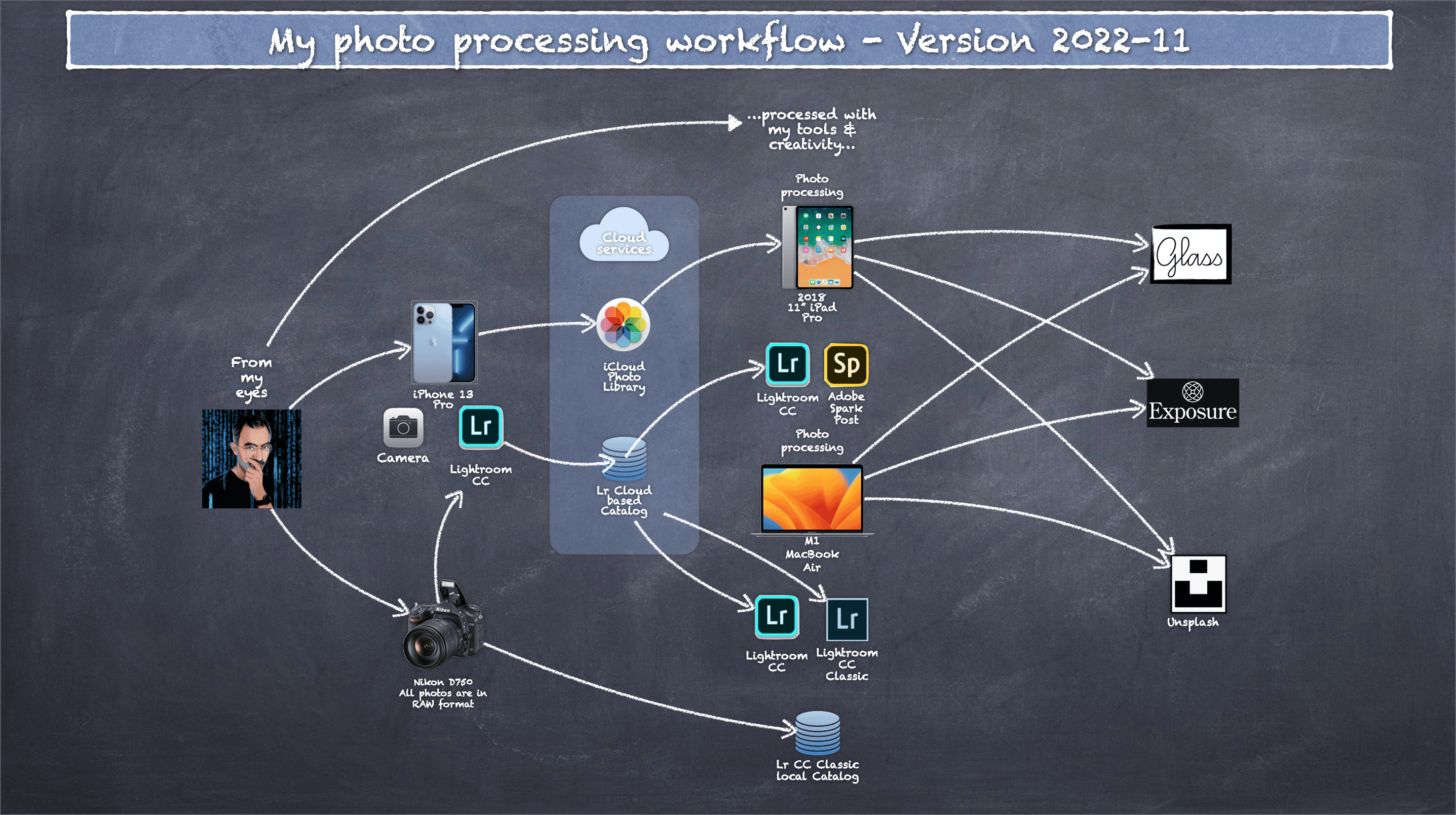 What's in
Glass, the new kid on the block of photo-sharing services, is in, and I like it a lot, as I wrote in "my experience with the service."
Exposure is in, and I love it so much that it will replace Smugmug as my official home. The main reason is the possibility of a great mix of images and text forming beautiful posts. All posts published on Exposure are cross-posted to Micro.blog.
Adobe Spark was renamed to Adobe Express recently. I'm rarely using it, but when I do, I like this creative tool.
On the hardware side, my iPhone 11 Pro was upgraded to an iPhone 13 Pro back in the fall of 2021, and I wrote in detail in Upgrading From the iPhone 11 Pro to iPhone 13 Pro — the Love Story Continues – Numeric Citizen Blog. In summary, it was a great upgrade for my photography creativity.
What's out
I guess the following items should be added to my long list of "Things that don't stick with me" article. Let's see one by one the ousted service or app.
My iPhone 13 Pro played a major role during my trip to Italy last summer. Two-thirds of my shots came through my iPhone 13 Pro device, one third with my Nikon D750. The trend is worrisome. Is my Nikon D750 on the way out? Not yet, but… I know it won't be part of my next trip to South America this coming December.
500px is out (it previously replaced Flickr) and eventually was, in turn, replaced by Smugmug. The latter is on the way out too, and will be replaced by Exposure. The process has already started (read my Experience using the service recently published).
Universe was a one-year experience but was later abandoned. It gave me the unique experience of building a simple website showing my urban exploration photographic work.
Gurushots, a photo contest community, is out of my digital life. I still have an account but I no longer spend time on this website. It's a big waste of time as fully documented GuruShots Tips and Tricks Guide — The 2021 Edition — Part I – Numeric Citizen Blog and in GuruShots Tips and Tricks Guide — The 2021 Edition — Part 2 – Numeric Citizen Blog.
Camera+ is another victim of my workflow constant optimization. It was briefly replaced by the excellent Halide, but again it was dropped in favour of Apple's stock Camera app. If I had an iPhone 14 Pro, I would probably switch back to Halide as it offers an easy way to turn on and off the 48-megapixels camera mode.
Also out is my content on Adobe Portfolio (I wrote a small review about the service a while back). While the tied integration with Adobe Lightroom is nice, it wasn't easy to create a website to my liking, and I eventually dropped the service. Exposure is a photo-sharing service that goes way beyond Adobe Portfolio.
My use of Adobe Lightroom Classic has significantly decreased since my last workflow update. My go-to photo editing app is Adobe Lightroom (both on iPad or M1 MacBook Air), and Pixelmator Photo on the iPad comes in second. The latter was extensively used during my summer trip to Italy.
I also stopped using Skylum Aurora HDR & Luminar as my need for HDR is nonexistent (it used to be the case when I was doing urban exploration, which is no longer the case, sadly).
On the hardware side, I sold my 2017 4K Retina iMac (read "Remembering My Story of Owning The 4K Retina 21.5 inches iMac — 2017-2021 – Numeric Citizen Blog") and bought an M1 Mac mini shortly after it came out on the market. I wrote a must-read article on how to migrate Adobe Lightroom Classic from one Mac to another. A few months later, I got an M1 MacBook Air. Both of these machines are simply incredibly mighty.
Miscellaneous
I'm still using Unsplash for selecting photos for addition to my content when it makes sense. I contribute from time to time, and that ok. I'm not investing much time in selecting photo content for publication on Unsplash. Sometimes, less is more.
I used to have an Instagram account (The Perfect Imperfctions) and mostly stopped posting on it. Time is a finite resource, and I have to make choices on where I spend my time creating new and meaningful content. One thing is for sure, Instagram is not what it used to be for photography lovers like me.
Concluding words
My photography workflow is constantly changing but maybe not as often as my blogger workflow. It has been more than two years since my last workflow update, and a lot has changed in two years. I don't see major changes in the future, as I'd like to keep things a bit more stable for now and use my creativity to make good use of my toolset.