My Experience with Substack
Newsletters are making a comeback. Read my experience in using Substack to built my own.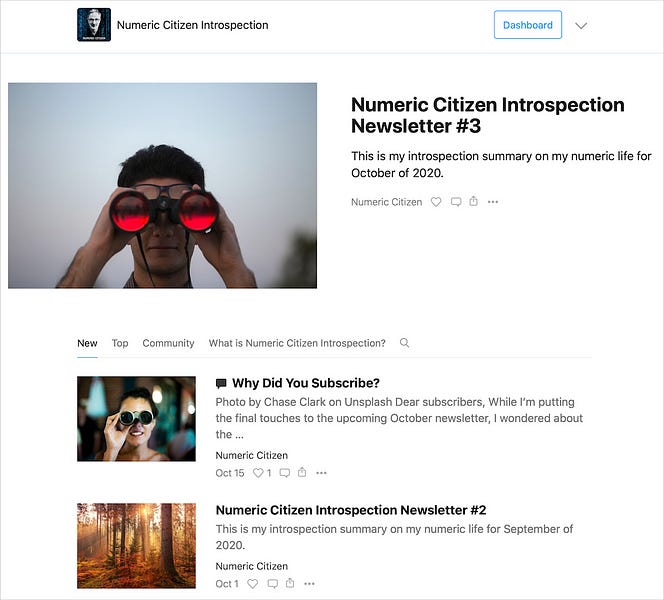 Note: issue #5 on the Numeric Citizen Introspection newsletter is scheduled to come out on November, 28th.
Back in late August, I started a new journey: a free monthly newsletter. To support my work and enable this project, I elected to choose Substack, a well known, but young platform for writing exactly that type of content. I already knew about services like MailChimp (read my experience on using Mailbrew instead of Mailchimp) or Ghost (read my experiment with Ghost) but neither were satisfactory to me. At the time I experimented with the services, I didn't have an interest in building a monthly newsletter anyway. Now I do.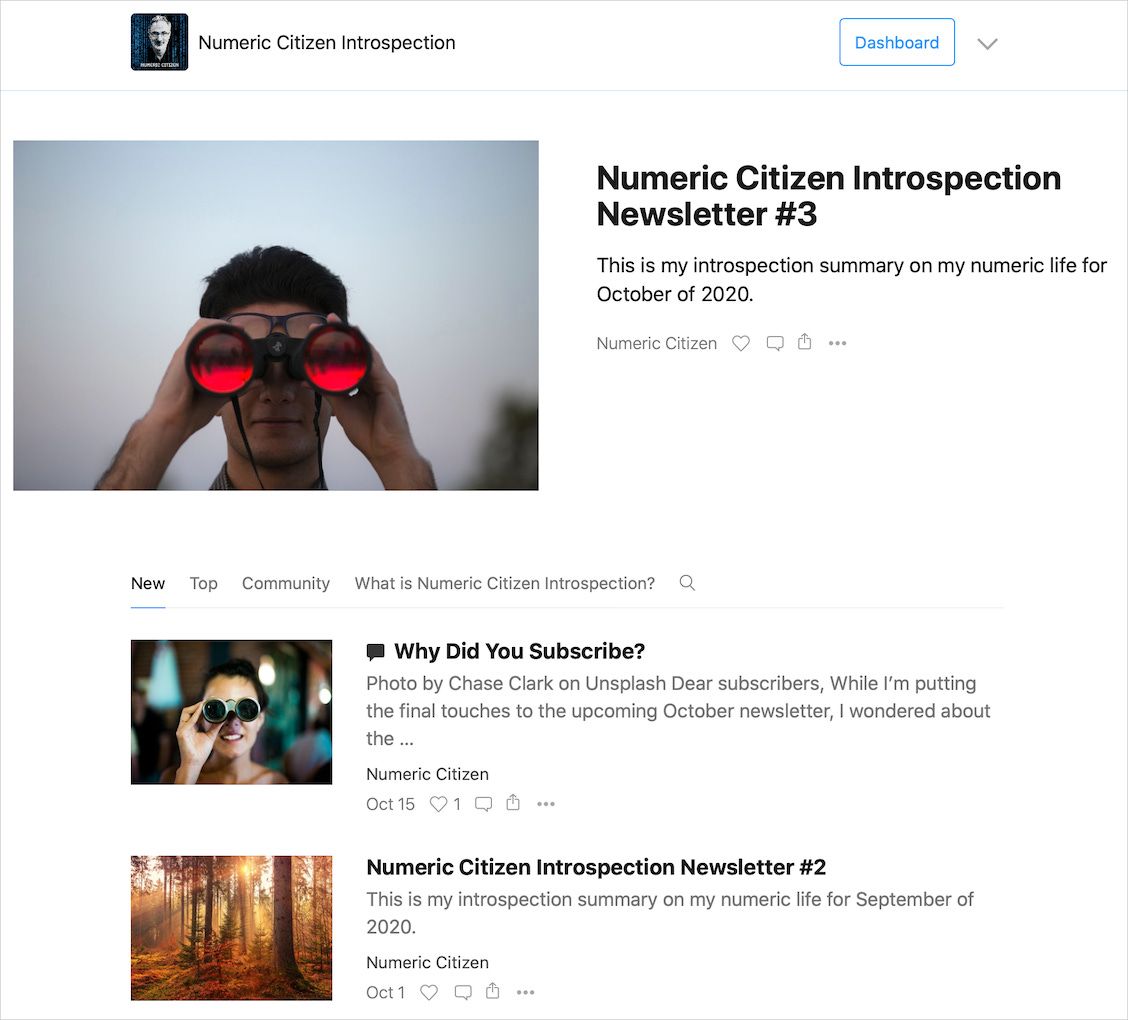 Newsletters are gaining in popularity for many reasons. Today, I want to share my experience working with Substack after nearly four months of use and three issues of the Numeric Citizen Introspection newsletter. For the occasion, this article will be made available on my Substack page and sent to my subscribers as well as on my Medium page. Wait, a review of Substack, published on Medium? I hope they won't notice. Just kidding.
A quick tour of Substack
Substack is a simple writing and publishing platform. Its mission is to help writers put together newsletters, be it free or not, send them to a list of subscribers. Those who will head to the website will be able to like and comment. Creating an account takes a few minutes. A Substack page is a list of recent newsletters. This is where one of the main issues with Substack resides: all main pages look pretty much the same. Customizability is minimal. Substack recently added the ability to set the URL of a newsletter issue and set the picture to show up on social media preview. It was kind of overdue. There're no themes like on WordPress or Square Space.
Substack, on the other hand, feels like an email-first product, with the web as an afterthought — Ben Thompson in Stratechery Daily Update 9–24–2020
Substack is mainly about writing and publishing newsletters by email but the platform also supports writing posts called "thread". It is a way to engage with your readers. I tried it once, but since my audience is still very limited, I didn't any feedback or response.
Also, just like MailChimp, you can set up welcome emails sent to newly signed up subscribers. Importing posts from your other websites is also possible if you want to quickly populate your Substack page. Importing from MailChimp, WordPress, Revue, Medium, Tumblr or a website RSS feed is possible. I didn't test this feature, though. You can also create an HTML embed that you can include in other places. You can look at it on my main blog.
Finally, you can enable subscription benefits after activating a subscription plan. You can decide that paying members will get access to exclusive content. Again, as my newsletter is still free, I didn't use this feature, but many writers on Substack do.
A minimalistic editing experience
Editing on Substack is easy, maybe simplistic. The web editor is capable but lacks some flexibility. Up to recently, we couldn't write photo caption. Now we can. There are also some display bugs with the toolbar (I'm writing using Apple's Safari) which sometimes becomes hidden making formatting options tricky if not impossible to use without a full page reload. Managing pictures is also not always easy or is too finicky. But, after a while, I got used to these small issues, and know how to bypass them. Overall, it's ok.
There is something important missing for periodic newsletters based on a normalized structure like mine: Substack doesn't support templates. This would be a big time-saving feature. Each month, I must copy and paste, from a personal template text file in Notion, the starting structure of my newsletter. Substack recently ran a survey asking what we were looking for in the future, templates certainly made the list.
Finally, you can write a preamble section that will be included in each newsletter. That section will vary depending on if the newsletter issue is made available to all subscribers or only for paying ones. An interesting feature is that you can send your newsletter to yourself to preview within your favourite email client. I do use this feature a few times each month to make sure the layout is without issue.
Sending the newsletter
After putting a newsletter together, the distribution process is straightforward. At this stage, this is where you decide if the issue will be a paid one or a free one. You can set the URL and the social network image thumbnail and you hit the Publish button. It's a satisfying experience after working four weeks on one newsletter. You can set a schedule for sending your work too. It's up to you.
Missing goodies
Substack is a young platform, I understand they have to build a critical mass of users before adding richer features or things like an iPad or a Mac application. The whole experience happens on the website. I guess most people are ok with this, but I prefer using native applications. Fortunately, Substack website works mostly fine on Safari on iPad.
Substack analytics are basic and could benefit from a few more variables. The Substack dashboard offers the newsletter open rate and the click rate (how many and which links were clicked in the newsletter). You'll also get to see how many new subscribers an issue got and how many shares were generated by the users, provided a sharing button was inserted within the newsletter. Finally, Substack provides visitors statistics to your Substack page as well as the visitor sources. That pretty much it. It's basic but it shouldn't be regarded as a problem. After all, this is all about writing content, right?
There is something very exciting in building a monthly newsletter. Each month, my impression is that I'm crafting something that I will put in a bottle and drop in the sea. — Numeric Citizen
Substack is a free service. You pay a 10% commission when you start to charge for your newsletters. If you charge $10 a month, then you'll pay $1 to Substack. It's a fair deal. For that price, it's hard to ask for more. Yes, I do have a few wishes for Substack but I'm patient. In recent weeks, I saw new initiatives by Substack which tells me they want to move the platform forward. I'm happy with this. Now, let me go back, so I can start writing my fifth issue of the Numeric Citizen Introspection newsletter.
Oh, one last thing, if you want to know more about the origin of my newsletter, feel free to read "Finding my Newsletter Purpose".