Five Reasons Why Apple's FaceTime is Losing the Battle Against Coronavirus
With the coronavirus crisis around the world, video conferencing applications and services usage is exploding. More than ever, thanks to confinement, people want to stay in touch with their colleagues or loved ones. FaceTime1 is Apple's solution to help people communicate using their Apple devices.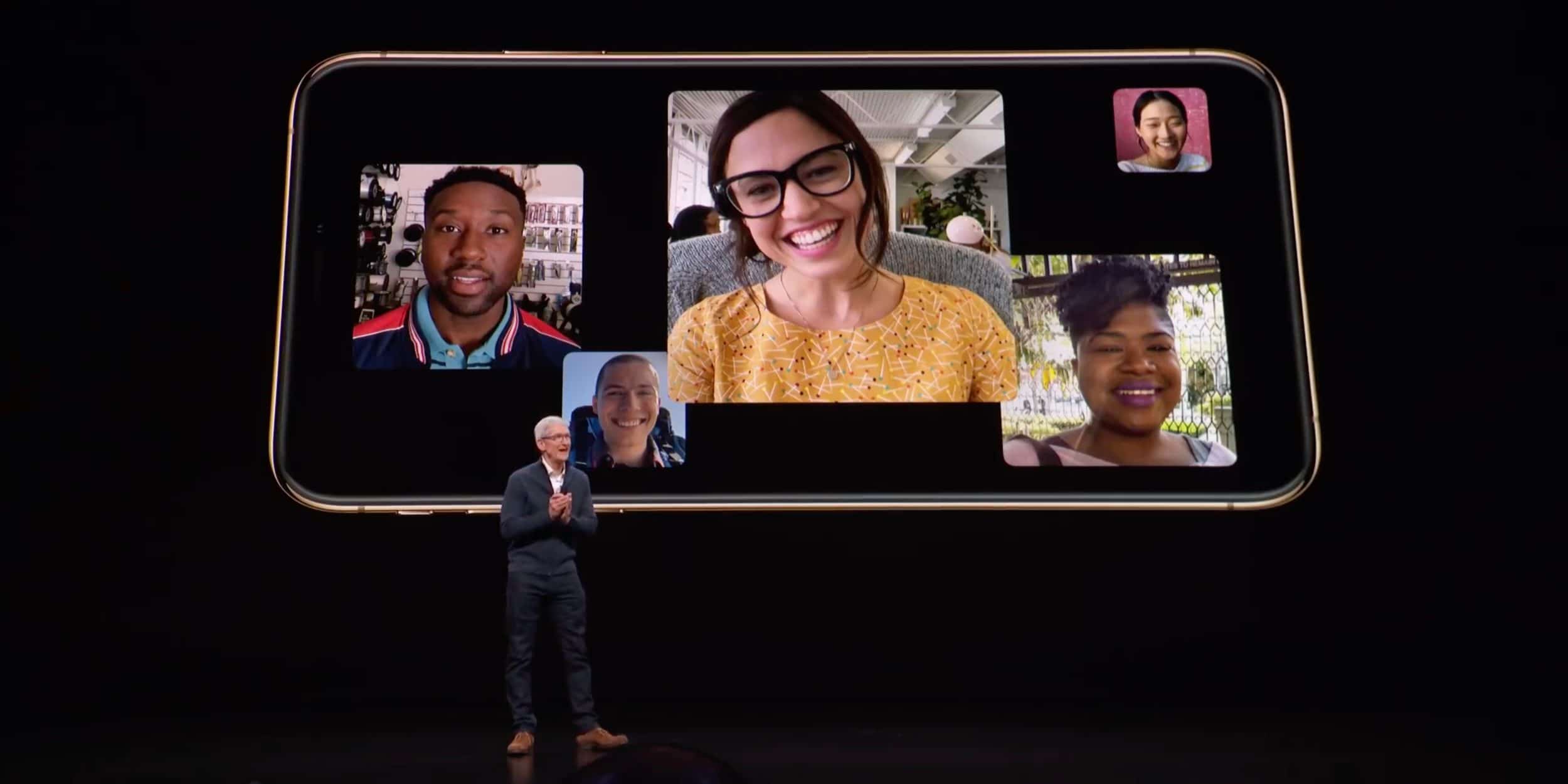 With the coronavirus crisis around the world, video conferencing applications and services usage is exploding. More than ever, thanks to confinement, people want to stay in touch with their colleagues or loved ones. FaceTime1 is Apple's solution to help people communicate using their Apple devices. How is FaceTime faring in this challenging world?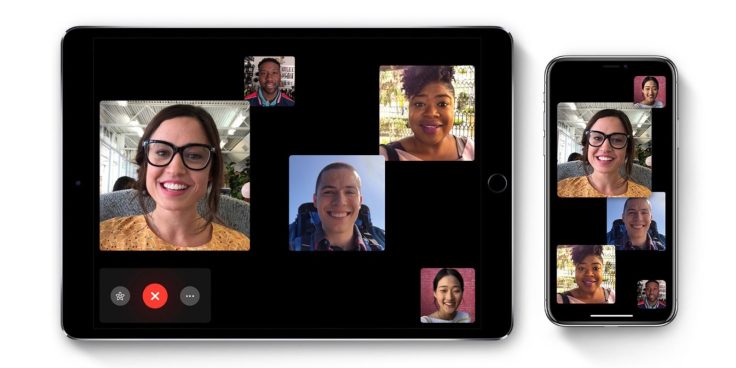 A short story that prompted-me to write this post
Before the worldwide confinement, my wife used to meet with a group of longtime friends once a month. Each time they used to do a different activity when they met. As you can expect, the coronavirus put an end to this tradition. After five weeks of confinement, I told her that she could try to do a virtual meeting instead. She liked the idea very much. A few days later came the "virtual event" on a Thursday night at five. It was a disaster.
Since all of them are using an iPhone, I told her that she could do the meeting via Group FaceTime, which she did. At the time of the meeting, she set up an iMessage group then she tapped the FaceTime icon at the top of the conversation2. After a short while, people started to show up on the screen. Then, someone complained that she wanted to use her iPad to take the call but she couldn't. Another person started to wonder why someone wouldn't show up. Finally, others asked why some people only had initials instead of their pictures as avatars. See the confusion? It took them 45 minutes to try to fix these issues. They eventually abandoned and went ahead with Zoom instead, which worked flawlessly.
It shouldn't have been that way
Apple is the privacy and security champion, but they don't take advantage of it as much as they could to promote an easy and secure video conferencing platform that competes against the others. Video conferencing can be tricky to use, and people are naturally adopting a solution that creates the least friction possible. Facebook Messenger is hard to beat as nearly everyone is on Facebook. The mere fact that you have a Facebook account is enough to be reachable via Messenger. Simple. Effective. Zoom is another service that took off because of its simplicity3.
At the center of every video conferencing services, the following flow must be considered. Reaching others by setting up the call, managing in-call options and features, adding or removing people on the fly and terminating the call are all required stages. Apple's FaceTime has issues in the first three phases which are the most important ones.

Instead of working on serious and much-needed features for FaceTime, Apple, in the last major releases of iOS, chose to gamify it with memojis and special effects. Now, Apple is paying the price. Let's see more closely where lies the problems with FaceTime.
1) FaceTime is not a multi-platform service
When initially announced with the iPhone 4 in 2010, Steve Jobs said FaceTime was built using open standards and that it would be proposed to standards bodies in order to become an open standard. Because of patents battle against VirnetX, it was harder to implement an architecture without going against already established patents. Plans for making it an open standard were abandoned.
In other words, an Apple device is required to enjoy this service, too bad for PC owners or Android phone owners. Families running on Apple's gear are mostly fine but could still face hurdles (see next section)4.
2) Setup and management is convoluted
If you are a new Apple customer who just bought an iPhone, you're good to go. Your phone number automatically gets activated for use with FaceTime (see Apple's documentation here and here for details). Potential problems come when you have more than one Apple device or more than one Apple ID and if your Apple ID has more than one email address assigned to it.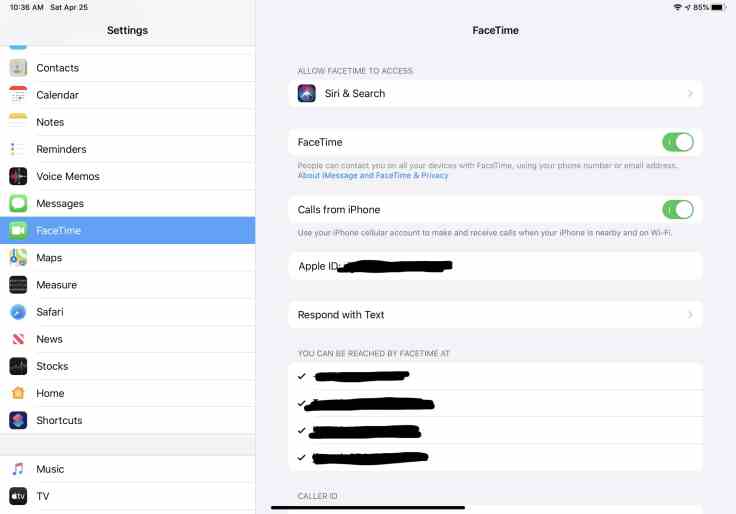 You can start a FaceTime call by entering an email address or a phone number of the contact you want to reach. As stated on Apple's website to manage your Apple ID: "Adding contact information helps friends and family reach you using iMessage, FaceTime, Game Center and more." If you look carefully at the FaceTime settings in Settings.app, you will probably find your phone number and more than one email address. This is possible if your Apple ID is associated with more than one email address. It may seem convenient but the success of the call is dependent on the activation, by the one receiving the call, of FaceTime with its associated email or phone number. For the caller, it can be a hit or miss situation. People don't like these kinds of intricacies. Convenience comes at a price of management cost.
In order to receive FaceTime calls on more than one device, careful setup is mandatory. If not done right, receiving calls to your device might not be working as expected. If you signed in with a different Apple ID on different devices, receiving FaceTime calls from the device of your choice may not work as expected. FaceTime settings are not, apparently, tied to an Apple ID per se as shown in the following screenshot of the iCloud settings. Why? It is a mystery to me.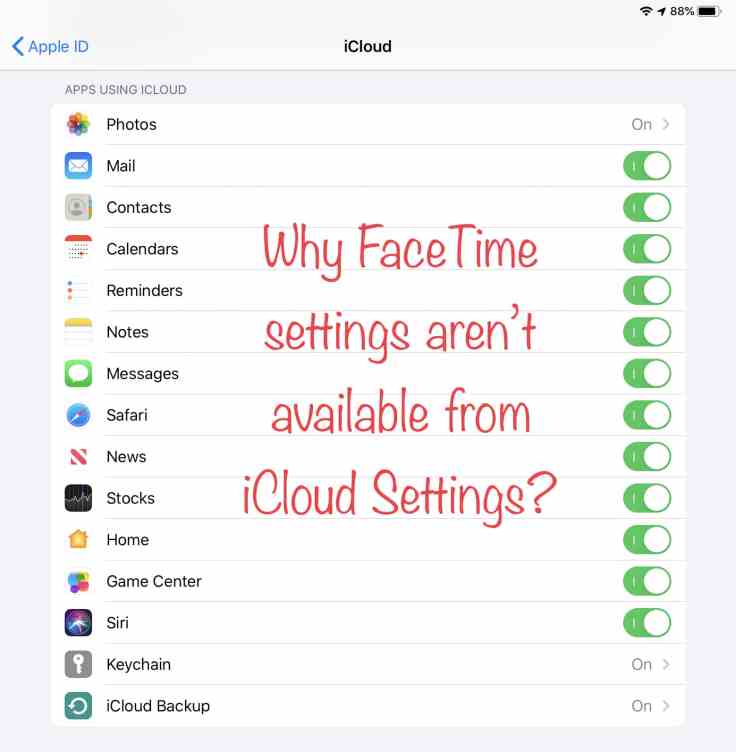 3) There is no version or features for the business world
Companies require a different set of features not available in FaceTime today. For example, there is no way to blur the background, which can be necessary to protect privacy in business environments. You can't organize a virtual place for people to join in, only the initial caller can add people to an ongoing FaceTime call (see Apple's tech note). You cannot transfer the ownership of the call nor you can't share your screen nor documents with others. This feature alone could prove to be useful to help others with problems with their devices. Apple's stance on privacy and security protection could partly explain this omission, though.
4) Reachability of contact is highly unpredictable
If you cannot reach someone over FaceTime, you in for a potentially long debugging chat just to try to diagnose and fix the issue. As you probably know, you can reach people using their phone numbers or email address. The use of one or the other method depends on what the Apple ID owner configured. Most people don't understand that you don't need a phone number. This can be confusing for people. Having an Apple ID in order to be reachable is not a guarantee because the owner can elect to not enable FaceTime on it. In that specific case, you are out of luck and your call won't get through.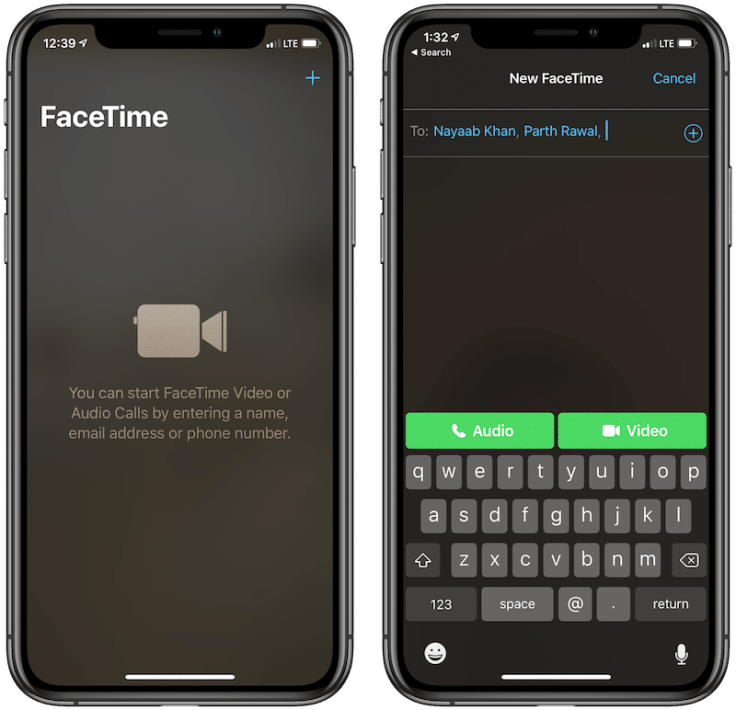 5) Apple made highly questionnable design choices
Design is paramount for Apple and everything is not perfect, though. FaceTime is such a case. The start screen of the FaceTime application could see some design teaks. For example, I never understood the design choice of presenting a list of recent calls on top of a semi-fuzzy background. It doesn't provide a great visual experience, especially on the iPhone.
Mixing phone calls history with FaceTime calls is another questionable choice and can be confusing. Apple could provide a better way of distinguishing phone calls from pure FaceTime calls. This design lies in the fact that the FaceTime app is also used to place or receive phone calls on the iPad.
The group discussion animation cannot be disabled and is more of a gimmick than anything else. A more subtle effect could have been designed, like adding a delicate glowing frame to emphasize the person who is talking. Even in this case, in a very busy group discussion, it would probably be annoying more than useful. Finally, some people are reporting getting nausea while looking at these changing size rectangle. It is the worst part of the experience.
[Update: On April, 29th, according to details leaked regarding the next minor update of Apple's iOS/iPadOS, version 13.5, there is a setting which will allow users to disable the visual effect causing tiles to dynamically change in size. Good to know.]
Final words
Because of a lack of simplicity in critical areas, too much management and required Apple ID wizardry, FaceTime is losing the battle as a video conferencing service of choice. As of today, FaceTime remains essentially a one-to-one conversation tool. It may have been the original goal of the service but times are changing. We may have to wait for the next major release of iOS, iOS 14 or even beyond before we can see if Apple took notice. It may be too late which is too bad.