A Few Thoughts on the new Substack Reader (still in beta)
Substack continues to expand its platform. Will this attract more readers or more writers, or more of both? The jury is still out.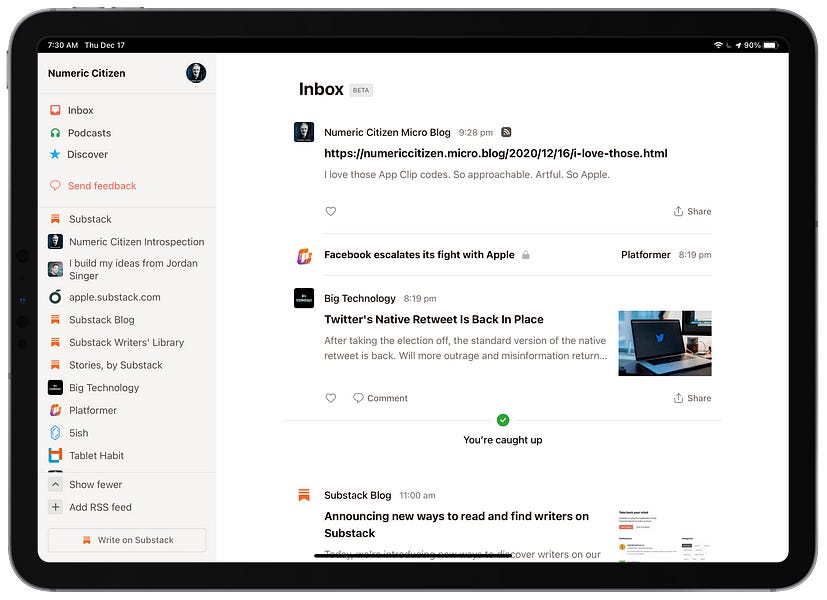 There is a lot happening recently on Substack. Big names are coming in. New features are coming out. So, Substack introduced a new reader feature. I didn't expect this would be so soon, as this rumoured feature made the news on December 9th. Substack Reader is a web application. If you are a writer on Substack, this becomes the default view instead of the dashboard. I put a shortcut on my iPad home screen for quick access. Currently in early beta, the features are promising and somewhat intriguing.
Newsletters, RSS feed entries and podcasts are all intermixed in your inbox. You can imagine this can quickly become overcrowded. No filtering options are available for now except for filtering between Paid or All of your subscriptions. I wish there was a way to filter only free newsletters.
For me, as a new newsletter publisher, I'm looking forward to seeing how the discovery feature will move the needle regarding my subscribers count. I don't have high expectations. The discovery tab leans toward paid content. Is it surprising? Nope. I wrote a feedback report asking for an explicit "free" label to the small filter menu. We'll see if they enable this. Still, about the discovery section, many newsletters created two years ago pop up in the list. More often than not, these point to abandoned newsletters. It's not exactly the best user experience.
The inbox is a intermix of whatever you subscribed to: newsletters, rss feeds content or podcasts.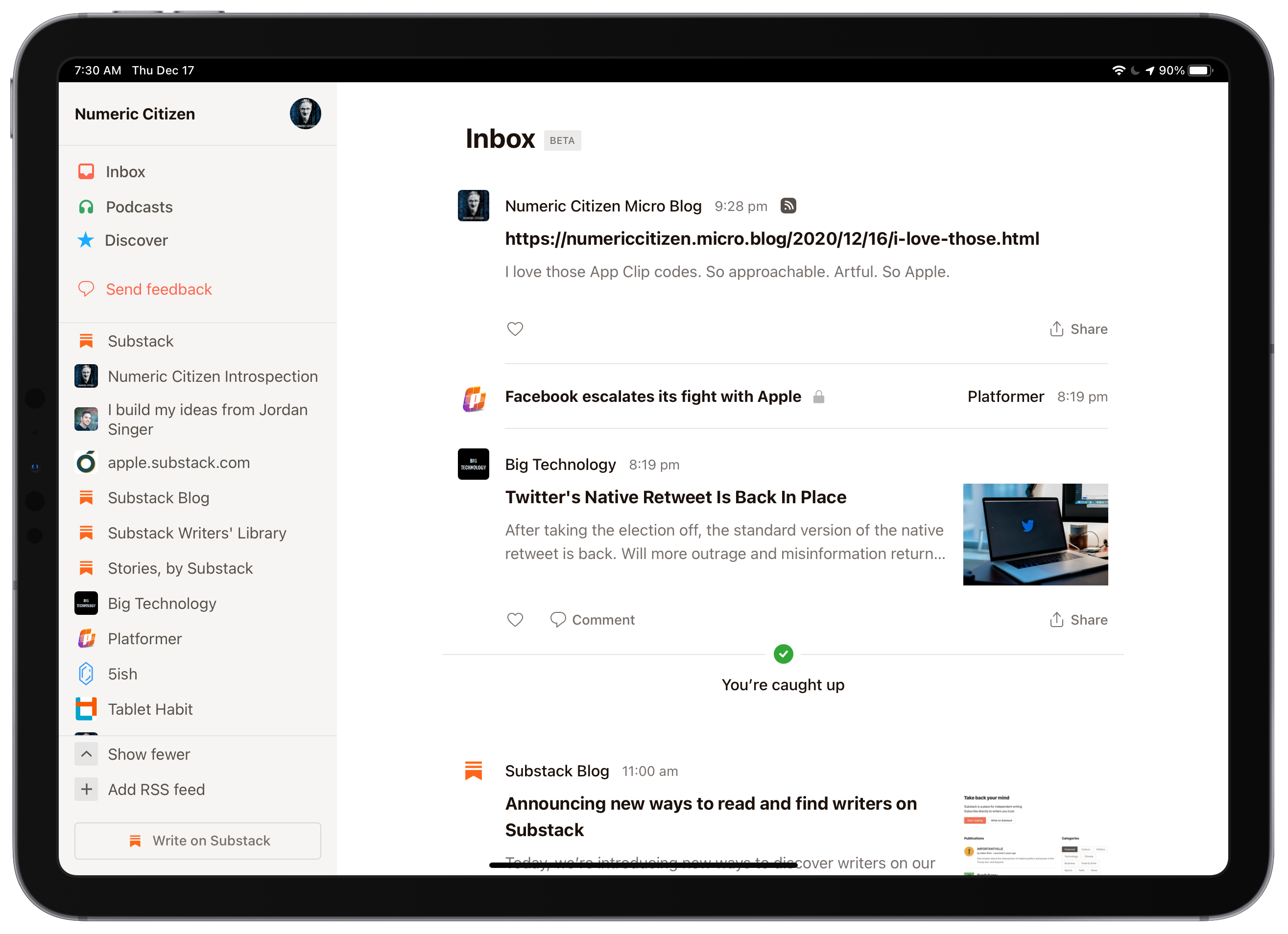 The inclusion of podcasts is a surprise to me. I initially thought Substack was meant to be a platform for writers. Is the inclusion of podcasts a new direction for Substack, was it planned or are they being opportunistic? After searching for podcasts, I found out that they were intended all along. The idea behind this is clearly explained by the Substack team:
We've always believed that one of the great benefits of Substack is that you can subscribe to a person. That power is intensified when you can actually hear that person's voice.
The other mild surprise is the inclusion of RSS feed support. Is Substack trying to replace the defunct Google Reader? Is this feature going to dilute different content types, or is it just a convenient feature added to keep users on Substack for all their reading needs? Probably the latter.
This is how you will discover my newsletter if you search for "introspection" keyword.

---
I'm looking forward to see how Substack Reader will evolve over the coming months. One thing is sure, I'm not leaving Mailbrew anytime soon, another similar platform for consuming newsletters. Speaking of Mailbrew, one of its creators had this to write about Substack's Reader.
So, what do you think of the new reader feature? Have you tested it?