Coming Out of a Rabbit Hole and Buying Two MacBook Air
I was seriously looking to buy an 2021 12.9" iPad Pro. I had so many use cases for it. I ended up buying two MacBook Air instead. What happened? Here is my story about falling in a rabbit hole.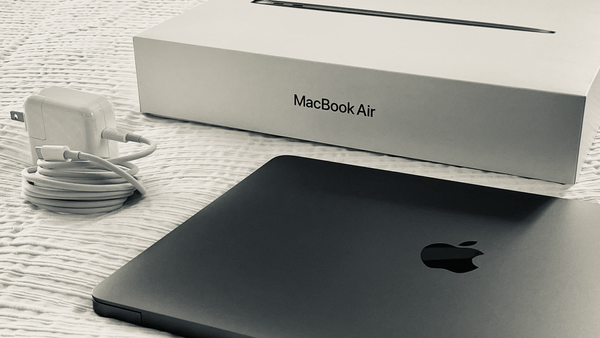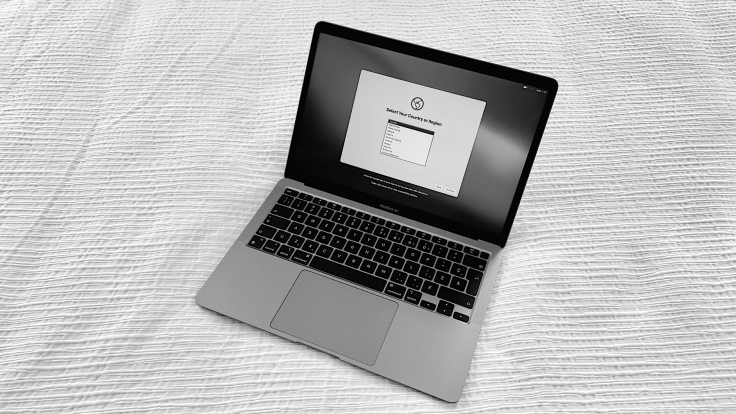 The new school year was about to begin. My 21 years old son was using a 2019 Chromebook for school and wasn't happy with it. Clearly, It's not the best device to do video conferencing and using Google Docs is limiting. Those deficiencies were particularly obvious during the first few months of the 2020 confinement. Against all odds, he kept using his Chromebook for as long as he could, but he recently asked me if I could do something about it.
When I started thinking about what could be the best upgrade path for him, I remembered that my wife's daughter was no longer using her 2013 11" MacBook Air — I thought it was a great opportunity to consider this MacBook Air for my son's next computer. Without knowing it, I was entering a rabbit hole.
Presumably, the MacBook Air was fully capable of replacing my son's Chromebook, as the specs are much higher: more RAM coupled with a fast SSD. So, I bought it for 300 CAN$. After getting my hands on it, I started to play with it then something unexpected happened1.
I'm a desktop-type of guy, but…
My story with Apple's MacBook, in general, is pretty slim2. When I'm not working from home, I bring my work-provided 2017 15" MacBook Pro with the dreaded butterfly keyboard at the office. Besides the Retina display and the touch bar, there is nothing special about this Mac. I never owned a MacBook Air before, even though It's the most successful Mac portable ever. I never quite understood why people would choose such a small device compared to bigger siblings. Yet, after using this "old" 2013 11" MacBook Air for a few weeks, now I understand why: It's a mighty device. I love everything about it: its size and weight, it's operating silently3, the full-size keyboard, battery life is excellent, MagSafe is still a clever idea and the glowing Apple logo on the back of the screen, while being a nice design touch, is a reminder of a MacBook glorious and special era. The only thing that I dislike: the screen resolution.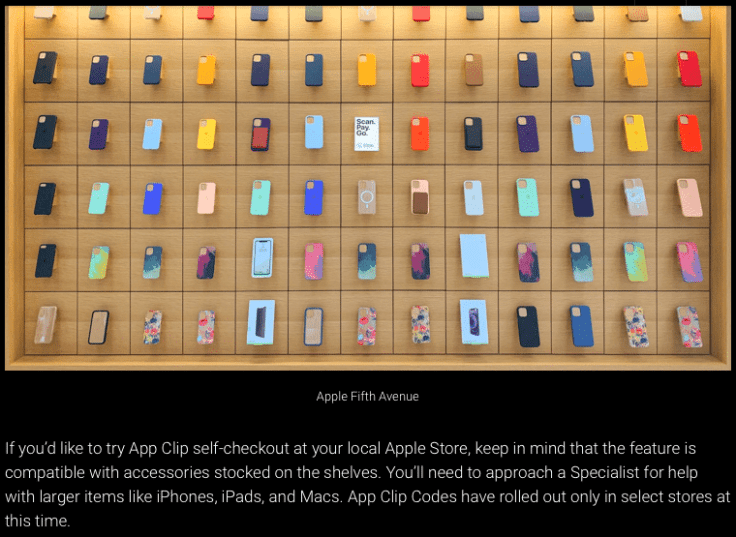 Speaking of the screen, because of its size, most of the time, I was using apps in full-screen mode. This is the closest this MacBook can be to the iPad experience. It's funny that, on many occasions, I even instinctively tried to touch the screen to position the text cursor, or scroll a web page in Safari, something I've never done with my MacBook Pro. The size of the device may have something to do with this strange behaviour.
There is something special about using the MacBook Air. I could say the same about my 11" iPad Pro. Both share hard-to-tell attributes combination that makes using these devices a joyful experience.
I understand those easy and tempting comparisons between a MacBook Air and the iPad Pro. Both of these devices are highly portable, but the MacBook Air has a clear advantage on two fronts. On the hardware side, the keyboard is a real one, not a diminutive version in any way. It is such a pleasure to type on. The iPad Magic Keyboard, while I love it, doesn't feel as good and is quite smaller. On the software side, macOS is, well, a fully extraverted, well assumed, modern, mature and flexible operating system. I love the iPad for what it is, but this MacBook Air running macOS is hard to beat4.
For such an old Intel-based machine, battery life is great. Compared to the M1 Mac for comparison, this 2013 machine offers good battery life which should be enough considering the type of work this machine will be used for.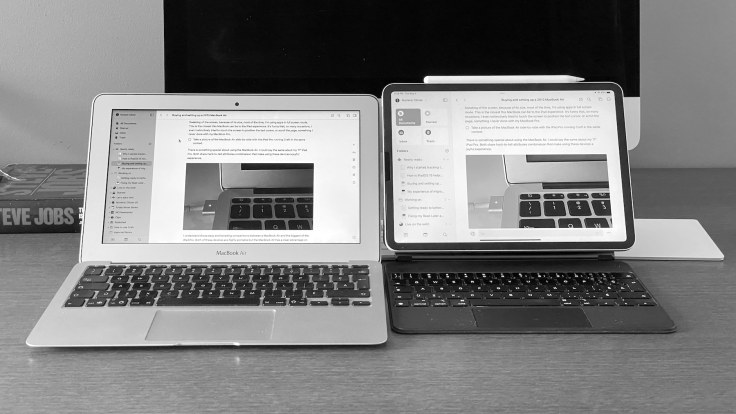 Not everything is perfect
Sure, this MacBook Air won't support many of the recent technologies introduced by Apple, yet it can run Big Sur without too much pain, thanks to its 8 GB of RAM. I think this is more than enough5. If I were to keep the machine for myself, it would be for writing and crafting (using the excellent Craft application) only — nothing related to photography stuff or demanding workloads, just for handling my writing sessions. I wouldn't consider the 13" version, which, I think, is too big; 11" is a perfect size. If Apple had to re-launch a 12" MacBook or a smaller M1 MacBook Air, I would be tempted to take the plunge, and this guy would be so happy. I wish these surveys are a sign of Apple reconsidering the 12" MacBook in their future products plans.
Reconsidering my purchases plan
My experiment with the MacBook Air prompted me to reconsider my upcoming Apple purchases plan (see my Digital Garden). Just a few weeks ago, I was leaning toward the 12.9" 2021 iPad Pro to become a second screen to my M1 Mac mini and my photo processing tablet. A recent visit to the Apple Store helped me get more insights about the iPad Pro and the MacBook Air. The iPad Pro is simply a wonderful and near-magical screen, while the MacBook Air is the most portable macOS machine available on the market right now. Following this Apple Store visit, I changed my mind. Let's face it, a fully equipped iPad Pro with its Magic Keyboard (the 512 GB storage version) costs 2205 CAN$ while an M1 MacBook Air (the 512 GB SSD version) costs 1577 CAN$. It's a big 628 CAN$ difference. Sure the iPad Pro screen is superior (600 Nits, ProMotion support, mini LED technology, high contrast) while the FaceTime Camera adds the Center Stage feature, but do I really need those features?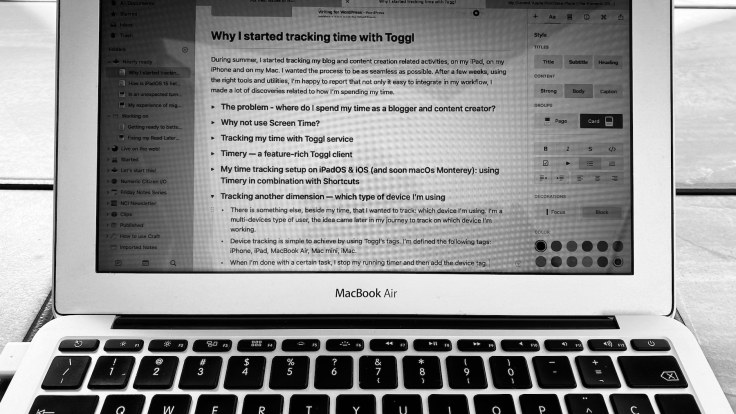 ---
Why this change of mind?
As demonstrated earlier, the iPad Pro can be a really expansive machine depending on the chosen configuration.
iPadOS has something to do with it, I can't quite put my finger on it — even considering iPadOS 15. For young people who never really touched a traditional computer, the iPad might be a good choice for them. But as someone who started in computers a long time ago, well before the iPhone or the iPad, I enjoy the power and the flexibility of macOS.
iPadOS apps being available on macOS made me even more comfortable with my decision.
My on-the-go needs lean more toward the power of a MacBook Air. In other words, I want to bring the macOS experience with me for content creation. Somehow, it is the opposite view of Basic Apple Guy he recently published — he prefers using the iPad Air instead while on the go. I respect his take on this, though.
An Apple Watch upgrade this fall is likely with Series 7 which makes me pause on how much money I could put on an iPad Pro.
A possible iPhone upgrade later this fall is certainly not going to be cheap. I'm saving a bit of money for that one too.
Fun fact: I didn't mind paying close to 800 CAN$ for a pair of AirPods Max, but I was wary of buying a 1500 CAN$ MacBook Air. 😳🤷🏻‍♂️
A simple reinstallation process
I had to reformat the machine's SSD to start fresh. Here is the process I followed.
Reboot the Mac while holding CMD-R (to trigger the Recovery Mode).
Format the SSD with Disk Utilities using the default values.
Launch the Installation utility for macOS Sierra, a ten-minute process.
Configure an account for the setup process.
Install macOS Big Sur by downloading the installer first.
Upon final reboot, configure iCloud for Notes, Reminders, and iCloud Drive syncing.
Install Craft from the Mac App Store, followed by Ulysses.
Ready to enjoy the ride.
---
Closing remarks
My son is getting a mighty 2013 MacBook Air. This is a meaningful upgrade from a Chromebook, and I think it will be a boon for my son's performance when doing his homework or maybe even while taking notes during his classes. He will probably continue to use Google Docs but will start to get acquainted with iWork for a much better native macOS experience. As a bonus, since my son is an iPhone user, Apple's services like iMessage and iCloud Photos library will sync across his devices.
And what about me? I couldn't help myself and I bought an M1 MacBook Air6. Buying a new computer is so much fun. It's a matter of having a more powerful operating system on the go in a highly portable device. The MacBook Air provides just that, the iPad Pro, not quite there yet. I'm from a generation who started with an Apple //+ so traditional computers are a big part of my numeric life, yet, the iPad is such an exquisite form factor. I can't wait to use macOS Monterey Universal control with my 11" iPad Pro. Likewise, I know, I should probably wait for next year's MacBook Air redesign. It looks cool7.
I'm happy with my decision. It was unexpected and so far it is worth it. As for my iPad Pro, it will continue serving me in many use cases: as a second screen to my M1 Mac mini, as well as for my MacBook Air. I'll keep using it for note-taking during my many meetings, listen to Netflix while running on my treadmill, do some photo-processing, and reading in the bed.
Does this mean that macOS is superior to iPadOS when it comes to serious content creation, from a blogger's perspective? I would say yes.
This blog post was brainstormed with Craft on a 2013 11" MacBook Air but got published using Ulysses on my new 2020 MacBook Air.