Cleanshot X — My Love Letter to the Best macOS Utility
Cleanshot X is one of the most useful and delightful utility in my blogger toolset.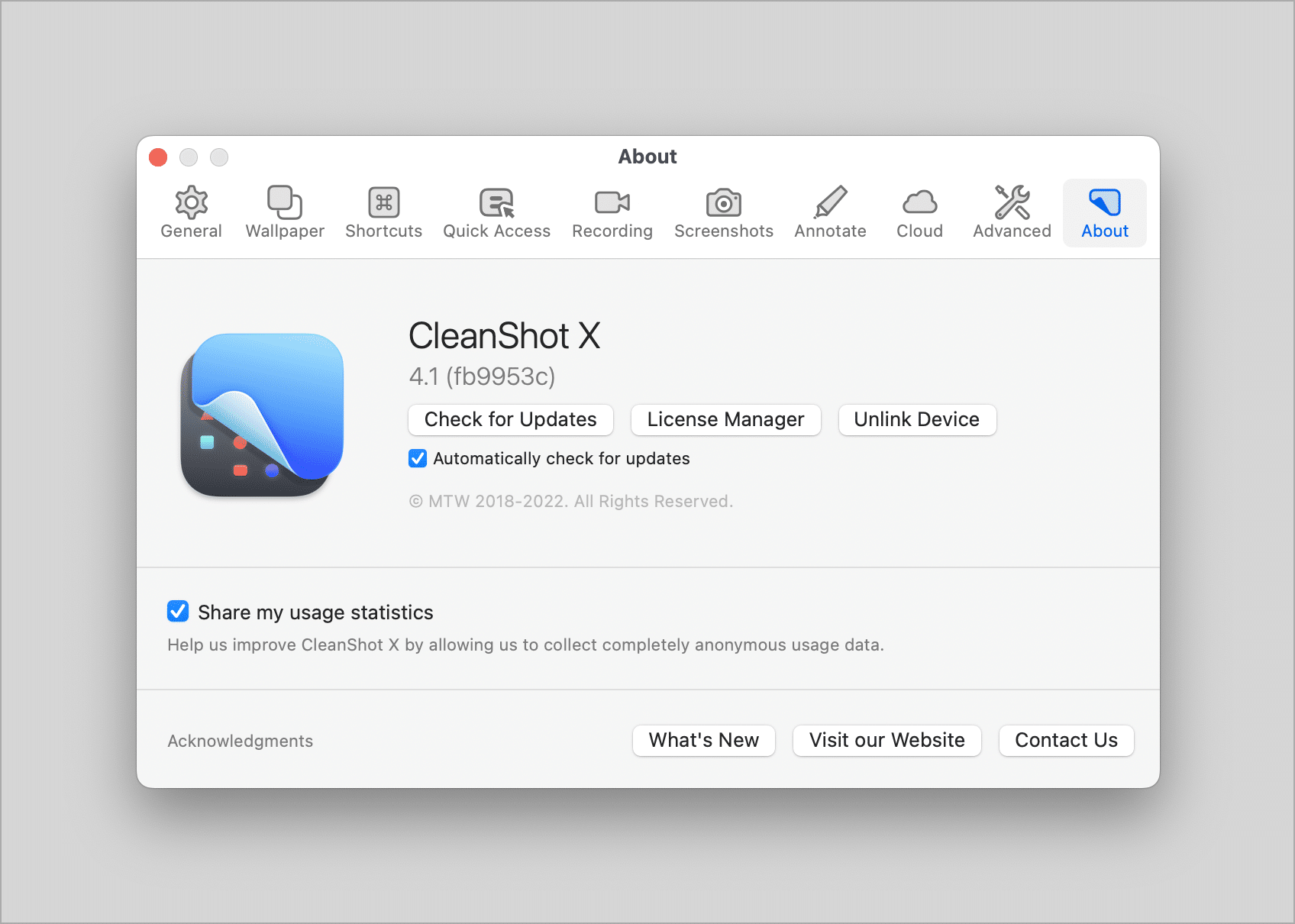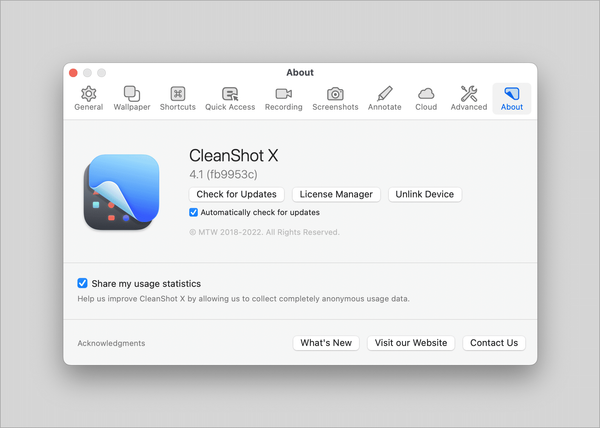 Warning: this isn't a typical review. In this article, I simply want to share my love for an essential utility in my workflow: Cleanshot. It's a screen capture utility for the Mac. My love for this application is deeply rooted in the product features, thoughtful design and general quality, usefulness and a continuous stream of updates to make it even better. I couldn't live without it, and it is part of my content creator toolset ("Tips & Tricks & Utilities for Boosting Your Productivity with Apple's macOS Big Sur").
Version 4.1 was released this week and came with a slew of new features, tweaks, and improvements. Each release is a reminder of what a vibrant and continuously improving application is. Each time I use the application is also a reminder of my love for the delightful experience it provides. Cleanshot offers a wide array of features for capturing the Mac screen and is full of well-thought-out design decisions. It appears that I'm not the only one who loves Cleanshot, there are many more (Exhibit A, Exhibit B, Exhibit C).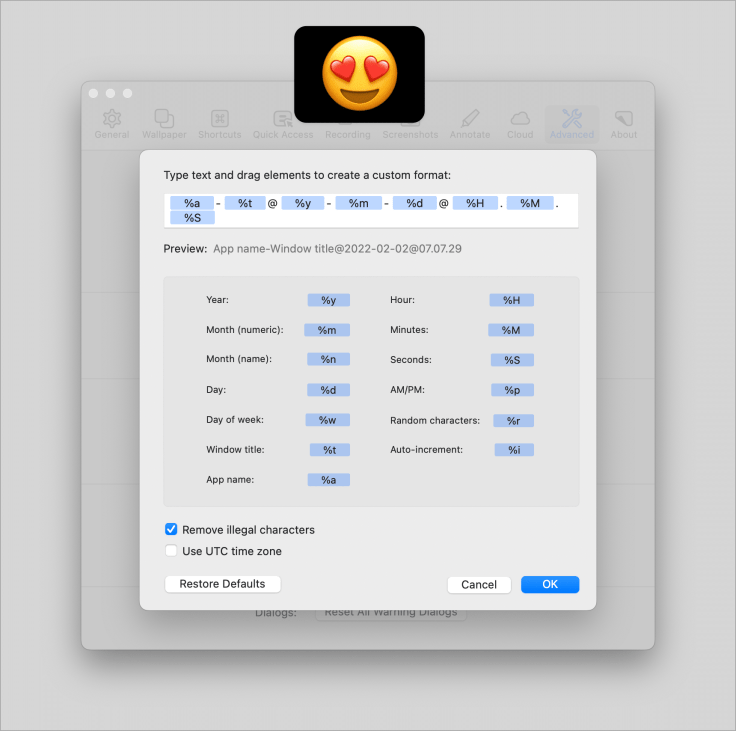 I bought Cleanshot two years ago, but recently, I decided to become a paid subscriber of Cleanshot Cloud for storing most of my screen captures (I became a pro user as soon as it came out in April 2021). The Cleanshot Cloud supports custom domain among other things which I configured (cloud.numericcitizen.me) and allows for the Cleanshot branding removal, which I did. Now I can share screenshots with MY branding and domain name, just like this. How cool is that? Overall, the web experience is great, but I would say not as mature as the Mac application, to be honest. For example, as the number of tags grows, it becomes a challenge interacting with the metadata editor. To help me organize my screen grabs, each of them is tagged according to their content, where they are shared or published. Just while I was putting the final touches on this article, the web service got an update and added an easier way to select multiple images and delete them in batch. More features and tweaks are also promised along the way, like sorting.
Cleanshot provides just the right things at the right time to support my work and makes me more efficient while keeping usage friction to a minimum.
Cleanshot Cloud unexpectedly triggered a change in the way I use screenshots accompanying many of my articles. I no longer feel the need to store the actual screenshots within Craft documents but a reference instead, pointing to the file on the Cleanshot Cloud (consuming less space in Craft along the way). The selected images are downloaded just in time and inserted in Ulysses, before publishing the article.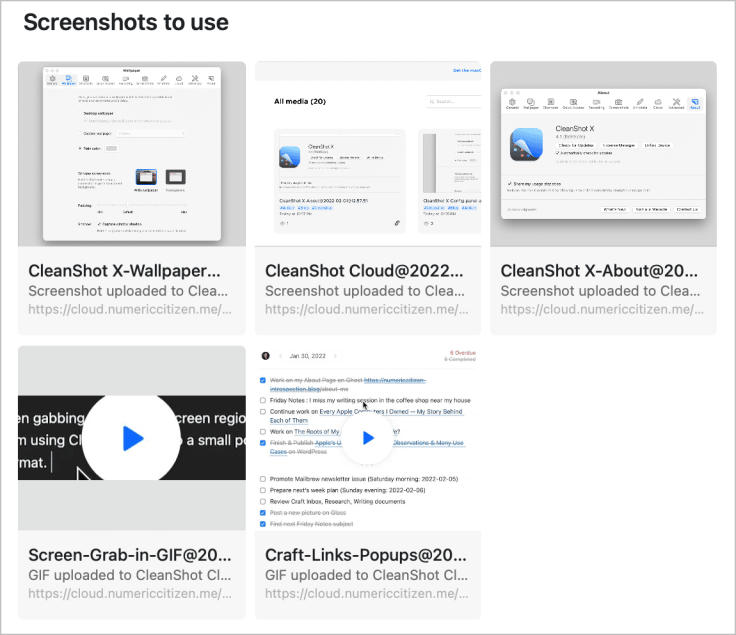 Cleanshot offers a lot of customization possibilities to make the application fit as many workflows as possible. The annotation tools are powerful beyond my wildest dreams. After grabbing screen content, I don't always save the file locally or in the cloud, I may choose to copy it into the clipboard and paste it right away in other applications. I'm not only writing articles as a blogger, I do write many technical documents in my daytime job.
The screen gabbing modes that I use the most are the "capture area" and the "capture active window". From time to time, I use Cleanshot to grab a small portion of the screen to focus on an application in action, then I export this clip in GIF format. This is an example of a screen area being grabbed. Oh, and grabbing a long web page is super handy and easy just by scrolling its content using the scrolling capture mode. I used it to create this example.
Sure, the application is not perfect, nor is the optional cloud service that comes with it. Sure, it is not multi-platforms; it's not a problem for me, being an Apple-centric user. With the recent release of macOS 12.3 beta 1, which includes a new set of APIs for screen recording, I wonder how is this going to enable further improvement to Cleanshot.
As you can see, I'm entirely sold on Cleanshot and if you are grabbing numerous screenshots of your Mac screen, I think you should give it a clean shot! (pun intended!). 😁
Disclaimer: I wasn't paid by Cleanshot to write this article. But, wish I did.