Apple's WWDC 2023 Keynote — Thoughts Before The News Flood
Here is what I expect for the upcoming WWDC 23 Keynote and some questions that need to find answers after the keynote is complete.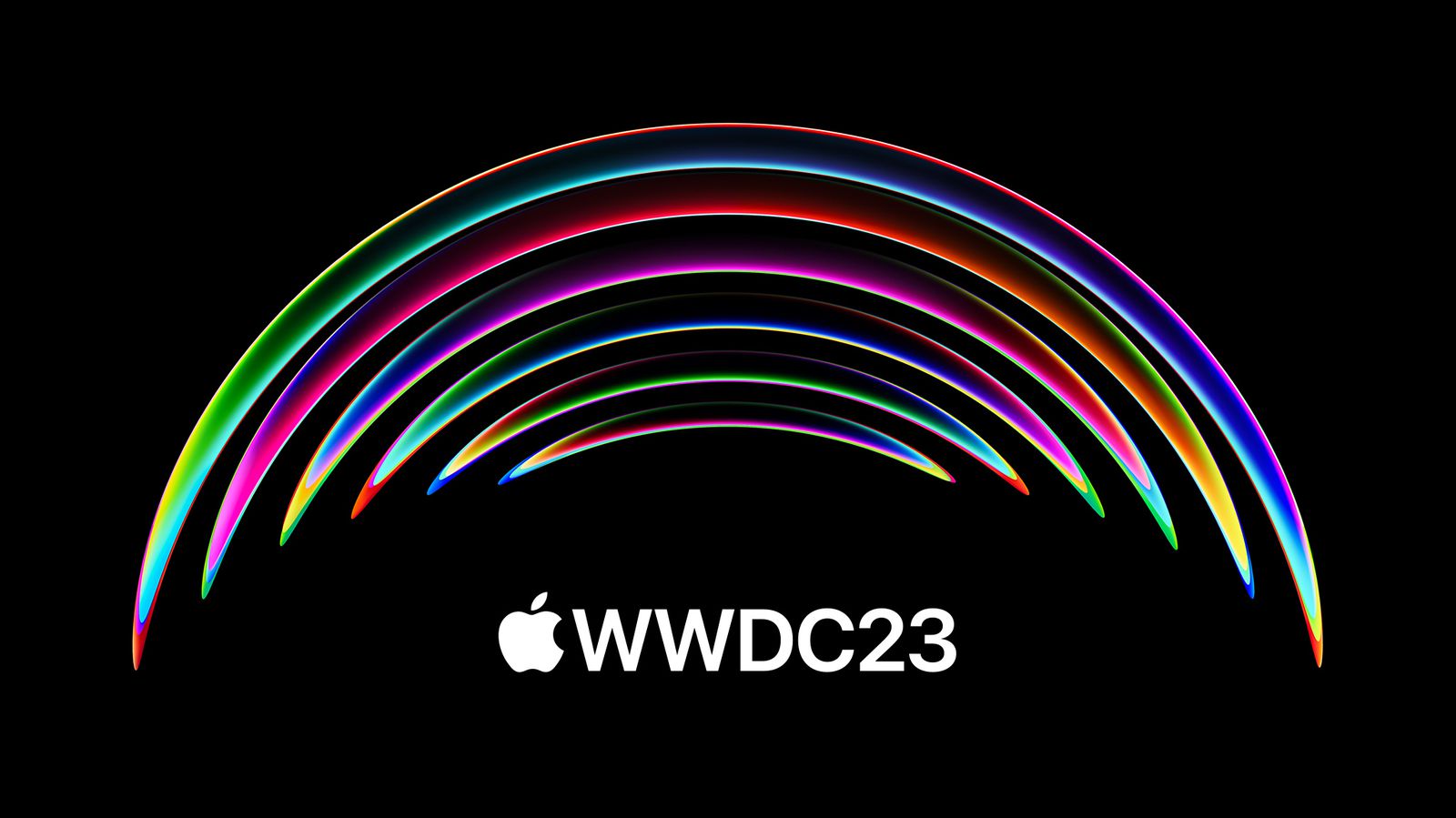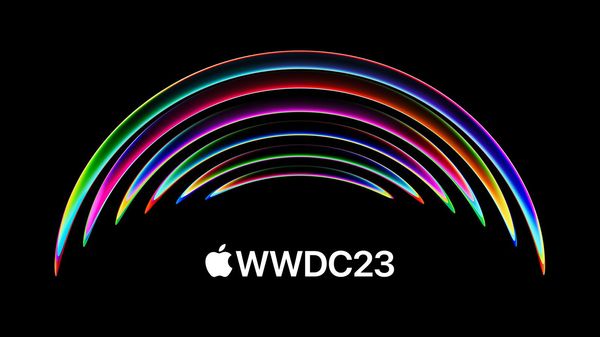 The Event itself
This will be an in-person two-and-a-half-hour presentation at the Steve Jobs Theatre. Should we expect a full live keynote? I don't think so. Expect something hybrid where pre-recorded videos take a higher proportion. A tour of Apple Park during the week for on-site developers and attendees is also expected. I expect production quality to be exceptional, as always. I'm ready to watch and catch keynote pictures, as documented here using Stream Deck mini, Cleanshot X and Hazel automation.
Hardware
On the hardware front, the only thing that I really care about, to be honest, is the new and bigger MacBook Air.
The Mac: The 15-inch MacBook Air seems a given. Bigger could mean an even longer battery life. I'm looking to go with the 15-inch version with an M2 processor, 16 (or 24?) GB of RAM and 1 TB SSD to replace my agin 13-inch M1 MacBook Air. The 13-inch version currently costs 2499 $CAN. I expect 200 $CAN - 300 $CAN for the 15-inch version. What else? A new Mac Pro? It's become long in the tooth; we are more than two years in Apple Silicon transition. Late rumours about a bunch of Macs with M2 variants are being tested too. Could it be the Mac Studio update instead of the Mac Pro? A bigger iMac? I don't see the latter coming with Apple's current Mac strategy (a discreet Mac + separate display).
The iPad: Nothing new is expected here. The iPad (Pro) will receive a major update next year, according to the Apple Rumors Hub.
The iPhone: Nothing new is expected here. New iPhones are for September.
The Watch: Generally goes with the iPhone in September.
The Apple TV: The hobby is still a hobby, albeit a serious one. Nothing is expected here.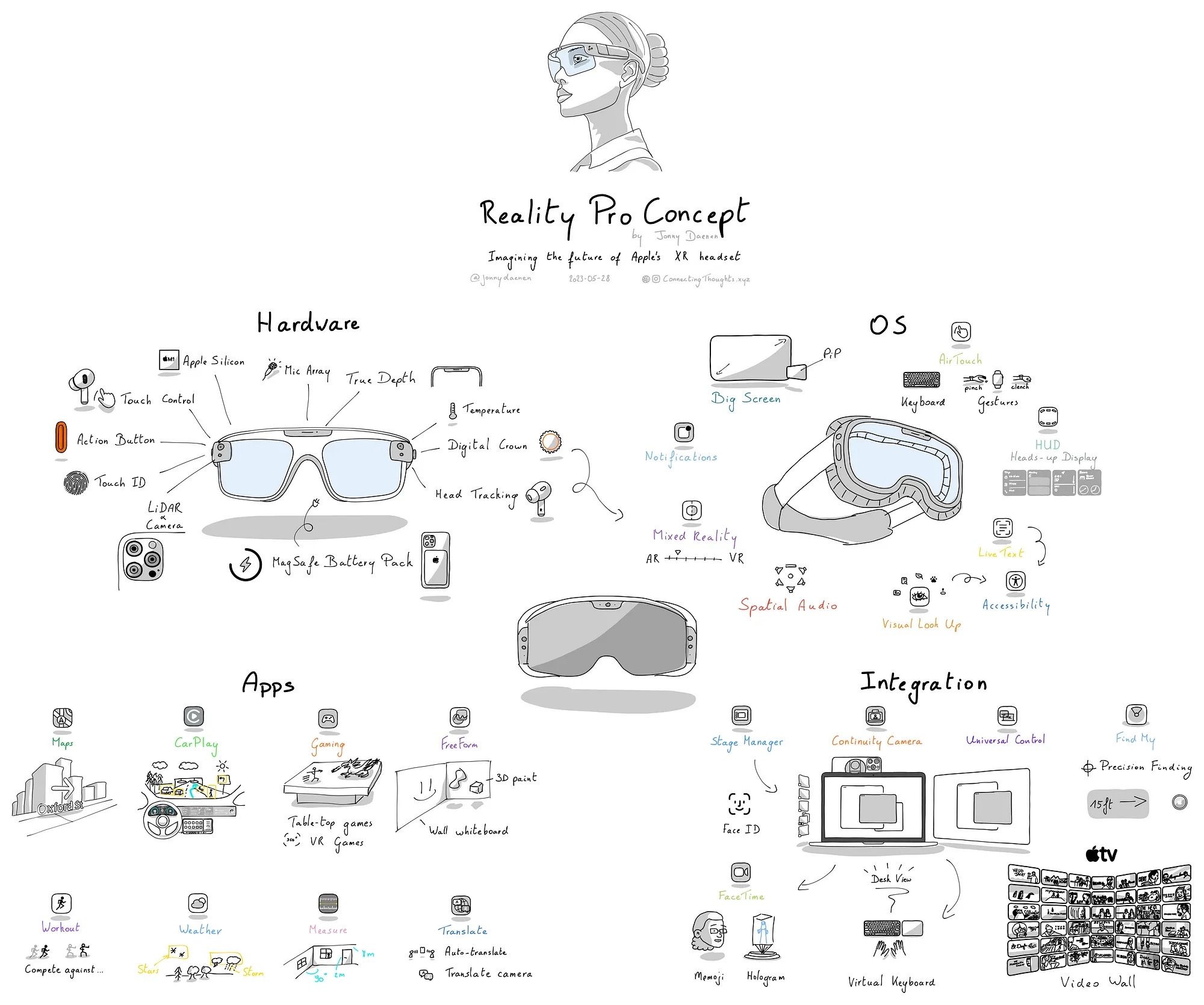 "Other" hardware: the xrOS-based AR/VR headset as the "One More Thing". This is where the fun "might" begins. The highly anticipated AR / VR headset will be finally unveiled. Not that I care a lot, but it will be interesting to see how Apple pitches the device (for devs and the general public / early adopters). Don't miss this excellent article on Medium (possible paywall) about how Apple has been putting the building blocks one by one in the last few years right in front of our eyes (pun intended) that could be found in the headset device and experience.
The headset will represent the first real new product category since the Apple Watch and the first real one under Tim Cook's leadership. A new hardware platform means a new set of developer tools. Again, how software is built for the headset and what type of apps can be developed are all questions that should find answers very soon. I'm not buying this future where people walk around with their headsets in their faces. For gaming? It's probably one of the biggest use cases for the headset. I'm not into gaming. But beyond that? FaceTime? You get a call, you look for your headset, put it on, turn it on, and get into FaceTime. It's a long process compared to picking up an iPhone sitting on the table or in your pocket.
I'm full of unanswered questions: what about safety while using the headset inside or while outside? What does it mean to be a « mixed reality »? How do you flip from one mode to another? What are possible first-party apps: an augmented Maps? FaceTime? What about iMessage? How are notifications displayed? Is there such a thing as a home screen? Is Stage Manager present and playing a role in the headset experience?
💡
The WWDC conference, or the Worldwide Developers Conference, is an annual event organized by Apple. It was first held in 1983, and since then, it has been a platform for developers to get an early look at Apple's latest technologies and software updates. The conference typically features keynote presentations, technical sessions, and hands-on labs for developers to learn and collaborate. The event has evolved over the years, and with the rise of Apple's hardware and software ecosystem, it has become a crucial event for both developers and Apple enthusiasts around the world.
Software
Things that I'm really looking forward to on the software front: the place of AI (or whatever Apple wants to call it) that Apple will play in its developer tools, in Xcode, for particular. Next up, AI in iOS / iPadOS / macOS could find some timid ways in through Siri, but I'm not holding my breath. I don't expect a lot as I feel Apple is late in the game of virtual assistant in general. Why do I think Apple was caught off guard by LLM-based AI tools?
iOS and iPadOS could receive interactive widgets while the Apple Watch gets glances (link) that were removed in the early days of watchOS (during the development of watchOS 3, I believe). Interactive widgets & glances help developers enrich their offerings which eventually enrich the global Apple ecosystem. Are we going to get the Watch Face store? Will Stage Manager on iPadOS receive any tweaks? Many users certainly hope so. I'm looking forward to seeing the health.app comes to the iPad. This move could also come with a redesign of the layout that we currently have on the iPhone. I'm curious about the rumoured journaling app, like many people. What macOS could get is harder to guess besides a new release name. My only ask: fix the notifications and bring back the dashboard so we can place the widgets all over the screen!
One last thing: CarPlay. We don't read many rumours about it. I'm still wondering what was the intention of Apple when they showed it at last year's WWDC keynote. With no Apple Car in sight, I wonder if it was a preemptive move to keep car makers interested and on board. It wasn't enough for GM, apparently.
We're very close to WWDC 23 keynote, and I can't wait to see what Apple has in store for all of us!
Don't miss the following WWDC 2023-related articles published before the keynote. It will be fun to see how they age after the event!