Anybox – My Experience with a Bookmarks Manager
I'm ditching Raindrop.io for Anybox – Here's why and how.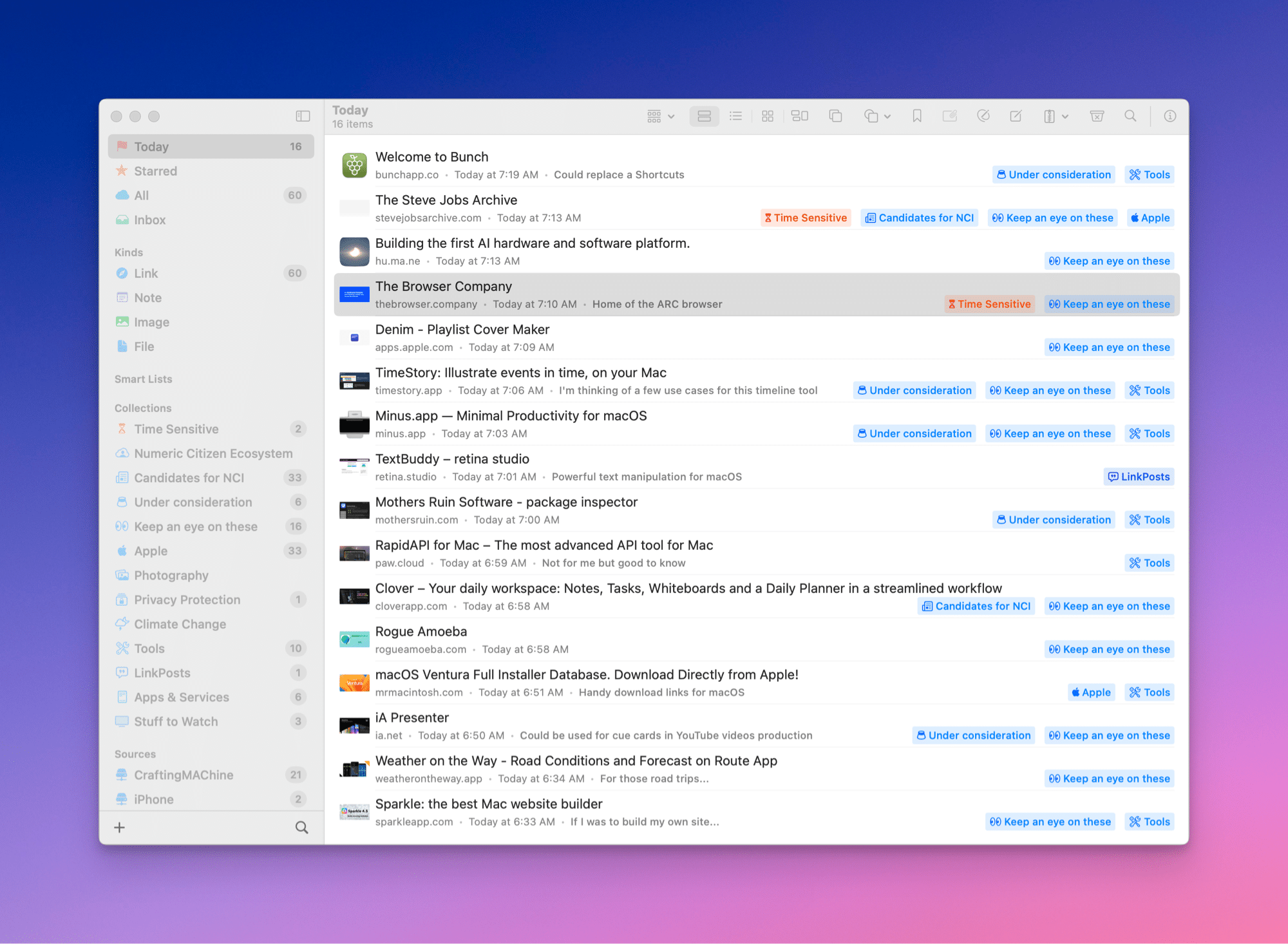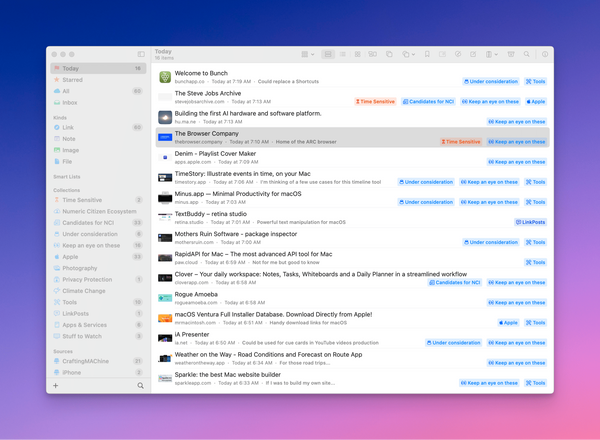 In a recent discussion on Micro.blog, someone mentioned Anybox as being an interesting alternative to Raindrop.io. As a light user of Raindrop.io, I was curious, so I spent some time investigating what Anybox was all about. Boy, I quickly became enthusiastic about it. In just a few hours of use, it was clear that my content creator workflow would be somewhat transformed. Here's why and how.
How it started
Anybox came to my numeric life while I wasn't really looking for a bookmarks manager. Sure, I heard about Goodlinks in the past and used Raindrop.io in recent years, but I didn't feel the need to invest in a bookmark manager simply because I thought that bookmarks were useless. Thanks to Google or Safari, anything always seems to be in close sight. Why bother saving bookmarks? Then, I started thinking about all the bookmarks I stored in Craft for preparing articles or working on my monthly newsletter. When the quantity of bookmarks increases, Craft isn't the right tool for storing this collection without any metadata capabilities. This is where an app like Anybox comes into play and becomes essential. The ability to set metadata for each bookmark is valuable over time.
Getting things in
Anybox is a native app on macOS, iOS and iPadOS. There is no web version of Anybox; I can live without it for now. Most of the time, bookmarks are saved using the provided Safari extension, which allows bookmarks to be assigned to collections and starred, as well as a brief comment. I'm still pondering how I could put the starring option to good use, but the option is there. Things like images and files can be saved into Anybox. This is not something I plan to do for now. I have other means of keeping those objects.
According to my incomplete statistics, Anybox supports importing bookmarks in more than 14 ways, which is the most exaggerated application I have ever seen. — Found on the internet

I wanted to get my data out of Pocket too. Using the /export webpage, I could easily export the content as an HTML file. I didn't want to reuse the tags in Pocket, so I simply saved them in my newly created collection. The next step was to create a collection to receive my Pocket data. Then I revoked all access to my Pocket account and deleted the account data before cancelling my subscription through the Mac App Store. The whole process took less than five minutes to complete.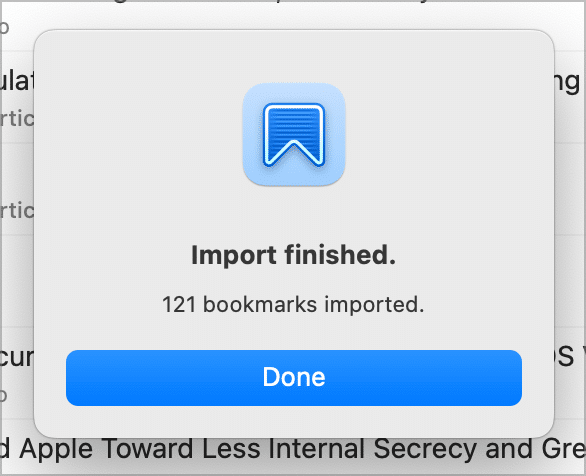 Organizing bookmarks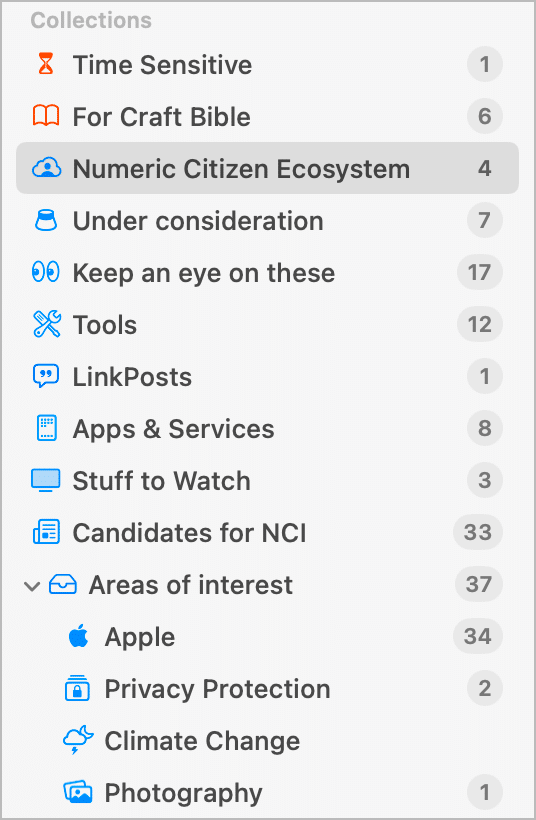 As the bookmarks collection grows, this is where collections become mandatory. Collections are presented like tags in Anybox, but the naming refers to collections. A bookmark can be assigned to many collections. Anybox allows for just the right amount of customization. Each collection can have its icon and colour, something I like to customize to my liking.
Anybox is incredibly flexible. The app isn't overly complex, yet it offers just enough options and advanced features to allow more demanding users to tailor it to a wide range of use cases and workflows.
The number of collections can grow quickly. Anybox allows for collections grouping using something like "headers". In fact, headers act like folders. In one of the screenshots, "Areas of interest" is grouping four collections.
The exciting thing about collections is the ability to download the webpage automatically pointed out by the bookmark. This setting is done at the collection level. Articles are saved in the Safari Reader format, with the visual noise removed. Any bookmark with downloaded content contains a pair of glasses indicator, just like with Safari's Reader mode. I set up an "Archive now" collection to quickly save any bookmarks with website content at my fingertips. It's pretty handy. Right-clicking on the bookmark and selecting Show Reader will display the downloaded content. Make no mistake; it won't replace Inoreader or become a read-later app. It's just handy to have this.
Anybox can copy a deeplink pointing to any collection or header. Then, using the generated URL scheme, you can reuse the link within an app like Craft or Things 3.0. I like the integration possibilities between those three apps, something vital in my content creation workflow. I use this to create a recurring to-do that reminds me to look into a specific collection as writing inspiration sources for linkposts. This is an example: anybox://collection/8273617A-6C0E-43B2-BF1B-F21EE5915EE9.
Many useful goodies and observations
Anybox is essentially a bookmarks manager with many small goodies that a power user like me appreciates. Here are a few of them.
Anybox feels native and light.
Anybox contains an extensive metadata sidebar. Collections assigned to the bookmark can be removed from there and see the read view if there is one saved for the bookmark.
The collection's icons are based on Apple's Symbols, the most extensive set of high-quality icons you can imagine, all searchable with keywords. I love this.
Anybox can save a webpage as a PDF or an image. For example, the latter is a great way to create a thumbnail for use in a Craft document. Here is an example.
Anybox supports creating smart lists to display bookmarks based on more or less complex criteria, as shown in the following screenshot.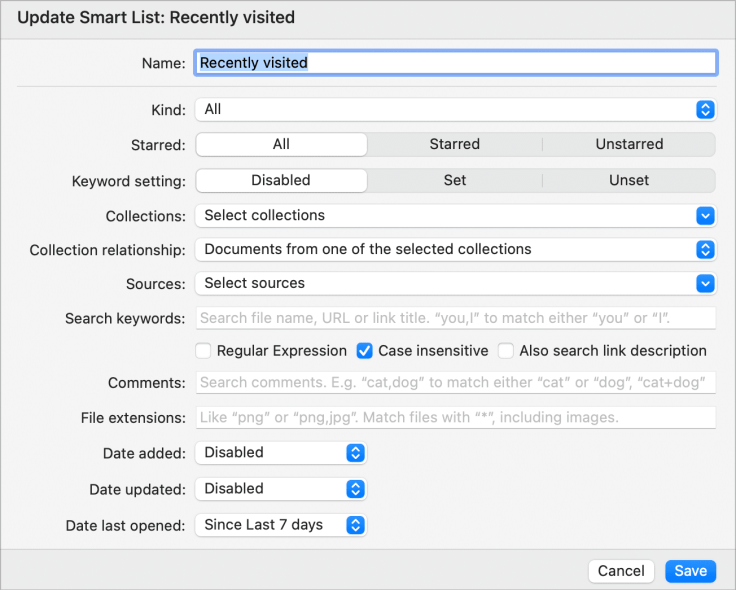 Anybox offers Anydock for frequently storing used bookmarks that you can quickly open from a floating toolbar on the screen. The Anydock supports a different set of bookmarks grouped within profiles which the user can switch between them from the keyboard. Moreover, since Any supports adding bookmarks with a URL scheme, it can become an app launcher. Clever. I don't use the feature much, though.

Anybox adds a menu item in the menu bar, which can be configured to your liking with frequently used bookmarks.
Anybox also has a Raycast extension for a quick search of bookmarks from Raycast and many commands Anybox can execute.
Anybox's bookmarks are indexed with Spotlight on iOS, iPadOS and macOS.
Anybox automatically maintains four smart folders: Today, Starred, All, and Inbox. They are pretty handy.
I like the information density in the bookmarks list and the navigation sidebars.
Anybox is well integrated into Apple's ecosystem, supporting things like Spotlight, Shortcuts, AppleScript, widgets, etc. It's crucial to see such a commitment by the app developer.
Bookmarks can be copied in the clipboard in many format arrangements: as markdown with or without the bookmark description, with the description followed by the link. It's handy for adding a reference in Craft or Ulysses. The following was generated using "Copy As / Link with Title": The Craft Bible 📔 https://www.craft.do/s/vgvQKijqkbyo6q
List content can be displayed as icons or as a gallery. It's a per-collection setting. When asking Anybox to generate a screenshot of the website, the thumbnail is replaced with the screenshot. It doesn't always work, though, for some reason.

What Anybox helped me replace
I love when a new app replaces one of the similar apps I currently use.
Adding Anybox in my workflow triggered a significant cleanup in my Safari bookmarks. Some were as old as fifteen years old. With Anybox, I moved my bookmarks off Craft where it made sense. I had a few documents for storing interesting bookmarks on websites that I wanted to keep track of, but I couldn't add metadata to each bookmark cleanly. These bookmarks are now saved into collections within Anybox. Raindrop.io is also definitively retired and out of my numeric life once and for all. I know this is a popular bookmarking and text highlighting application, but I never really liked the iPad or the Mac app nor used the text highlight feature.
Concluding words
I feel that 2023 is the year of focusing on the right things that make a difference in my digital life and one discovery like Anybox. I never thought that a bookmarks manager was something I would add to my toolset. At some point during my first few moments with Anybox, I wanted to surf the web just for the pleasure of saving bookmarks. I know it's a bit crazy, but I guess this speaks to success from a design perspective. Anybox is a joy to use and offers features for power users like me while not feeling intimidating for casual use.